You are here
EU faces fury after new migrant shipwreck tragedy
By AFP - Apr 15,2015 - Last updated at Apr 15,2015
REGGIO CALABRIA, Italy — Amnesty International accused the EU of putting thousands of migrants at risk Wednesday by scrapping rescue operations in the Mediterranean as Italian coastguards said no more survivors have been found from a shipwreck which may have claimed 400 lives.
The rights group accused Europe of "turning its back on its responsibilities and clearly threatening thousands of lives" by forcing Italy to abandon its Mare Nostrum rescue mission last year in favour of the surveillance patrols currently being carried out by its borders agency Frontex.
Jean-François Dubost, Amnesty's displaced persons director in Paris, said the latest tragedy highlighted the "horror of nothing having been sorted out in the Mediterranean".
"In demanding an end to the Mare Nostrum rescue operation that saved 170,000 lives, and replacing it with a surveillance mission, the EU has turned its back on its responsibilities and clearly threatens thousands of lives," he added.
Italian coastguards said Wednesday that no more survivors had been found from the latest migrant boat to sink.
The vessel capsized off the Libyan coast on Sunday, with survivors who were brought to Italy telling charity workers that as many as 400 others perished.
In a particularly tragic twist, the boat appears to have overturned because of the excitement caused by the sighting of rescuers.
According to the International Organisation for Migration, which has interviewed some of the survivors, between 500 and 550 people, many of them young, were crammed onto the vessel at the time.
Spokesman Flavio Di Giacomo said even before the latest sinking, more than 500 migrants, many refugees fleeing wars in Syria, Iraq and Afghanistan, had died so far this year trying to cross to Europe — ten times the toll over the same period last year.
6,500 in two days
Italian coastguards, who intercepted 42 boats on Sunday and Monday alone carrying 6,500 migrants attempting to make the hazardous crossing to Europe, confirmed that they had saved 145 people from the sunken boat and found nine bodies.
Coastguard spokesman Commander Filippo Marini told AFP that they had not found any more "survivors or anything else which would indicate more victims".
He said he could not exclude that more lives had been lost, and said the kind of vessel from which the 145 people were rescued usually carried many more people. Search operations were continuing in the area Wednesday.
Dubost criticised the limits placed on the Triton maritime policing operation set up by Brussels in November to replace the more humanitarian Mare Nostrum mission, which was run solely by the Italian navy for more than a year.
"Only a rescue operation coordinated at a European level can respond to the immediate challenges we face to stop people from drowning. There is no other possible solution to the problem," he said.
And Human Rights Watch added its condemnation, with Western Europe researcher Judith Sunderland saying "the intolerable number of victims is only going to grow if the EU does not guarantee rescue operations in the Mediterranean".
Hostile reception
Recent good weather has prompted a spike in the number of migrants attempting to reach Italy aboard boats, many of them overcrowded and unseaworthy.
An increasingly violent and chaotic situation in Libya has added to the problem, with unpoliced ports allowing people smugglers a free hand.
Italian authorities say more than 15,000 migrants have arrived so far in 2015. There were 15,000 in April alone last year and an average of 25,000 each month between June and September.
Italy's interior ministry has ordered regional prefects to find emergency housing for 6,500 migrants — a move condemned by the opposition, which argues the policy of rescuing immigrants encourages others to attempt the risky sea journey.
Related Articles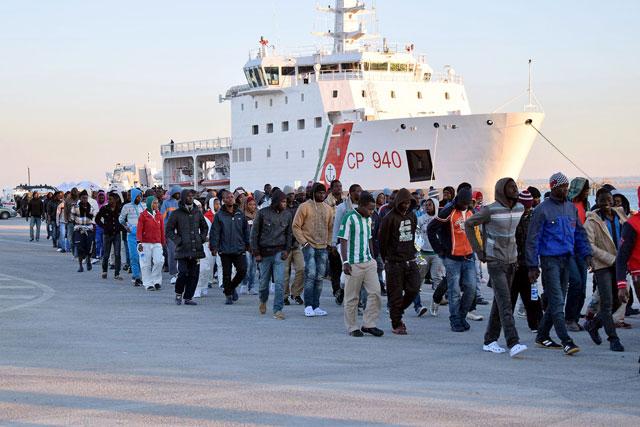 Apr 19,2015
Up to 700 people were feared drowned Sunday after an overcrowded boat smuggling them to Europe capsized off Libya in the latest and deadliest in a long list of migrant disasters in the Mediterranean.
Apr 20,2015
EU foreign ministers met on Monday under pressure to produce more than words to save migrants drowning in the Mediterranean, as the first bodies were brought on shore of hundreds feared killed in a shipwreck while trying to reach Europe.
Feb 11,2015
More than 300 migrants were feared drowned Wednesday after their overcrowded dinghies sank in the Mediterranean, the latest boat disaster on the perilous crossing from Africa to Europe.
Newsletter
Get top stories and blog posts emailed to you each day.