You are here
EU's Schulz steps down, fuelling German, EU reshuffles
By Reuters - Nov 24,2016 - Last updated at Nov 24,2016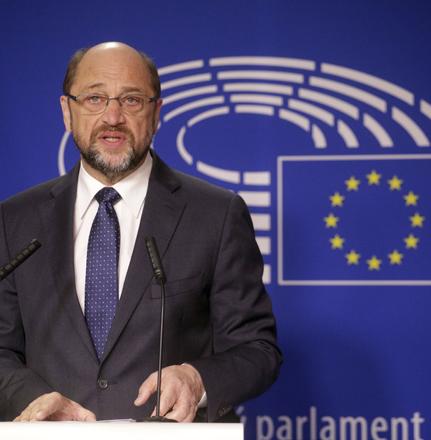 European Parliament President Martin Schultz speaks during a media conference at the European Parliament in Brussels on Thursday (AP photo)
BRUSSELS — European Parliament President Martin Schulz is returning to German politics, raising the prospect he may challenge Angela Merkel as chancellor and prompting speculation of a reshuffle in European Union institutions.
Schulz told a news conference he would not stand for re-election as speaker of the EU legislature and would instead campaign for a seat in Germany's federal parliament next year.
He made no comment on suggestions he may succeed departing Foreign Minister Frank-Walter Steinmeier or become the Social Democrat candidate to challenge the conservative Merkel's bid for a fourth term in September's parliamentary election.
Schulz, 60, had been pushing for a third 30-month term as EU parliament president in defiance of a deal that he make way for a speaker from the centre-right, the chamber's biggest group.
Should the conservatives, who have formed an effective grand coalition in Brussels with Schulz's centre-left, secure the presidency in January, all three main EU political bodies would be headed by the centre-right — a possibility that has raised talk of change at the European Commission and European Council.
Commission President Jean-Claude Juncker had pressed his fellow conservatives in Parliament to let Schulz stay on in the interests of stability following Britain's vote in June to leave the bloc. He denied threatening to resign if Schulz were forced out but said on Thursday he "regretted" him leaving.
Juncker, from Luxembourg, has a five-year mandate running until October 2019. Council President Donald Tusk, who will chair Brexit negotiations, has a mandate expiring in May.
At an unrelated news conference, Juncker and Tusk brushed off a question about whether either of them might resign.
Tusk has support among EU states for a second term, though not from his native Poland, where opponents now hold power.
The conservative leader in Parliament, Manfred Weber from Merkel's Bavarian allies, said his group would choose a nominee for speaker next month. Frenchman Alain Lamassoure and Mairead McGuinness of Ireland declared their candidacies.
Weber, 44, has been cited himself as Schulz's successor, a position that could raise his profile for a future career in Germany and something Schulz also used to his advantage.
Weber did not, however, rule out that his group might back a "consensus candidate" from another of the mainstream, pro-EU blocs in the chamber, which include liberals and greens. That could dampen complaints of a centre-right lock on institutions while, as Weber said, maintaining a centrist front against the chamber's vocal minority of eurosceptic and extremist parties.
Weber's centre-left counterpart said he would resist a conservative sweep of EU jobs.
"A right-wing monopoly on the EU institutions would be unacceptable," said Italian Gianni Pittella. "Political balance must be ensured."
Speculation that Schulz would return to German politics grew after Merkel's grand coalition with the Social Democrat SPD backed Schulz's party ally Steinmeier to take over in February as Germany's figurehead president. Senior SPD members see Schulz as the party's clear favourite to succeed Steinmeier.
Whoever takes over the role will have an overflowing in-tray as the EU's powerhouse tries to unite a divided post-Brexit Union, contain an assertive Russia and forge a new relationship with Washington under incoming President Donald Trump.
Opinion polls favour Merkel to win again. The SPD trails badly but could end up in a new grand coalition under her.
A member of the SPD leadership said it would decide by January whether Schulz or party leader Sigmar Gabriel would be its candidate for chancellor. One poll this week showed Germans thought Schulz has a somewhat stronger chance of ousting Merkel.
Related Articles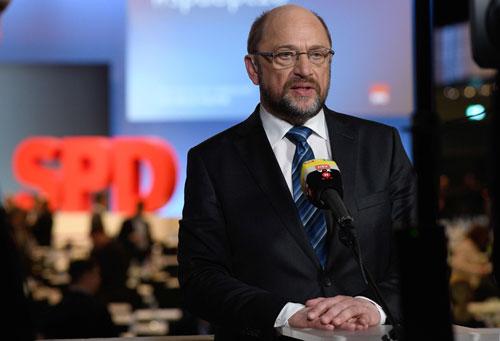 Jan 21,2018
BONN — Germany's centre-left Social Democrats voted on Sunday to begin formal coalition talks with Chancellor Angela Merkel's conservat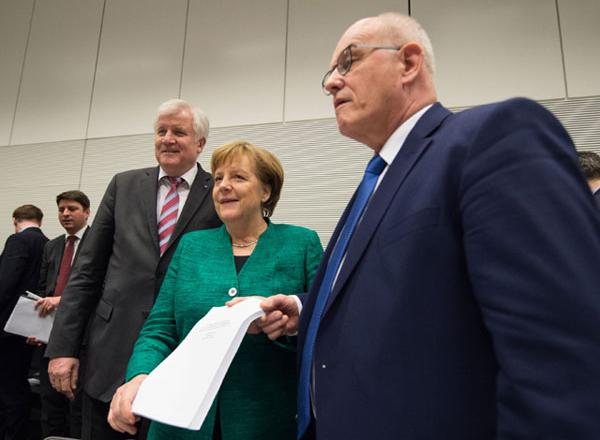 Feb 07,2018
BERLIN — German Chancellor Angela Merkel's conservatives and the Social Democratic Party (SPD) sealed a deal on a new coalition on Wednesday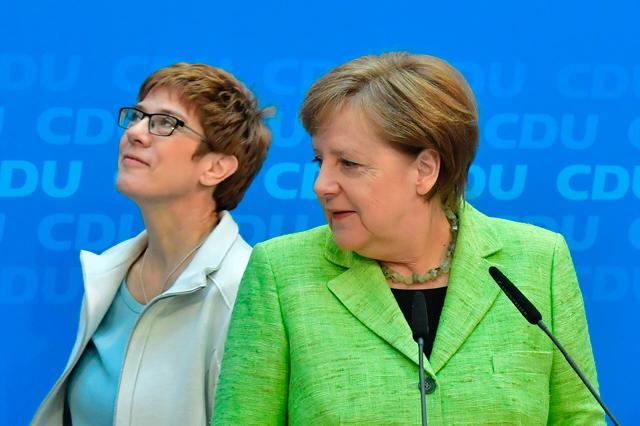 Mar 27,2017
BERLIN — German Chancellor Angela Merkel Monday welcomed a surprise state poll triumph by her party as "encouraging" for a September general
Newsletter
Get top stories and blog posts emailed to you each day.