You are here
Flight MH17 shot down by Russian-built Buk missile — Dutch Safety Board
By Reuters - Oct 13,2015 - Last updated at Oct 13,2015
GILZE-RIJEN, Netherlands — Malaysia Airlines Flight 17 was shot down over eastern Ukraine by a Russian-made Buk missile, the Dutch Safety Board concluded on Tuesday in its final report on the crash in July 2014 that killed all 298 people on board, most of them Dutch.
But the long-awaited findings of the board, which was not empowered to address questions of responsibility, did not point the finger at any group or party for launching the missile.
A bitter war was raging in eastern Ukraine between Russian-backed separatists and Ukrainian government forces when the aircraft was downed and, amid a huge international outcry, many Western experts and governments immediately blamed the rebels.
"A 9N314M warhead detonated outside the aeroplane to the left side of the cockpit. This fits the kind of warhead installed in the Buk surface-to-air missile system," said Safety Board head Tjibbe Joustra, presenting the report.
Russia for its part disputes that a Buk may have been used. Deputy Foreign Minister Sergei Ryabkov responded to the report by saying there had been "an obvious attempt to draw a biased conclusion, and carry out political orders", according to Russian news agencies.
The makers of the Buk said their tests had shown that the aircraft could not have been hit by a missile fired from rebel-controlled territory.
Although the report did not assign blame, it is almost certain to further strain diplomatic ties between the Netherlands and its allies and Russia.
Dutch Prime Minister Mark Rutte urged Russia to cooperate fully with a separate criminal investigation that the Netherlands is leading, with participation from Malaysia, Australia, Ukraine and Belgium.
'Important milestone'
The White House called the report an "important milestone in the effort to hold accountable those responsible".
"Our assessment is unchanged — MH17 was shot down by a surface-to-air missile fired from separatist-controlled territory in eastern Ukraine," National Security Council spokesman Ned Price said in a statement.
The report also seemed certain to strengthen calls within the airline industry for a review of how information is shared in conflict zones.
The board found that Ukraine had had reason to close the airspace over the conflict zone, and that the 61 airlines that had continued flying there should have recognised the potential danger.
It recommended international aviation rules be changed to force operators to be more transparent about their choice of routes.
However, Hennadiy Zubko, head of a separate probe by Ukraine, said Ukrainian authorities had followed the established procedure.
"All the recommendations from the ICAO [International Civil Aviation Organisation] were carried out... Ukraine closed its airspace below 9,750 metres," he told journalists in Kiev.
The British pilots' union BALPA called for states and operators to share accurate information on where it is safe to fly.
"Passengers and pilots want an open and uniform level of safety, not one that is decided in secret and in different ways by airlines and countries," Stephen Landells, flight safety specialist at BALPA, said in a statement.
'Tremendous force'
The safety board's report said that a 9N314M (Buk) warhead had exploded to the left of the aircraft's flight cabin, sending shrapnel hurtling with "tremendous force" into the plane.
The detonation killed three crew members instantly and caused the break-up of the aircraft, which exploded when it hit the ground tail-first.
Shrapnel fragments all pointed to a ground-launched Buk missile, it said.
The victims were from the Netherlands, Malaysia, Australia, Indonesia, Britain, Germany, Belgium, Philippines, Canada and New Zealand.
After the crash, many experts and Western governments said they believed the rebels had fired on the Malaysia Airlines plane, mistakenly believing it was a Ukrainian military transporter.
Rutte, speaking of the separate criminal investigation, said: "In regard to our relationship with Russia, this inquiry has an enormous impact, both in the Netherlands and abroad and certainly in Russia.
"What I want to do now is appeal to the Russian authorities to respect and cooperate with this report," he said.
"The obligation we now have is that we do all we can to ensure that those who are responsible face justice."
At a meeting with victims' families earlier on Tuesday, Joustra said it was likely that passengers who were not killed by the impact of the missile would have been rendered unconscious very quickly by the sudden decompression of the aircraft and the lack of oxygen at 10,000km.
The report said it was likely that the occupants "were barely able to comprehend the situation in which they found themselves".
Joustra spoke at the Gilze-Rijen military base where the flight cabin of the Boeing 777 has been assembled painstakingly from wreckage.
Related Articles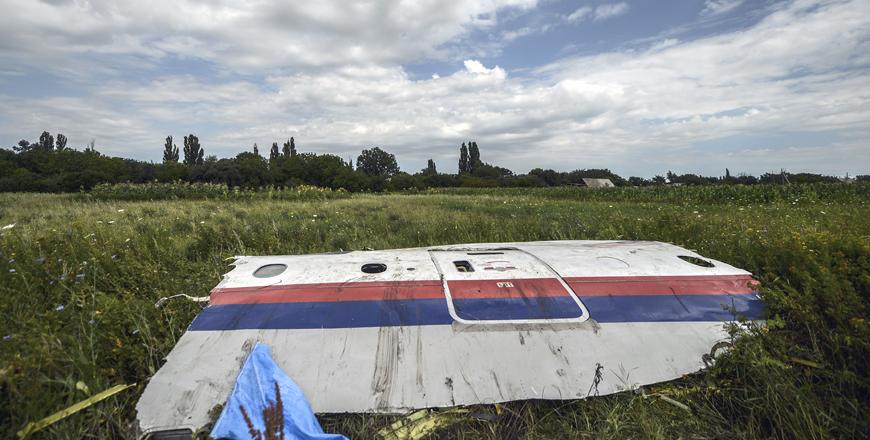 Aug 11,2015
The Hague — Investigators probing the shooting down of Malaysia Airlines Flight MH17 over eastern Ukraine said Tuesday they had identified p
Sep 09,2014
A Malaysian passenger jet which blew up over rebel-held east Ukraine with the loss of all 298 people on board was hit by numerous "high-energy objects", according to a report Tuesday which appears to back up claims it was downed by a missile.
Jul 23,2014
A powerful Ukrainian rebel leader has confirmed that pro-Russian separatists had anti-aircraft missiles of the type Washington says were used to shoot down Malaysia Airlines Flight MH17.
Newsletter
Get top stories and blog posts emailed to you each day.