You are here
Greece appeals for EU logistics aid for migrant deal to work
By Reuters - Mar 21,2016 - Last updated at Mar 21,2016
Maysa Elmohamed holds her 7-day-old baby Basel Al Sbeihi, as they rest in the makeshift refugee camp at the northern Greek border point of Idomeni, Greece, on Monday (AP photo)
LESBOS, Greece — Greece appealed to EU partners on Monday for logistical help to implement a deal with Turkey meant to stem an influx of migrants into Europe, as people — many unaware of the tough new rules — continued to come ashore on Greek islands.
Economically battered Greece, for months at the epicentre of Europe's biggest migrant crisis since World War II, is struggling to mount the massive logistics operation needed to process asylum applications from the many hundreds of migrants still arriving daily along its shoreline.
Turkish officials arrived on the Greek island of Lesbos on Monday to help realise the deal, which requires new arrivals from March 20 to be held until their asylum applications are processed and for those deemed ineligible to be sent back to Turkey from April 4 onwards.
"We must move very swiftly and in a coordinated manner over the next few days to get the best possible result," Greek Prime Minister Alexis Tsipras said after meeting EU Migration Commissioner Dimitris Avramopoulos in Athens.
"Assistance in human resources must come quickly."
Under the EU-Turkey roadmap agreed last Friday, a coordination structure must be created by March 25 and some 4,000 personnel — more than half from other European Union member states — deployed to the islands by next week.
Avramopoulos said France, Germany and the Netherlands had already pledged logistics and personnel. "We are at a crucial turning point... The management of the refugee crisis for Europe as a whole hinges on the progress and success of this agreement," he said.
However, on Monday, the day after the formal start of an agreement intended to close off the main route through which a million refugees and migrants arrived in Europe last year, authorities said 1,662 people had arrived on Greek islands by 7am (0500 GMT), twice the official count of the day before.
Just after 4:30am on Monday, one coastguard vessel rescued 54 refugees and migrants from the open sea and brought them to the port, some of the 698 arrivals counted in Lesbos.
They staggered down the ramp, women and children first, one elderly man bundled up in blankets.
"Where are we going?" asked one Syrian woman who was travelling with her husband and daughter.
The migrants were directed to a coastguard bus that would drive them to the Moria "hot spot", a centre where new arrivals are being registered and their asylum applications processed.
"We are very tired. I want to go to my family in Sweden," said Ahmet Bayraktar, a 32-year-old unemployed accountant from Aleppo, Syria. "We'll try, God willing."
Like others, he was unaware of the new EU-Turkey accord.
"We don't know about this," Bayraktar said. "We're coming directly from Syria. Everybody wants to go to the border. We don't have the news, we don't have electricity, we don't have anything."
Two hours later, just as the sun rose above the Aegean Sea, the same coastguard vessel pulled another 44 people from the water. One woman cradled a baby just a few months old.
They walked silently to the bus for Moria, a sprawling, gated complex of prefabricated containers and hard tents.
'It's better than Syria'
Before Friday's deal, migrants and refugees had been free to wander out of the camp and head to ferries to the Greek mainland, from where they would mostly head north through the Balkans towards wealthier western Europe, especially Germany.
Now, new arrivals are supposed to be held in centres pending the outcome of their asylum applications.
Under the deal, for every Syrian returned to Turkey, another would be resettled from Turkey to the EU, a process which has already triggered alarm from human rights groups for being discriminatory, a violation of international law and one which could be challenged in court.
Some diplomats believe the accord could unravel within months because neither side looks able to deliver on its commitments, but that the need to get the migration crisis under control is so urgent that it was felt best to clinch a deal now and deal with shortcomings later.
The fate of those migrants and refugees stranded in Greece before the accord was brokered, estimated at nearly 47,000 people, remains unclear.
Hundreds of migrants travelling from the islands to the Greek mainland continued on Monday to disembark at the Port of Pireaus near Athens. They appeared free to leave because they had landed in Greece before March 20, eyewitnesses said.
Some migrants said they would try to reach Idomeni, a northern Greek frontier outpost where some 12,000 refugees remain stranded in squalid conditions hoping that the former Yugoslav Republic of Macedonia will reopen the border and let them pass on.
"I will try to go to the border with Macedonia within the next 10 days even if it's closed. Maybe I will have to come back here, maybe not, but anyway it's better than Syria," said Hozefa Hasdibo, 23, from Idlib in Syria.
Related Articles
Apr 24,2017
ATHENS — At least 16 people, including two children, drowned after an inflatable boat carrying refugees and migrants sank off Greece's Lesbo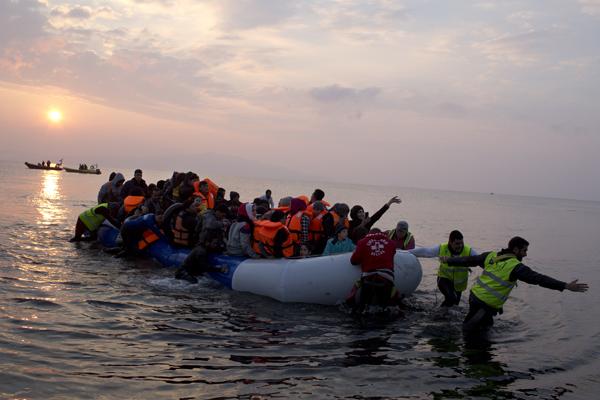 Mar 20,2016
LESBOS, Greece — Flimsy boats packed with migrants continued to land in Greece from Turkey on Sunday despite the start of a landmark deal be
Apr 03,2016
LESBOS, Greece/CESME, Turkey — There was little sign of preparation on either side of the Aegean less than 24 hours before Greece was due to