You are here
Gunmen storm Save the Children aid group office in Afghanistan
By Reuters - Jan 24,2018 - Last updated at Jan 24,2018
An Afghan man runs with two children near an office of the British charity Save the Children during an ongoing attack in Jalalabad on Wednesday (AFP photo)
JALALABAD, Afghanistan — Gunmen stormed an office of the Save the Children aid agency in the Afghan city of Jalalabad on Wednesday, and battled security forces surrounding the building, killing at least two people and wounding 12, officials said.
The attack began with a suicide car bomb outside the office at around 9.00am, followed by gunmen entering the compound, a spokesman for the government in the eastern province said. Schoolchildren and residents fled the area as Afghan special forces arrived to engage the attackers.
"There was a blast and the target was Save the Children," said spokesman Attaullah Khogyani. "Attackers entered the compound and the fight is going on."
Some witnesses said there appeared to have been at least four attackers in police uniform, a commonly used tactic, but there was no immediate official confirmation.
The director of the provincial health department said 12 wounded people had been taken to hospital.
As security forces fought their way in, they recovered one body inside the compound but its identity was not clear. A member of the security forces was also killed.
"An explosion rocked the area and right after that children and people started running away," said Ghulam Nabi, who was nearby when the bomb exploded. "I saw a vehicle catch fire and then a gunfight started."
The attack underlines how difficult operating in Afghanistan has become for humanitarian aid organisations which have faced heavy pressure from armed groups and kidnappers.
In October, the Red Cross announced that it was drastically reducing its operations in Afghanistan following attacks that killed seven of its staff last year.
"An attack against an organisation that helps children is outrageous. Civilians aid workers must not be targeted," said Monica Zanarelli, head of the Red Cross delegation in Afghanistan. "Increased violence has made operating in Afghanistan increasingly difficult for many organisations."
Taliban deny responsibility
Plumes of black smoke could be seen rising from the area as surviving gunmen fought special forces well into the afternoon.
A police official said at least one attacker had blown himself up in the initial suicide assault and another had been killed but it was not clear how many had survived and were continuing to resist.
It was also not immediately clear what had happened to Save the Children staff in the building when the attack began.
There was no claim of responsibility but the Taliban, seeking to reimpose Islamic rule after their 2001 ouster, issued a statement denying involvement.
"We are devastated at the news that our Save the Children office in Jalalabad city, Afghanistan, came under attack this morning as armed men entered the building, about 9am today local time," a Save the Children spokesperson said in an emailed statement.
"Our primary concern is for the safety and security of our staff. We are awaiting further information from our team and cannot comment further at this time."
Jalalabad is the capital of Nangarhar province, on the porous border with Pakistan. The province has become a stronghold for the terror group Daesh, which has grown to become one of Afghanistan's most dangerous militant groups since it appeared around the beginning of 2015.
Backed by intensive US air strikes, Afghan forces have claimed growing success against the Taliban and other militant groups, including Daesh, but militant attacks on civilian targets have continued, causing heavy casualties.
The attack in Jalalabad came just days after Taliban militants attacked the Hotel Intercontinental in the capital, Kabul, killing at least 20 people, including 13 foreigners.
Related Articles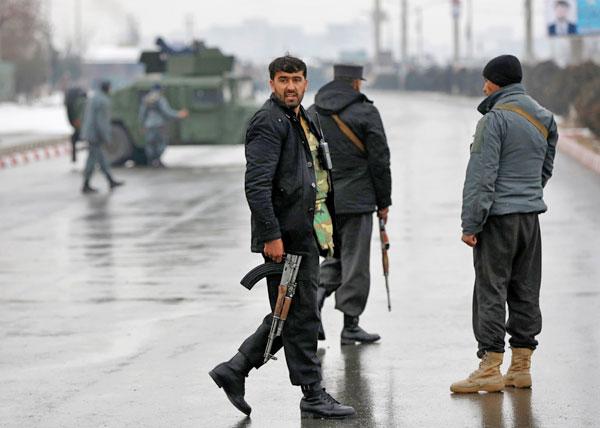 Jan 29,2018
KABUL — Militants on Monday raided a military academy in Kabul, the Afghan capital, killing 11 soldiers, the fourth major attack in a spate
Jan 10,2017
KABUL — Bombings across three Afghan cities including Kabul killed around 50 people and wounded 100 others on Tuesday, in a day of carnage a
Jan 18,2016
JALALABAD, Afghanistan — At least 14 people were killed when a suicide bomber struck the home of a prominent politician in Jalalabad Sunday,
Newsletter
Get top stories and blog posts emailed to you each day.