You are here
Hostages appeal in video for halt to Philippines military operations
By Reuters - Oct 13,2015 - Last updated at Oct 13,2015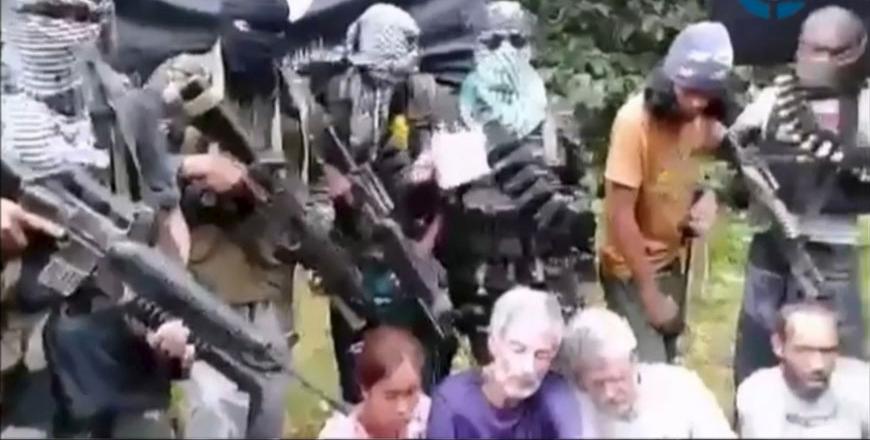 A photo captured from video footage of Philippine jihadists and kidnap victims is shown in this SITE Intelligence Group video made available to Reuters on Tuesday (Reuters photo/ SITE Intelligence Group)
MANILA — Two Canadians, a Norwegian and a Filipino woman have appealed by video to the Philippines to stop military operations, and to Canada to negotiate for their freedom with Islamist militants who abducted them.
The four were snatched at gunpoint by 11 men, believed to be Al Qaeda-linked Islamist militants, at an upmarket resort on Samar Island in the Philippines on September 21 and taken to an unknown location in the south.
"Please, stop all these operations so that negotiations can start," said a man, who introduced himself as John Ridsdel on the clip circulating on YouTube, while a machete was brandished behind his head by a militant who was holding him.
The man said there had been artillery fire nearby, flights overhead and bombings and asked that they be stopped.
The military operations could not be independently verified. Philippine authorities on Tuesday declined to comment on the video, saying they will have to validate the authenticity of the material.
Asked about the video, a Canadian foreign ministry spokesman said the government is "pursuing all appropriate channels to seek further information".
Another captive, who introduced himself as Robert Hall, also appealed to stop the bombings, saying his life was in grave danger. A third man who introduced himself as Kjartan Sekkingstad was also made to plead for their lives.
The woman seated beside Hall did not speak. The four were identified by the Philippines army in September as having been taken hostage. This was the first video of them since their abduction.
All of them were shown to be sitting in a jungle while the militants with covered faces held rifles and machetes, and shouted "Allahu akbar" (God is greatest) at the end of the 2 minute 22 second video uploaded onto YouTube.
The militants' leader spoke fluent English, demanding the artillery attacks be halted and the negotiation of the release of the hostages.
It is unusual for Islamist militant leaders in the south to speak good English. The video had been uploaded on some Middle Eastern websites.
The leader did not identify what group they belonged to or their location.
There has been speculation they had been taken hundreds of miles west to Jolo island, a stronghold of Abu Sayyaf, a small but violent Islamist militant group, known for bomb attacks, kidnappings and beheadings in the southern Philippines.
But army and police officials have previously denied the report, and the authorities could not say on Tuesday whether the hostages were taken to the island.
up
46 users have voted, including you.
Related Articles
Sep 24,2014
Algerian militants have beheaded French tourist Herve Gourdel, who was kidnapped by gunmen on Sunday in what the group said was a response to France's action against Islamic State militants in Iraq.
Dec 04,2014
Al Qaeda's Yemen branch published a video purporting to show an American hostage and threatened to kill him if unspecified demands were not met.
Sep 03,2014
DNA testing has confirmed that the body of a man who jihadists said they had beheaded was that of Lebanese soldier Ali Sayyed, his family said Tuesday.
Newsletter
Get top stories and blog posts emailed to you each day.