You are here
Italy flood deaths rise to 11 as thousands wait to come home
By AFP - May 18,2023 - Last updated at May 18,2023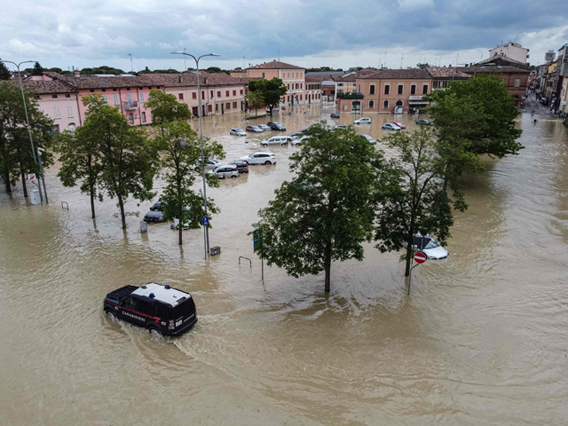 This aerial photograph shows a flooded square in the town of Lugo, near Ravenna, on Thursday (AFP photo)
LUGO, Italy — The death toll from floods that devastated an area of northeastern Italy rose to 11 on Thursday after the bodies of two more people were found, authorities told AFP.
The grim discovery came as rescue workers searched for anyone still trapped by floodwaters in the Emilia Romagna region, after downpours devastated homes and farms.
The latest victims were two farmers in their 70s who may have been electrocuted while trying to move a fridge inside a flooded house, Italian media reported.
With 10,000 people already displaced, authorities in Ravenna issued an immediate evacuation order early Thursday morning for three more villages threatened by floods.
"There is a hole in the dike, so if it were to start raining again... we fear that the water could rise again, this is our biggest fear," Andrea Ancherani, a resident of Bagnara di Romagna near Imola, told AFP.
Locals waded through dirty water or reclaimed what they could from sodden houses in towns across the wealthy region, famed for its historic cities and prized gastronomy.
Authorities said electricity had been partly restored, but some 27,000 people were still in the dark.
Nearly two dozen rivers and streams flooded across the southeast of the low-lying region following heavy rain earlier this week, submerging entire neighbourhoods and farmland, and damaging 400 roads.
Agricultural lobby Coldiretti said Thursday that more than 5,000 farms were under water, with drowned animals and tens of thousands of hectares of vineyards, fruit trees, vegetables and grain flooded.
As the water receded in some areas, residents were left cleaning homes and streets thick with mud and filled with debris.
In Lugo, near Ravenna, Flavio Abbondanti, 39, was waiting for the water that had invaded his home to subside so he could get to work.
"We used what we could find from a work site to make a little barrier, but [the water] still came in," he said.
Wall of water
The mayor of Ravenna, Michele De Pascale, announced Thursday that residents of about a half dozen towns could return, but warned them "to exercise the utmost caution".
Cracks in river embankments still posed a risk to other areas, which were being closely monitored, he said.
The dead included a couple in Ronta di Cesena believed to have been hit by a wall of water as they went to check on their aromatic herb farm.
The body of the woman, in her 60s, was pulled 20 kilometres by rushing waters to the beach in Cesenatico, according to SkyTG24.
There was little significant rainfall on Thursday and only light rain expected Friday, though authorities said the high level alert for rivers remained.
Two people died in the same region earlier this month after two days of almost continuous rain.
"We had an estimated 2 billion [euros] of damages two weeks ago... the ground no longer absorbs anything," Stefano Bonaccini, president of the Emilia Romagna region, told La7 television channel late Wednesday.
"When we have six months of rain in 36 hours, falling where there had already been record rain two weeks ago, there is no territory that can hold out."
'Shocking disaster'
On Thursday Bonaccini compared the floods to the earthquake that hit the region on May 20, 2012, almost 11 years ago to the day.
Fixing the damage would be "a gigantic undertaking", he said, and the region launched a fundraising effort.
Ferrari, the luxury carmaker whose Maranello base is not far from the flooded areas, pledged one million euros.
The flooding caused the cancellation of Sunday's Formula One Emilia Romagna Grand Prix in Imola.
Italy's armed forces and the coastguard joined the rescue effort, deploying helicopters to lift desperate residents from their homes and inflatable boats to reach houses surrounded on all sides by water.
Pope Francis offered his prayers for those affected and thanked everyone on the ground helping those hit by the "shocking disaster".
Agriculture Minister Francesco Lollobrigida said on Wednesday that the government could not yet quantify the overall damage to the region while vast areas were still flooded.
Related Articles
May 24,2023
ROME — Italian Prime Minister Giorgia Meloni announced on Tuesday an aid package worth 2 billion euros ($2.2 billion) to help northeastern a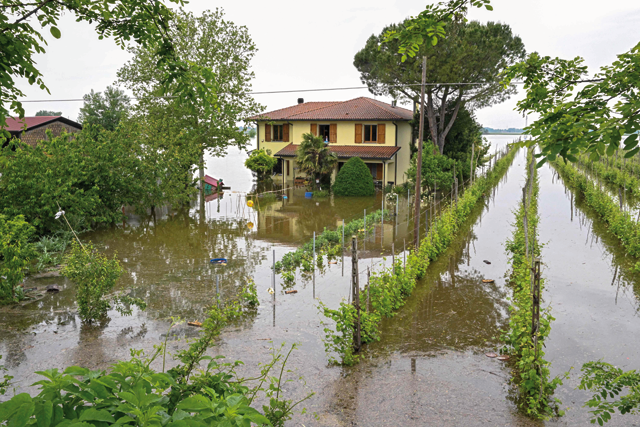 May 21,2023
FAENZA, Italy — The toll from floods that have devastated Italy's Emilia Romagna region rose to 14 on Friday, amid calls for the government
May 08,2023
AMMAN — The Jordan Italian Forum for Cooperation (JIFCO), in collaboration with the Ministry of Culture and the Jordan Tourism Board, announ