You are here
Myanmar army opens probe amid reports of killings, abuse of Rohingya Muslims
Thousands of refugees continue to cross the Naf river separating Myanmar's Rakhine, Bangladesh
By Reuters - Oct 14,2017 - Last updated at Oct 14,2017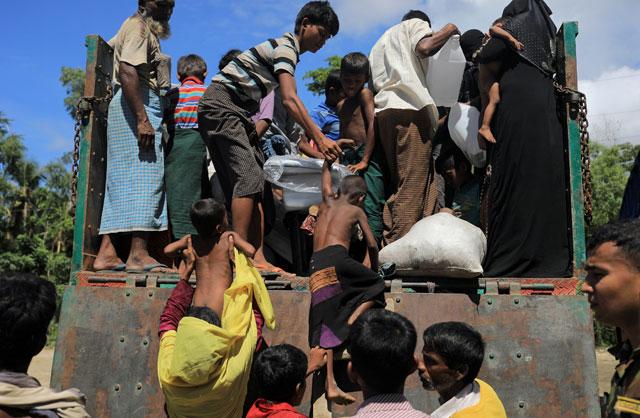 Rohingya refugees who arrived from Myanmar get onto a truck that will take them to a refugee camp from a relief centre in Teknaf, near Cox's Bazar in Bangladesh, on Friday (Reuters photo)
YANGON — Myanmar's military has launched an internal probe into the conduct of soldiers during a counteroffensive that has sent more than half a million Rohingya Muslims fleeing to Bangladesh, many saying they witnessed killings, rape and arson by troops.
Coordinated Rohingya insurgent attacks on 30 security posts on August 25 sparked a ferocious military response in the Muslim-majority northern part of Rakhine state that the United Nations has said was ethnic cleansing.
A committee led by military Lieutenant-General Aye Win has begun an investigation into the behavior of military personnel, the office of the commander in chief said on Friday, insisting the operation was justified under Buddhist-majority Myanmar's constitution.
According to a statement posted on Senior General Min Aung Hlaing's Facebook page, the panel will ask, "Did they follow the military code of conduct? Did they exactly follow the command during the operation? After that [the committee] will release full information."
Myanmar is refusing entry to a UN panel that was tasked with investigating allegations of abuses after a smaller military counteroffensive launched in October 2016.
But domestic investigations, including a previous internal military probe, have largely dismissed refugees' claims of abuses committed during security forces' "clearance operations".
Thousands of refugees have continued to arrived cross the Naf river separating Myanmar's Rakhine state and Bangladesh in recent days, even though Myanmar insists military operations ceased on September 5.
Aid agencies estimate that 536,000 people have arrived in the Cox's Bazar district, straining scarce resources of aid groups and local communities.
About 200,000 Rohingya were already in Bangladesh after fleeing persecution in Myanmar, where they have long been denied citizenship and faced restrictions on their movements and access to basic services.
Myanmar's de facto leader, Aung San Suu Kyi, has pledged accountability for human rights abuses and says Myanmar will accept back refugees who can prove they were residents of Myanmar.
The powerful army chief has taken a harder stance, however, telling the US ambassador in Myanmar this week that the exodus of Rohingya, who he said were non-native "Bengalis", was exaggerated.
In comments to Japan's ambassador carried in state media on Friday, Min Aung Hlaing denied ethnic cleansing was taking place on the grounds that photos showed Muslims "departing calmly rather than fleeing in terror".
Former UN chief Kofi Annan, who led a commission set up by Suu Kyi to find solutions for the ethnically and religiously divided Rakhine, briefed the UN Security Council and other key states in an informal closed-door meeting on Friday.
Some council members are exploring if the 15-member body could agree a formal statement or even a resolution to call for an end to the violence, for full aid access, the safe return of refugees, access for a UN fact-finding mission to ensure accountability and implementation of Annan's recommendations.
Annan said he hoped any possible Security Council resolution "urges the government to really press ahead and create conditions that will allow the refugees to return in dignity and with a sense of security, they should not be returned to camps".
Related Articles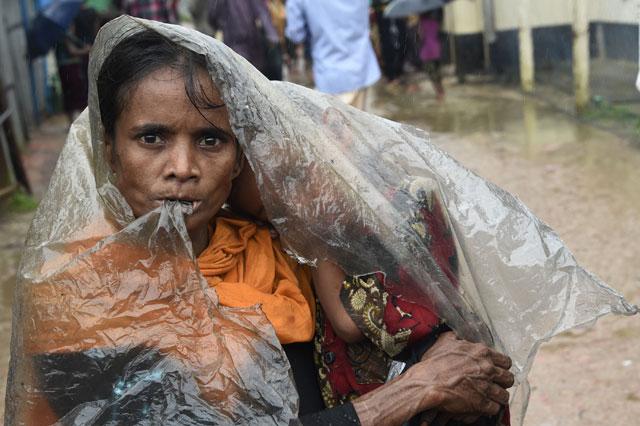 Sep 19,2017
NAYPYITAW — Myanmar leader Aung San Suu Kyi on Tuesday condemned human rights violations in Rakhine state and said violators would be punish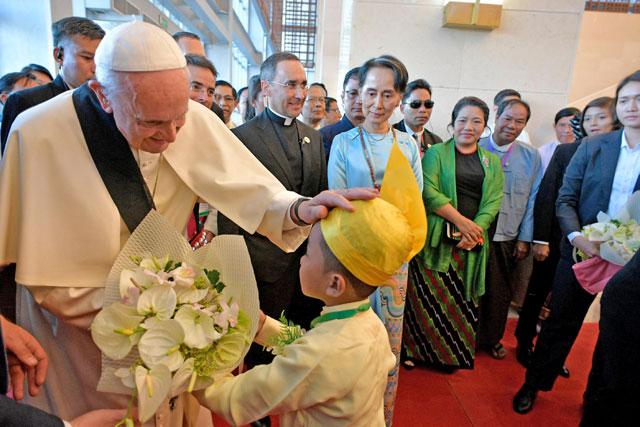 Nov 28,2017
NAYPYITAW — Pope Francis on Tuesday urged the leaders of majority-Buddhist Myanmar, mired in a crisis over the fate of Muslim Rohingya peopl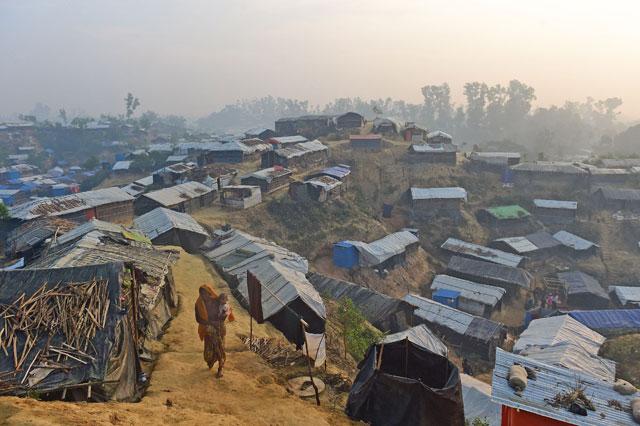 Nov 25,2017
DHAKA — Bangladesh and Myanmar have agreed to take help from the UN refugee agency to safely repatriate hundreds of thousands of Rohingya Mu
Newsletter
Get top stories and blog posts emailed to you each day.