You are here
Pakistan army begins ground offensive against Taliban
By AFP - Jun 30,2014 - Last updated at Jun 30,2014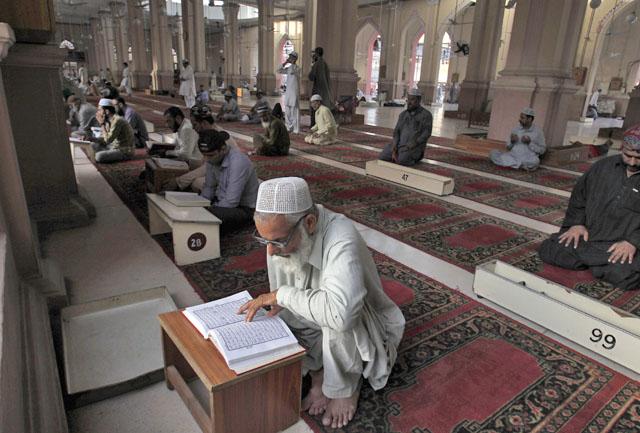 BANNU, Pakistan — Pakistan's military launched a ground assault in the North Waziristan tribal area on Monday, beginning a new phase in its offensive against Taliban militants, after nearly half-a-million civilians fled the fighting.
Troops moved on Miranshah, the main town in North Waziristan, around 9:30am (0430 GMT), officials said, after two weeks of air strikes and artillery bombardment of insurgent targets.
Washington has long urged Islamabad to tackle militant sanctuaries in North Waziristan, a haven for Pakistani Taliban and Al Qaeda-linked insurgents.
Security officials in Miranshah told AFP troops moved on the town after six hours of artillery shelling.
"They are using tanks and armoured vehicles for ground movement," a security official said on condition of anonymity.
"The forces have also taken over the civil hospital in Miranshah and have destroyed four hideouts in the artillery firing."
Other security officials in Peshawar, the main city of northwest Pakistan, confirmed the advance.
A statement from the military's communications wing said the assault began "after the evacuation of all civil population", and infantry troops were carrying out house-to-house searches.
Soldiers have killed 15 militants so far in the ground attack, the military said, while three soldiers were wounded in clashes.
"Troops have recovered underground tunnels and IED preparation factories," the statement said.
IEDs — improvised explosive devices — have been a popular and deadly weapon for militants fighting the army in Pakistan's restive semiautonomous tribal areas on the Afghan border.
Since the operation began on June 15, 376 militants have been killed and 19 have surrendered, according to the military, while 17 soldiers have also died.
The conflict zone is off-limits to journalists at the moment, making it impossible to verify the number and identity of those killed.
On Saturday the army said a leading Tehreek-e-Taliban Pakistan (TTP) commander was killed, while a "prominent" Al-Qaeda commander was arrested while trying to flee.
Half a million displaced
Nearly 500,000 people have fled North Waziristan because of the operation, codenamed "Zarb-e-Azb" after a sword used in battle by the Prophet Mohammad.
Tens of thousands of families have left for the town of Bannu, close to North Waziristan, while hundreds more have moved further afield to the towns of Lakki Marwat, Karak and Dera Ismail Khan since the offensive began in mid-June.
The civilian flight has created a huge humanitarian challenge for Pakistan, and there have been complaints and protests at the slow delivery of aid in Bannu.
Monday was the first day of the Muslim fasting month of Ramadan in Pakistan, and many of those displaced by the fighting face spending the month in difficult conditions in camps.
Tens of thousands have also poured into Afghanistan's eastern provinces, particularly Khost.
The mountainous border is porous and difficult to police and there are fears that the most dangerous and committed militants may have used the exodus as cover to make their own escape — undermining the effectiveness of the offensive.
Prime Minister Nawaz Sharif has said the operation will mark the "beginning of an era of peace and tranquility", but the Taliban have vowed to strike back.
Sharif, elected last year vowing to bring an end to the Taliban's insurgency through dialogue, had doggedly pursued talks with the TTP since February to little avail.
A dramatic attack on Karachi airport which killed dozens of people brought a sudden, bloody end to the peace process and sparked the military offensive.
Pakistan's allies, particularly the United States, have long called for an operation in the mountainous tribal territory to flush out groups like the Haqqani network, which use the area to target NATO troops in neighbouring Afghanistan.
But some observers have pointed out that while North Waziristan has been a historical stronghold for militants, violent extremism now has strong footholds elsewhere in Pakistan.
Related Articles
Jul 06,2014
Hundreds of Taliban fighters rushed to disguise themselves with new haircuts in the weeks before a Pakistani army assault, it has emerged, as refugees revealed details of life under the militants — and their taste for imported luxuries.
Jun 25,2014
Gunmen opened fire on a passenger jet while it was landing in Pakistan's troubled northwest, killing a woman passenger and wounding two crew as the military battles Taliban insurgents in the region.
Jun 16,2014
Pakistan Prime Minister Nawaz Sharif said Monday an ongoing military offensive against the Taliban will usher in peace as militants vowed revenge and warned foreign firms to leave the country.
Newsletter
Get top stories and blog posts emailed to you each day.