You are here
Putin and Erdogan: kissed and made up?
By AFP - Aug 08,2016 - Last updated at Aug 08,2016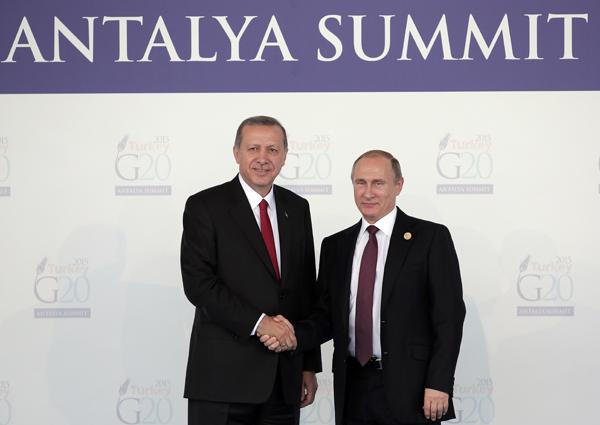 In this November 15, 2015 file photo, Turkish President Recep Tayyip Erdogan (left) welcomes Russian President Vladimir Putin at the G-20 summit in Antalya (AP photo)
ISTANBUL — Sometimes even good friends can have a bad falling out.
Ankara's downing of a Russian war plane over the Syrian border last November prompted rapid retaliation from Moscow and a bitter war of words between Presidents Vladimir Putin and Recep Tayyip Erdogan from which there appeared no going back.
But just half a year on Russia has accepted Ankara's expressions of regret over the incident and Erdogan will meet Putin in Saint Petersburg on Tuesday for their first summit since the crisis erupted, in the hope of reviving the relationship.
Ankara was also gladdened by Moscow's response to the July 15 failed coup in Turkey. Putin was one of the first foreign leaders to phone Erdogan offering support and, unsurprisingly, sharing none of the scruples of EU leaders about the ensuing crackdown.
"The Russian response stood in stark contrast to those of Turkey's Western allies," said Jeffrey Mankoff of the Centre for Strategic and International Studies (CSIS).
Relations between Turkey and Russia — two powers vying for influence in the strategic Black Sea region and Middle East — have never been straightforward and their predecessor Ottoman and Russian empires fought three centuries of war.
Yet before the plane crisis, Moscow and Ankara managed to prevent disputes on Syria and Ukraine harming strategic cooperation on issues like the TurkStream gas pipeline to Europe and a Russian-built nuclear power station in Turkey.
The alliance was built on a macho friendship between Putin and Erdogan, two combative leaders in their early 60s credited with restoring confidence to their nations in the wake of financial crises but also criticised for clamping down on human rights.
With Erdogan making it bluntly clear he feels let down by the United States and the European Union after the coup, there is the prospect of a new era in Turkey-Russia ties.
"While Turkish-Russian ties are subject to their own uncertainties, this deterioration of relations with Western powers could accelerate a Turkish-Russian rapprochement," said analysts from the European Council on Foreign Relations.
'Restore relations
Turkey will want to reverse the damage sustained by sanctions imposed by Russia which took a heavy toll on agriculture and construction with trade falling 43 per cent to $6.1 billion in January-May this year.
Turkey's tourism industry was worst hit, with Russian arrivals down 93 per cent in June compared to the same period in 2015.
Meanwhile the TurkStream pipeline, that was to have pumped 31.5 billion cubic metres of gas a year, and the Akkuyu nuclear power station should now be back on the agenda.
Intriguingly, Turkish officials have said the pilots of the Turkish planes that shot down the Russian jet on November 24 have been detained over the failed coup, raising the prospect that Ankara could link the downing to the same conspiracy.
In a sign of goodwill ahead of the visit, Turkey's communications authorities unblocked access to the websites of the Russian state-controlled news provider Sputnik which had been restricted since April.
Separately, Turkish media quoted Erdogan as telling Russian state news agency TASS he hoped the trip would open a "new page" in ties.
'Pragmatic not personal'
But after such a bitter dispute — which led Putin to declare that Erdogan had left modern Turkey's founder Mustafa Kemal Ataturk "turning in his grave" — it will take a lot for the two post imperial strongmen to get back to business as usual.
Some analysts contend that Moscow has the upper hand in the relationship with energy-poor Turkey, which still imports over half its natural gas needs from Russia.
Russia, which is the strongest ally of Erdogan's foe President Bashar Assad in Syria, transformed the balance of the Syrian civil war last September when it intervened militarily to Turkey's consternation.
When the jet crisis reached it peak, Moscow also brandished its support for a Syrian Kurdish militia which Ankara accuses of being a terror group, sparking fears Russia could even arm Kurdish militants fighting Turkey.
"The only person that Erdogan fears is Vladimir Putin," argued Steven Cook of the Council on Foreign Relations.
Mankoff said the tension between Turkey and the West creates for Moscow a "prime opportunity to pull Ankara closer".
It may be that ties improve steadily but without the fireworks seen when the relationship was at its peak in late 2014 when Putin suddenly announced the TurkStream project as one of the first visitors to Erdogan's new presidential palace.
"What we are going to see is a longer-lasting but more pragmatic type of relationship built not on a personal friendship or ideology but on common material interests," said Alexander Baunov, a senior associate at the Carnegie Moscow Centre.
Related Articles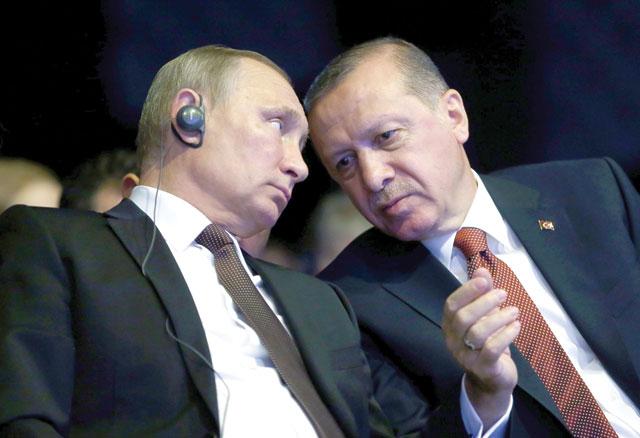 Oct 10,2016
ISTANBUL — Russia and Turkey on Monday signed an agreement to build a gas pipeline under the Black Sea, as President Vladimir Putin and Turk
Aug 06,2016
ISTANBUL/MOSCOW — As Turkey's relations with Europe and the United States are strained by the fallout from its failed coup, President Recep
Aug 09,2016
SAINT PETERSBURG — Russian President Vladimir Putin and Turkish counterpart Recep Tayyip Erdogan on Tuesday promised to reinvigorate ties af
Newsletter
Get top stories and blog posts emailed to you each day.