You are here
Rights body raps Europe for 'inhuman' treatment of migrants
Mar 30,2023 - Last updated at Mar 30,2023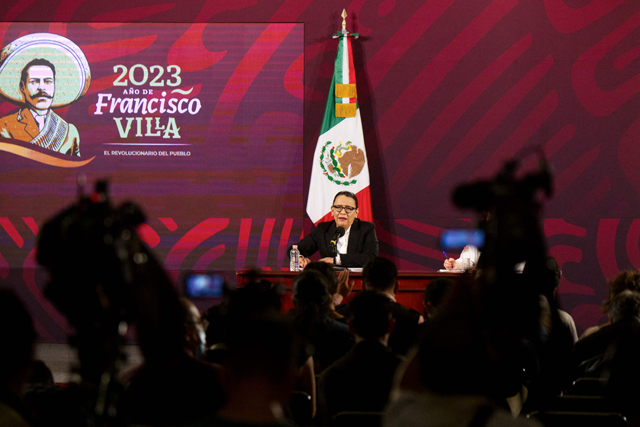 Mexico's Secretary of Security and Citizen Protection Rosa Icela Rodriguez speaks during a press conference at the National Palace in Mexico City on Wednesday (AFP photo)
BRUSSELS (AFP) — Europe's top rights body on Thursday blasted the "inhuman" treatment of migrants who were brutally turned away at its borders, especially the EU's external frontier.
Migrants had been beaten and suffered "punches, slaps, blows with truncheons, other hard objects... by police or border guards", the Council of Europe's Committee for the Prevention of Torture (CPT) said in its annual report.
"Other forms of inhuman and degrading treatment were also deployed, such as firing bullets close to the persons' bodies while they lay on the ground," it added.
It said other tactics included "pushing them into rivers [sometimes with their hands still tied], removal of their clothes and shoes and forcing them to walk barefoot and/or in their underwear and, in some cases, even fully naked across the border".
The CPT said it had met with "increasing numbers" of people who claimed they were pushed back from the European frontier by force.
"Many European countries face very complex migration challenges at their borders, but this does not mean they can ignore their human rights obligations. Pushbacks are illegal, unacceptable and must end," said CPT head Alan Mitchell.
The committee visited police, border and coast guard posts, detention centres as well as transit areas on the main migratory routes to Europe.
The CPT called on the Council of Europe's member states to guarantee migrants' rights by registering each individual, providing medical and vulnerability assessments and offering people the opportunity to apply for asylum.
"Detention should only be used as a measure of last resort," it added.
The Council of Europe is made up of 46 countries.
Russia had been excluded from the watchdog after its invasion of Ukraine last year but remains a party to the European Convention for the Prevention of Torture.
Migrants remain a contentious issue in the European Union since more than a million people arrived in Europe during the 2015-16 refugee crisis.
The number of attempts by migrants to enter Europe hit 330,000 in 2022, up 64 percent from the previous year, the EU's border agency Frontex said.
Newsletter
Get top stories and blog posts emailed to you each day.