You are here
Shock in Spain as 14-year-old stabs five people in school
By AFP - Sep 29,2023 - Last updated at Sep 29,2023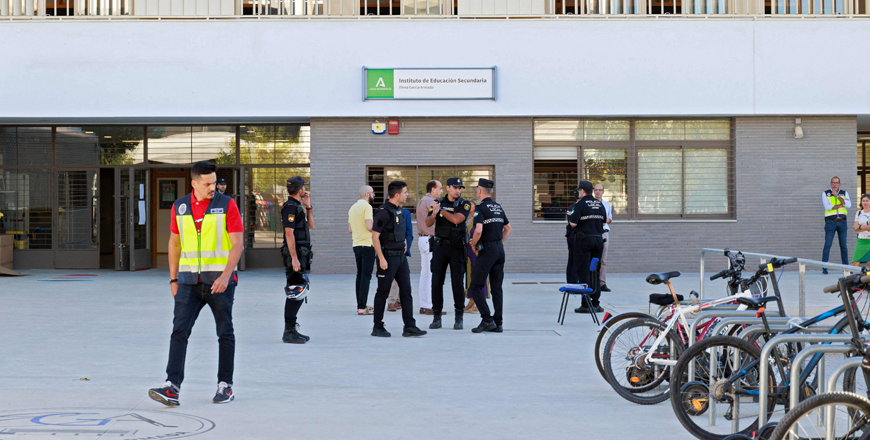 Members of the Spanish national police forces are photographed outside Elena Garcia Armada high school after a student attacked several teachers and pupils with a knife on Thursday in Jerez de la Frontera (AFP photo)
MADRID — A 14-year-old stabbed three teachers and two students at a school in southern Spain on Thursday, sparking soul-searching in a country where such attacks are very rare.
The teenager, who has not been identified, stabbed his victims repeatedly shortly after classes began at a school in Jerez de la Frontera in Andalusia, police spokesman Adrian Dominguez told reporters at the scene.
"Police located the suspect on the third floor. He had in his possession the two knives used to attack three teachers and two students," he said.
Four of the five injured sustained light wounds, while the fifth, a teacher, would need surgery for an injury to the eyelid, regional government education minister, Patricia del Pozo, told reporters.
Several students told Spanish media the pupil stabbed two classmates before attacking the teacher, injuring her eye.
He then ran into another classroom and continued his attack.
One student, who was not identified, told private television La Sexta that the teenager "ran to the back of the class, dropped his backpack on the floor and pulled out two knives.
"Then he started shouting 'I'm going to kill you!'"
"He was running, chasing people, everyone went out into the playground," the student said.
Another unnamed student told Canal Sur television the suspect had "a look on his face like he wanted to stab everyone".
'Devastating'
When the news broke, parents rushed to the school, which has 687 pupils, and gathered outside the gates which were cordoned off by police.
Local mayor Maria Jose Garcia-Pelayo described the incident as "devastating", telling reporters the suspect had ultimately been disarmed by the teachers.
"All the parents were outside the school and all they wanted to do was be able to hug their children," she said.
Andalusia's regional leader Juan Manuel Moreno said it was unclear what triggered the attack, but warned about the danger of youngsters being exposed to extreme violence.
"We all need to think hard about the role of violence on TV, in films and video games, and on social media.. [which is] gratuitous and sometimes extreme," he said.
Top church official Archbishop Francisco Cesar Garcia Magan said the stabbing should provoke "an urgent reflection" within Spanish society which was facing "a very serious situation and a problematic outlook for the future".
He also called for efforts to improve education about mental health issues.
Compared with other European countries, Spain has a relatively low crime rate, especially violent crime.
Excluding 2020, when incidents were especially rare because of the Covid lockdowns, the rate in 2021 of 41.4 incidents per 1,000 people was the lowest in recent history, government figures show.
Related Articles
Dec 14,2015
PARIS — A French nursery school teacher who claimed on Monday he was stabbed in his classroom by a Daesh supporter has admitted to prosecuto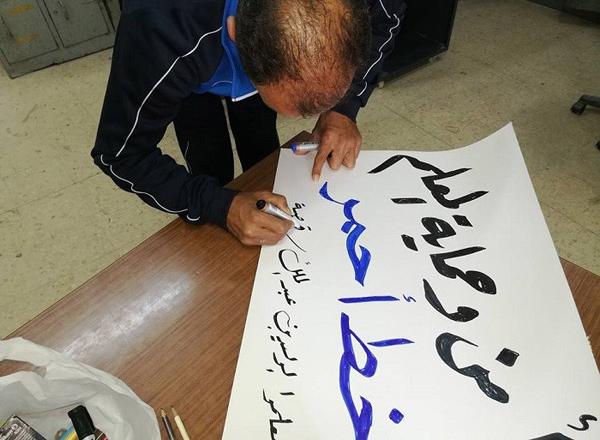 Apr 20,2017
AMMAN — Several schools around the Kingdom on Thursday morning arranged sit-ins to condemn Wednesday's assault on Amman's Marqab secondary s
Apr 09,2014
A student armed with a knife went on a stabbing and slashing spree at a high school near Pittsburgh on Wednesday morning, leaving as many as 20 people injured, including four students who suffered serious wounds, authorities said.