You are here
Taiwan's first female president pledges to focus on internal reforms
By Rand Dalgamouni - May 21,2016 - Last updated at May 21,2016
Taiwan's Tsai Ing-wen waves at the venue of her inauguration at the Presidential Office Building in Taipei, Taiwan, on Friday (Minoru Iwasaki/Kyodo News via AP)
TAIPEI — Taiwan's new president, Tsai Ing-wen, was sworn in on Friday, pledging to focus on internal reforms and expressing willingness to "pursue possibilities for cooperation and collaboration" with mainland China.
In reaction to Tsai's inaugural address, Beijing warned Taiwan's 14th president against seeking independence, warning that peace would be "impossible" if she made any moves to formally break away.
But analysts said the newly sworn-in president, who belongs to the traditionally pro-independence Democratic Progressive Party, expressed "goodwill" and a sense of practicality in her planned approach to cross-strait relations with China.
"We are also willing to engage in candid exchanges and pursue possibilities for cooperation and collaboration with the other side of the strait on our common participation in regional development," Tsai told more than 20,000 people at the presidential palace in Taipei.
She took office as the island's first female president after winning a landslide victory in January to defeat the ruling Kuomintang, ending an eight-year rapprochement with Beijing under outgoing president Ma Ying-jeou, according to Agence France-Presse.
China and Taiwan split in 1949 after the Kuomintang nationalist forces lost a civil war to the Communists, although Taiwan has never declared an official breakaway. But Beijing still sees self-ruling Taiwan as part of its territory awaiting reunification.
"The two governing parties across the strait must set aside the baggage of history, and engage in positive dialogue, for the benefit of the people on both sides," the president added, expressing desire to have Taiwan play a larger role in addressing regional peace, stability and development.
She also said Taipei will continue to deepen ties "with friendly democracies including the United States, Japan and Europe to advance multifaceted cooperation".
Commenting on Tsai's remarks on relations with China, Taiwan's biggest trade partner and export market, Wen-Cheng Lin, the president of the Institute for National Policy Research, told an international media delegation that the new president expressed "utmost goodwill" to Beijing and signalled a commitment to maintain the status quo in cross-strait relations.
I-Chung Lai, vice president of the Taiwan Thinktank, had a similar view, noting that Tsai showed that she is interested in dialogue between both sides, but she also has a responsibility to safeguard the territory of the Republic of China (Taiwan).
China warned after the inauguration that "if 'independence' is pursued, it will be impossible to have peace and stability in the Taiwan Straits", AFP reported, quoting a statement released by China's Taiwan Affairs Office.
"Independence is the greatest disaster for the peaceful development of peace in the Taiwan Straits and the peaceful development of cross-strait relations," it said.
Domestic focus
The inaugural address mainly focused on domestic issues as the country is currently navigating a recession.
Tsai stressed the need to reform the pension system and education, in addition to find a new model for economic development and address environmental issues.
She expressed commitment to improving the social safety net, the childcare system and the judicial system of the country of around 23 million people, while also paying attention to youth issues, such as low wages.
"It is the solemn duty of the new administration to help young people overcome difficulties, achieve generational justice and deliver to the next generation a better country," Tsai said.
Shih-Chung Liu, senior policy adviser at the Taiwan Brain Trust (TBT), told reporters during a meeting at the think tank that the president's speech reflected public opinion by focusing on internal issues, citing a TBT study that put cross-strait relations in fourth place on what people care about after domestic issues related to economy and reform.
A TBT survey covering a sample of 1,068 Taiwanese people conducted in April reveals that 84 per cent of the respondents identify as Taiwanese, compared with 6.9 per cent who identify as Chinese and 9.1 per cent who had no opinion.
The study also found that 58.2 per cent of the sample disapproves of the cross-strait policy of outgoing president Ma.
Related Articles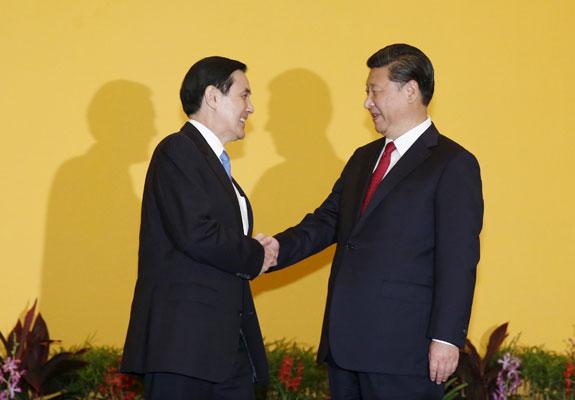 Nov 07,2015
SINGAPORE — The presidents of China and Taiwan reached across decades of Cold War-era estrangement and rivalry to exchange a historic handsh
Feb 11,2014
China and Taiwan on Tuesday held their first government-to-government talks since they split 65 years ago after a brutal civil war — a symbolic yet historic move between the former bitter rivals.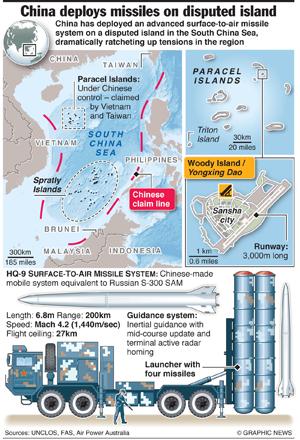 Feb 17,2016
TAIPEI/WASHINGTON — China has deployed an advanced surface-to-air missile system to one of the disputed islands it controls in the South Chi
Newsletter
Get top stories and blog posts emailed to you each day.