You are here
Taliban fighters enter northern Afghan city of Kunduz
Assault comes a year after city fell briefly to militants
By Reuters - Oct 03,2016 - Last updated at Oct 03,2016
In this photograph taken on Monday, Afghan National Army commandos take position during a military operation in Helmand province (AFP photo)
KUNDUZ, Afghanistan — Taliban fighters entered the northern Afghan city of Kunduz on Monday, almost exactly a year after they briefly seized it in their biggest success of the 15-year war, while heavy fighting in the south underscored the country's deteriorating security.
Sheer Ali Kamawal, commander of the 808 Tandar police zone in Kunduz, said the attack began at around midnight and fighting was going on in and around the city. Some Taliban fighters had entrenched themselves in homes.
The fighters appear to have slipped through a defensive security line set up around Kunduz, entering the city itself from four directions before clashes broke out, witnesses in the city said.
In Kabul, Brigadier General Charles Cleveland, spokesman for Afghanistan's NATO-led force, said it was ready to provide support if needed.
"At this point, we are not observing evidence via our internal means to support the reports that Kunduz is under significant attack," he said in an e-mailed statement.
With fighting intensifying across the country, the attack on Kunduz, a day before a major donor conference in Brussels, underlined Afghanistan's precarious security situation and the Taliban's ability to strike against important targets.
Government forces, fighting with limited NATO-force support following the end of the main international combat mission in 2014, are estimated to have control over at most two-thirds of the country.
In Kunduz, police spokesman Mahfozullah Akbari said security forces were preparing to drive out the fighters, who had infiltrated the Khak Kani area in the city's southwest.
"The Taliban are inside some civilian houses and we have to carry out operations very carefully," he said.
Military helicopters flew overhead and gunfire could be heard in Kunduz, where a year ago to the day, Afghan troops backed by US air strikes and special forces were battling to drive out Taliban who had raised their flag in the city centre.
Residents piled into cars and trailers to escape the city centre and shops were shut. Several checkpoints were burned out but there was little actual fighting as security forces held back from confrontation in the city centre.
However, witnesses saw Taliban fighters armed with AK-47 assault rifles, machine guns and rocket-propelled grenades walking around the deserted streets of the city, entering homes and taking up position on rooftops.
Taliban spokesman Zabihullah Mujahid said in his official Twitter account that four government checkpoints in Kunduz had been captured and some soldiers had been killed.
"A massive operation started on Kunduz capital from four directions early this morning," he said.
The renewed attack on Kunduz forced officials to cancel a ceremony planned for Monday to commemorate the first anniversary of a US air strike that destroyed a hospital run by the international charity Médecins Sans Frontières during the fighting.
The assault on Kunduz came as the Taliban have stepped up attacks in different parts of Afghanistan, including the southern province of Helmand, where they have been threatening the provincial capital of Lashkar Gah.
On Monday, Taliban fighters, positioned just across the Helmand river from the centre of Lashkar Gah, also took control of Nawa district to the south, killing a district police chief, officials said.
Heavy fighting has also continued along the main road to Tarin Kot, the provincial capital of Uruzgan, also in the south, where a Taliban raid on September 8 sparked fears of another collapse like that in Kunduz last year.
The raid on Tarin Kot was beaten back but alarmed security officials because the militants were able to enter the city without significant resistance after police abandoned dozens of checkpoints.
The fall of Kunduz last year was one of the most serious blows suffered by the Western-backed government in Kabul since the withdrawal of most international troops in 2014.
Although the insurgents abandoned Kunduz after a few days, the capture of a provincial capital underlined their growing strength and exposed flaws in Afghan security forces and the city has remained effectively besieged ever since.
"Every day the militants come to the city and are pushed back by security forces," said Amruddin Wali, a member of the provincial council as he stood with security forces on the edges of the city. "There is killing and fighting every day."
Related Articles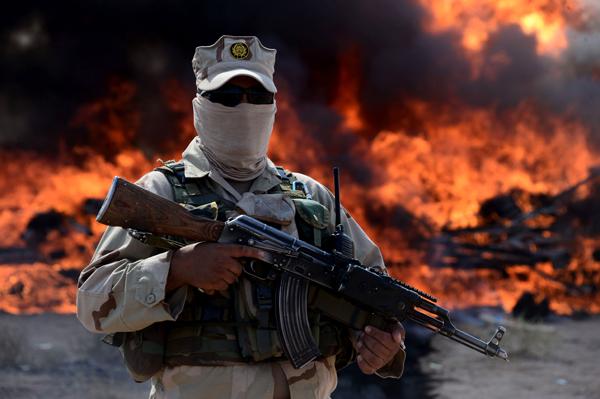 Oct 17,2016
LASHKAR GAH, Afghanistan — Afghan government troops say they have fought Taliban forces to a standstill outside the capital of southern Helm
Aug 11,2016
KANDAHAR, Afghanistan — Fighting raged Thursday in Helmand after Afghanistan rushed military reinforcements to beat back Taliban insurgents
Dec 23,2015
LASHKAR GAH, Afghanistan — Afghan forces battled on Wednesday to push back Taliban fighters who have overrun Sangin in Helmand province and
Newsletter
Get top stories and blog posts emailed to you each day.