You are here
Trump's lawsuit threat against accusers overshadows agenda
Clinton rejects Republican presidential candidate's allegations
By AP - Oct 23,2016 - Last updated at Oct 23,2016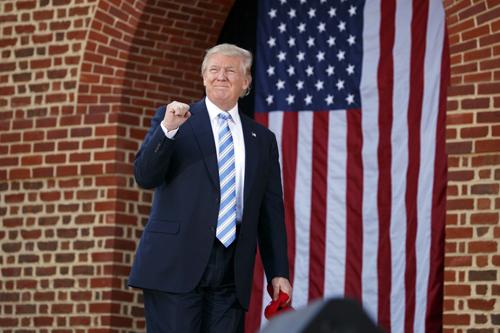 Republican presidential candidate Donald Trump arrives to speak at a campaign rally at Regent University in Virginia Beach, Virginia, on Saturday (AP photo)
GETTYSBURG, Pennsylvania — Donald Trump is laying out an ambitious agenda for his first 100 days as president but pointedly noting that he will find time to sue the numerous women who have accused him of groping and other unwanted sexual behavior.
"All of these liars will be sued once the election is over," Trump said on Saturday during an event near the Civil War battlefield of Gettysburg that was meant to be policy-driven. He added: "I look so forward to doing that."
Asked about Trump's remarks, Hillary Clinton told reporters between rallies in Pittsburgh and Philadelphia that she was done responding to what her Republican opponent is saying as Election Day nears and would instead focus on helping elect other Democrats.
Yet even as Clinton appeared to be strengthening her lead, her campaign was careful not to declare premature victory.
"We don't want to get ahead of our skis here," Clinton campaign manager Robby Mook said on Sunday. He said the "battleground states" where both candidates are campaigning hardest "are called that for a reason".
Trump's campaign, too, took a cautious approach while acknowledging the Republican has been trailing Clinton in the polls. Trump campaign manager Kellyanne Conway laid out a path to the requisite 270 electoral votes that goes through make-or-break states Florida, Iowa, North Carolina and Ohio.
"We're not giving up. We know we can win this," Conway said.
A day earlier, Clinton attacked Pennsylvania's Republican senator, Pat Toomey, saying in Pittsburgh that he has refused to "stand up" to Trump as she praised his Democratic challenger, Katie McGinty. Noting Trump's comments about Mexican immigrants and his attacks on a Muslim-American military family, she said of Toomey: "If he doesn't have the courage to stand up to Donald Trump after all of this, then can you be sure that he will stand up for you when it counts?"
Toomey spokesman Ted Kwong said Clinton's comments highlight McGinty's lack of independence.
"Today is just further proof that hyper-partisan, ethically challenged Katie McGinty will be a rubber stamp for everything Hillary Clinton wants to do in Washington," he said. "Pat Toomey has been, and will continue to be, an independent leader in the Senate on issues ranging from gun safety to ending Wall Street bailouts."
Clinton rejected Trump's allegation, offered without evidence, that the dozen or so women who have come forward are being prompted by her campaign or the Democratic National Committee. The accusers emerged after the former reality TV star boasted of kissing women and groping their genitals without their consent. On Saturday, an adult film actress said the billionaire kissed her and two other women on the lips "without asking for permission" when they met him after a golf tournament in 2006.
Trump has denied that all the other allegations, while insisting some of the women weren't attractive enough for him to want to pursue. His broadside against the women Saturday came at the start of an otherwise substantive speech that sought to weave the many policy ideas he has put forward into a single, cohesive agenda.
Related Articles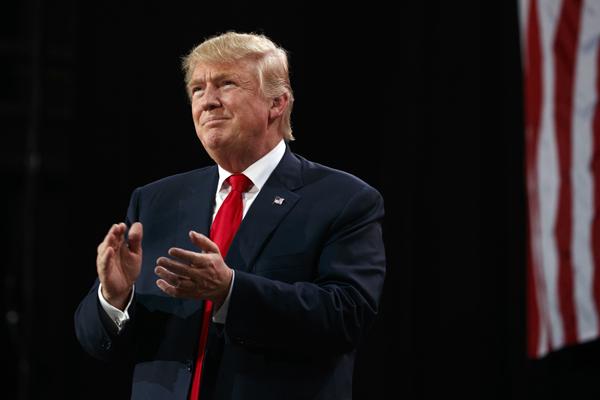 Oct 25,2016
TAMPA, Florida — Even as his path to the presidency narrows, a defiant Donald Trump is insisting he is "winning" and urging his supporters t
Oct 24,2016
CHARLOTTE, North Carolina — With just over two weeks to go before Americans vote for a new president, Hillary Clinton — who has widened her
Nov 09,2016
NEW YORK — Republican Donald Trump stunned the world by defeating heavily favoured rival Hillary Clinton in the US presidential election, en
Newsletter
Get top stories and blog posts emailed to you each day.