You are here
Trump headed to Texas as Houston struggles with Harvey's floodwaters
By Reuters - Aug 29,2017 - Last updated at Aug 29,2017
Local residents are evacuated by volunteers from San Antonio, in the Clodine district after Hurricane Harvey caused heavy flooding in Houston, Texas, on Tuesday (AFP photo)
HOUSTON — US President Donald Trump headed to Texas on Tuesday to survey the response to devastating Tropical Storm Harvey, the first natural disaster of his White House tenure, as officials in Houston struggled to manage the massive floodwaters.
The slow-moving storm has brought catastrophic flooding to Texas, killed at least nine people, led to mass evacuations and paralysed Houston, the fourth most-populous US city. Some 30,000 people were expected to seek emergency shelter as the flooding entered its fourth day.
Officials in Harris County, where Houston is located, said reservoirs built to handle drainage water were beginning to overflow on Tuesday. They released water to alleviate pressure on two dams, a move that would add to flooding along the Buffalo Bayou waterway that runs through the area.
"This is something we've never seen before," said Jeff Linder, a meteorologist with Harris County's flood control district. "We have uncertainty in how the water is going to react," when releases from the reservoirs hit overflowing drainage.
Harvey has roiled energy markets and wrought damage estimated to be in the billions of dollars, with rebuilding likely to last beyond Trump's current four-year term in office.
"Leaving now for Texas!" Trump said on Twitter on Tuesday morning before he left the White House to begin his trip.
Trump was scheduled to arrive in Corpus Christi, near where Harvey came ashore on Friday as the most powerful hurricane to strike Texas in more than 50 years.
While much of the damage in Houston has been rain-related, the storm's winds picked up overnight, bending street signs and tearing at metal fences in the downtown.
More rescues
Much of the Houston metropolitan area, where 6.8 million people live, remained underwater on Tuesday, with some parts of the region recording more than 1m of rain since the storm's arrival. Dangerous rescues went on through the night as police, firefighters and National Guard troops in helicopters, boats and trucks pulled stranded residents from flooded homes.
About 9,000 evacuees were staying at Houston's George R. Brown Convention Centre, with the American Red Cross providing warm meals — oatmeal for Tuesday breakfast — and handing out donated clothing.
Cots stretched across the city block-size complex, which was recently renovated ahead of the Super Bowl in February, and has become one of the largest shelters for those displaced by Harvey.
"I'm just trying to stay strong," said Julio Gamez, 35, who evacuated to the centre on Saturday night with his wife after floodwaters rose to within 30cm of his roof. "Everything's gone. We've lost everything. But at least we're safe."
Hundreds of volunteers poured into the center.
"I couldn't sit at home any longer and be in my own comfort while others were struggling," said Alvin Tan, 31, who works in Houston's chemical industry.
Other shelters were set up in Dallas, about 402km to the north, and Austin, 258km west, with the latter expected to take in 7,000 people.
Officials believed about 1,000 households remained to be rescued, Houston Fire Chief Samuel Pena told ABC's "Good Morning America".
Forecasters drew comparisons to Hurricane Katrina, which lay waste to New Orleans and killed 1,800 people. Tuesday marked the 12th anniversary of Katrina hitting Louisiana.
"No city welcomed more New Orleanians following Katrina than Houston and our hearts break for them as Hurricane Harvey displaces so many of their citizens," New Orleans Mayor Mitch Landrieu said in a statement marking the anniversary.
The administration of then-president George W. Bush drew accusations that his response was slow and inadequate — criticism that dealt a serious blow to his presidency.
Before Harvey, the last Category 4 hurricane to make landfall in Texas was Carla in 1961.
Fatal swim
Among the most recent deaths from Harvey was a man who drowned on Monday night while trying to swim across flooded Houston-area roads, the Houston Chronicle quoted the Montgomery county constable's office as saying.
The storm center was in the Gulf of Mexico about 185km southeast of Houston on Monday morning. It was likely to remain just off the coast of Texas through Tuesday night before moving inland over the northwestern Gulf of Mexico on Wednesday, according to the US National Hurricane Centre.
Since coming ashore, Harvey has virtually stalled along the Texas coast, picking up warm water from the Gulf of Mexico and dumping torrential rain from San Antonio to Louisiana.
The Houston metro area has suffered some of the worst precipitation with certain areas expected to receive more than 127cm of rain in a week, more than it typically receives for a year.
Harvey was expected to produce another 18-33cm of rain through Thursday over parts of the upper Texas coast into southwestern Louisiana, the National Weather Service said.
Schools and office buildings were closed throughout the area, with hundreds of roads blocked by high water and the city's two main airports shut.
The Gulf of Mexico is home to half of US refining capacity. The reduction in supply led gasoline futures to hit their highest level in two years this week as Harvey knocked out about 13 per cent of total US refining capacity, based on company reports and Reuters estimates.
The floods could destroy as much as $20 billion in insured property, making the storm one of the costliest in history for US insurers, according to Wall Street analysts.
Related Articles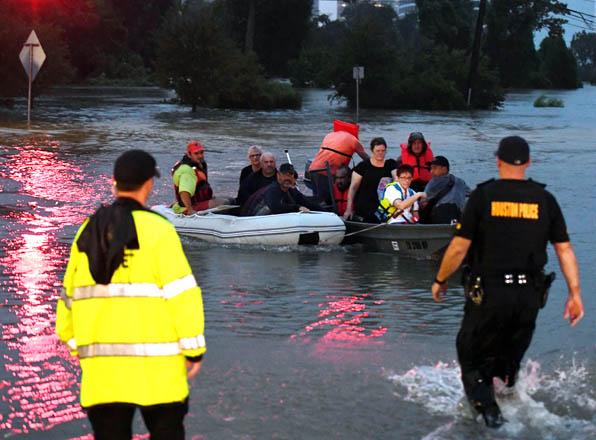 Aug 28,2017
HOUSTON — Houston rescue agencies were struggling to find beds on Monday for tens of thousands of Texans driven from their homes by an unpre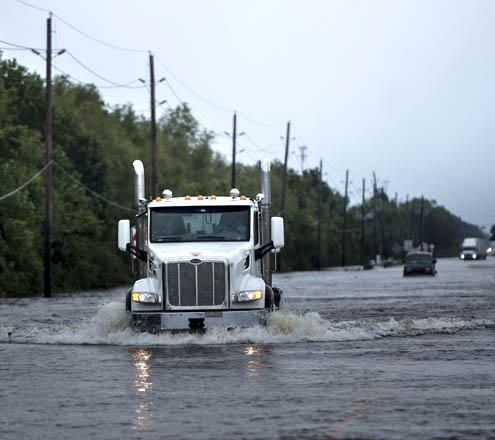 Aug 31,2017
HOUSTON/LAKE CHARLES, Louisiana — Tropical Storm Harvey bore down on eastern Texas and Louisiana on Wednesday, bringing the catastrophic dow
Aug 26,2017
ROCKPORT, Texas — The most powerful hurricane to hit the US state of Texas in more than 50 years moved slowly inland on Saturday, dumping to
Newsletter
Get top stories and blog posts emailed to you each day.