You are here
Turkish police detain 24 in mine disaster probe
By AFP - May 18,2014 - Last updated at May 18,2014
SOMA, Turkey — Turkish police on Sunday detained 24 people, including mining executives, suspected of negligence over the disaster that killed 301 people, and sparked fury at the government and officials, local media reported.
Rescue operations ended on Saturday after the bodies of the last two trapped miners were retrieved following the country's worst ever industrial disaster in the western town of Soma.
Dozens of prosecutors have been assigned to investigate the fire and explosion believed to have been sparked by an electrical fault at a private mine.
Among those detained is Akin Celik, general director of mine operator Soma Komur, NTV television reported. The suspects could face charges including manslaughter, it added.
Soma Komur has vehemently denied any negligence.
"We have all worked very hard. I have not seen such an incident in 20 years," Celik said on Friday.
The labour ministry also denied culpability, saying the mine had been inspected every six months.
A preliminary expert report on the accident obtained by the Milliyet newspaper pointed to several safety violations in the mine, including a shortage of carbon monoxide detectors and ceilings made of wood instead of metal.
The authenticity of the report could not be immediately verified.
A group of rescue workers told NTV that a cave-in had occurred in the mine after the ceilings burnt down and collapsed due to the fire.
The Soma disaster has sparked a wave of fury against the government, adding to pressure on Prime Minister Recep Tayyip Erdogan ahead of his expected run for the presidency in August.
Soma was in a virtual lockdown on Sunday after checkpoints were set up on the main roads leading to the town where all demonstrations were banned, AFP reporters on the scene said.
Only inspectors and security forces were allowed at the site of the disaster after the rescue teams had left.
On Saturday, at least 36 people, including eight lawyers, were arrested and held in a stadium in Soma after they attempted to make a statement. Some of the lawyers were beaten and injured by police.
Images of police firing tear gas and water cannon at thousands of protesters in Ankara, Istanbul and Izmir have also revived memories of the government's heavy-handed crackdown against nationwide protests in 2013.
A total of 787 people were inside the mine when the blast hit, Energy Minister Taner Yildiz said. Most of the victims died of carbon monoxide poisoning.
"I was very sad when I came here and I am still very sad," Yildiz told reporters before leaving Soma on Sunday, pledging support for the stricken families.
The disaster has added to the huge political pressure on Erdogan, whose Islamic-rooted party emerged triumphant from March 30 local elections despite a corruption scandal implicating key allies and last year's mass protests.
Related Articles
May 17,2014
Turkish rescue workers have retrieved the bodies of the last two missing miners in the nation's worst mining disaster, putting the final death toll at 301, the energy minister said Saturday.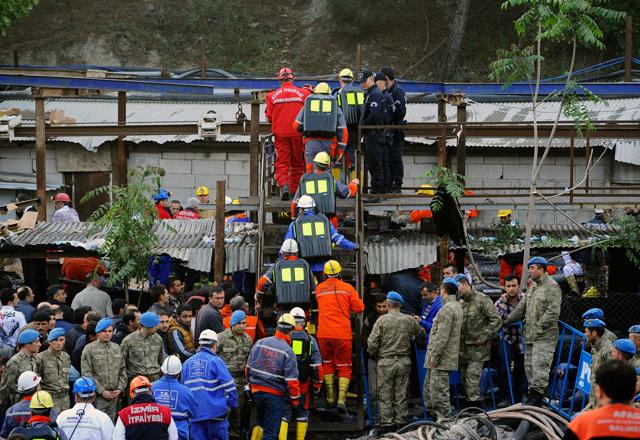 May 14,2014
Rescuers battled Wednesday to reach hundreds of workers feared trapped after an explosion at a mine in western Turkey that has killed at least 205 people in one of the worst industrial disasters ever to hit the country.
May 15,2014
Anger at Turkey's government boiled over Thursday when thousands went on strike and police clashed with protesters after at least 282 workers died in one of the worst mining accidents in modern history.
Newsletter
Get top stories and blog posts emailed to you each day.