You are here
UK's Liberal Democrats promise new Brexit vote if elected
By Reuters - May 17,2017 - Last updated at May 17,2017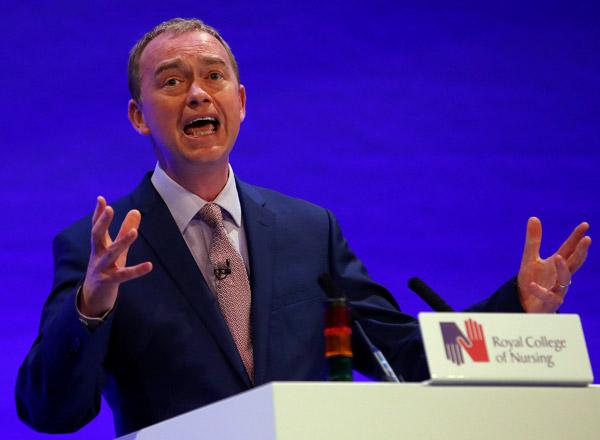 Tim Farron, leader of Britain's Liberal Democrat Party, speaks to members of the Royal College of Nursing in Liverpool on Monday (Reuters photo)
LONDON — Britain's Liberal Democrat Party, trailing significantly behind Prime Minister Theresa May's Conservatives and the opposition Labour Party, vowed on Wednesday to hold a second referendum on a final Brexit deal if it wins next month's election.
Launching his party's proposals for the June 8 election, Lib Dem leader Tim Farron said they would give Britons a say on the divorce deal struck with the European Union after two years of talks, saying a bad agreement would wreck Britain's future.
"You should have your say on the Brexit deal in a referendum," Farron said. "And if you don't like the deal you should be able to reject it and choose to remain in Europe."
May has vowed to press ahead with Brexit, saying she was prepared to take Britain out of the EU even if no deal with the bloc could be struck, while Labour's leader Jeremy Corbyn has said the issue has been settled.
The Lib Dems are hopeful that their pro-EU stance will attract support from the 48 per cent of Britons who backed remaining in the bloc in last year's referendum, although opinion polls suggest the message has not won over many people from the two major parties who opposed Brexit.
Surveys put support for the Liberal Democrats on about 10 per cent, some way behind May's Conservative Party which polls indicate is attracting support from more than 45 per cent of Britons with Labour on about 30 per cent.
Lib Dem support nationally has collapsed since the 2010 election when the party won 23 per cent of the vote, propelling it into a coalition government with former Conservative prime minister David Cameron.
But five years later voters abandoned the party as it bore the brunt of public anger over unpopular austerity measures and the Lib Dems lost all but eight of the 57 seats they held in the 650-seat parliament.
Among the other major policies advocated by the Lib Dems are an extra 1 pence on income tax rates to raise 6 billion pounds ($7.8 billion) to spend on the state-run National Health Service and a plan for a 100 billion pound infrastructure investment to help build 300,000 homes a year and improve road and rail links.
Related Articles
May 05,2015
Britain's political leaders on Tuesday began a final push for votes ahead of this week's knife-edge election, even as they prepared for the likelihood of protracted coalition talks once polls close.
Apr 13,2015
Opposition leader Ed Miliband insisted he was ready to be Britain's next prime minister as he launched a manifesto Monday designed to boost his party's reputation on the economy before the May 7 election.
Sep 29,2014
British Finance Minister George Osborne spelled out plans for more spending cuts on Monday, betting that voters will accept his tough approach to fixing the economy and give an election victory to his Conservative Party next year.
Newsletter
Get top stories and blog posts emailed to you each day.