You are here
US election hackers could have been from anywhere — Putin
By AFP - Jun 03,2017 - Last updated at Jun 03,2017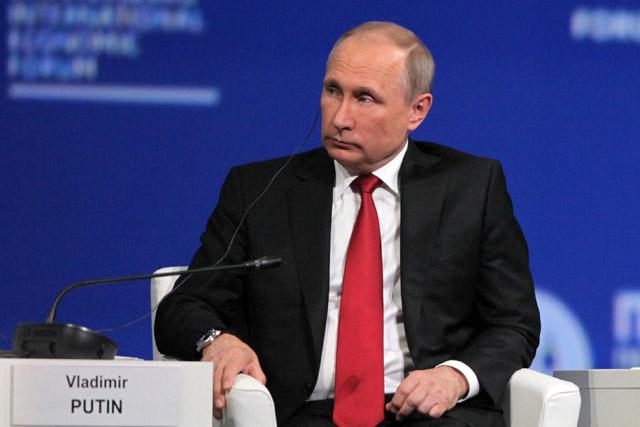 Russian President Vladimir Putin attends the Saint Petersburg International Economic Forum SPIEF' 2017 in Saint Petersburg, Russia, on Friday (AFP photo)
WASHINGTON — Russian President Vladimir Putin said hackers trying to influence last year's US election could have been from anywhere, questioning findings by American intelligence that Russia was behind the operation, according to an interview aired Friday.
"Hackers can be anywhere. They can be in Russia, in Asia... even in America, Latin America," he told NBC News, which previewed an interview with the Russian leader that will be broadcast in full on Sunday.
"They can even be hackers, by the way, in the United States, who very skillfully and professionally shifted the blame, as we say, on to Russia.
"By some calculations it was convenient for them to release this information, so they released it, citing Russia. Could you imagine something like that? I can."
US intelligence agencies have accused Putin of ordering a hacking and influence campaign to tilt last year's election in favor of Republican Donald Trump, after the billionaire pledged to boost ties with Moscow.
Speaking at Russia's annual showcase economic forum in Saint Petersburg on Friday, Putin slammed accusations that Moscow meddled in the election.
"This useless and harmful chatter needs to stop," the Kremlin strongman said.
"This is a transferral, I repeat, of internal political squabbling in the United States onto the international arena," he said.

Related Articles
Mar 25,2014
The dark world of cybercrime has evolved from one of rogue individuals to a functioning market-based economy with its ups and downs, code of conduct and "innovation".
Jul 27,2016
WASHINGTON — President Barack Obama's decision to identify Russia as almost certainly the culprit in hacking the Democratic National Committ
Dec 20,2017
TRIPOLI — Two years after a deal to form a unity government aimed at ending deep divisions between Libya's opposing sides, the country remai
Newsletter
Get top stories and blog posts emailed to you each day.