You are here
Venezuelans stage 'silent protest' in wave of unrest
By AFP - Apr 22,2017 - Last updated at Apr 22,2017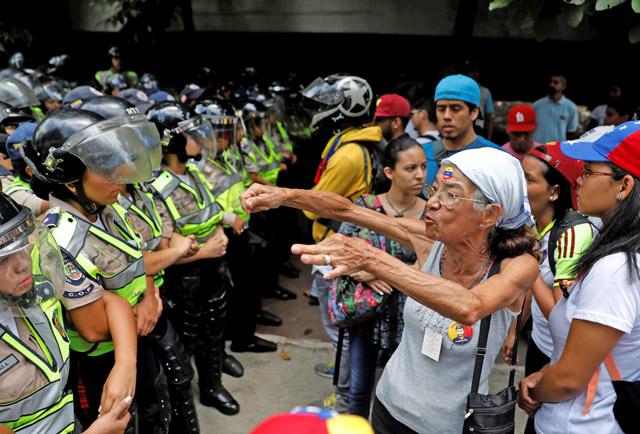 A woman confronts riot police during a rally to honour victims of violence during a protest against Venezuela's President Nicolas Maduro's government in Caracas, Venezuela, on Saturday (Reuters photo)
CARACAS — Venezuelans marched in silence on Saturday against President Nicolas Maduro, a test of his government's tolerance for peaceful protests after three weeks of violent unrest that has left 20 people dead.
Dressed in white, protesters marched to the Catholic Church's episcopal seats nationwide in a quiet show of condemnation of the leftist leader's government.
In Caracas, the police and national guard were out in force along major roads and around the headquarters of the conference of bishops.
"I'm sure they'll meet us with the usual [tear] gas, which is how they preach peace," said 71-year-old protester Hector Urbina.
The centre-right opposition accuses the government of repressing peaceful protests and sending armed thugs to attack them.
It blames Maduro for the unraveling of oil giant Venezuela's once-booming economy, which has left the country mired in shortages of food, medicine and basic goods.
Some protesters silently prayed, others carried Christian-themed banners or images.
"I'm not afraid," said protester Jessica Muchacho, 33.
"We've got nothing left to lose. The government's already taken everything, all possibility of living our lives with dignity."
The opposition plans to return to a more confrontational strategy on Monday, when it is calling for Venezuelans to block roads in a bid to grind the country to a halt.
That is the sort of protest that has repeatedly descended into violent unrest all month, as police fire tear gas, rubber bullets and water cannon to break up demonstrators, who fight back with stones and Molotov cocktails.
The last protests, on Thursday, descended into a night of clashes, riots and looting that left 12 people dead in Caracas. More pockets of violence erupted Friday night.
The two sides blame each other for the unrest.
Vice President Tareck El Aissami accused the opposition of sponsoring a "spiral of terrorism" to trigger a coup.
Senior opposition leader Henrique Capriles fired back that the government's "savage repression" was causing the violence.
Fourth week on edge
Maduro, the heir of the leftist "Bolivarian revolution" launched by the late Hugo Chavez in 1999, says the protests against him are part of a US-backed coup plot.
Pressure on the socialist president has been mounting since 2014, when prices for Venezuela's crucial oil exports started to plunge.
The crisis escalated on March 30, when the supreme court moved to seize the powers of the legislature, the only lever of state authority not controlled by Maduro and his allies.
The court partly backtracked after an international outcry. But tension only increased when the authorities slapped a political ban on Capriles on April 7.
According to pollster Venebarometro, seven in 10 Venezuelans disapprove of Maduro, whose term does not end until 2019.
The opposition is demanding elections to exit the crisis.
The secretary general of the Organisation of American States, Luis Almagro — one of Maduro's harshest critics — accused the government of "cowardice".
"When the political leadership gives the order to open fire on its own people, that's a very strong signal of cowardice and weakness," he told AFP.
War of attrition
Residents described terrifying scenes on Thursday night and early on Friday in the Caracas neighborhoods hit by unrest.
"It was like a war," said Carlos Yanez, a resident of the southwestern district of El Valle.
"The police were firing tear gas, armed civilians were shooting guns at buildings."
Eleven people were killed in the neighbourhood, according to officials.
As residents and workers cleaned up the destruction on Friday, groups of people, including children, scavenged for food amid the wreckage.
A man was also shot dead in protests in the eastern neighbourhood of Petare, the local mayor said. Prosecutors said they had opened an investigation.
In recent days, unrest has erupted in the flashpoint western city of San Cristobal and several other cities — most of which were seeing new marches on Saturday.
Related Articles
Feb 22,2014
Opponents of Venezuela's leftist government prepared for a mass protest rally in Caracas Saturday, a day after President Nicolas Maduro issued a surprise call for direct talks with the United States.
Mar 06,2014
Venezuela marked the first anniversary of Hugo Chavez's death Wednesday with a blend of solemn ceremonies, clashes and a break in relations with Panama over protests dogging his successor's presidency.
Feb 27,2014
Venezuela's President Nicolas Maduro opened a national peace conference Wednesday after three weeks of sometimes deadly street protests, but most of the opposition stayed away, with one leader calling it a photo op.
Newsletter
Get top stories and blog posts emailed to you each day.