You are here
Weird weather brings warm welcome to 2016
By AFP - Jan 01,2016 - Last updated at Jan 01,2016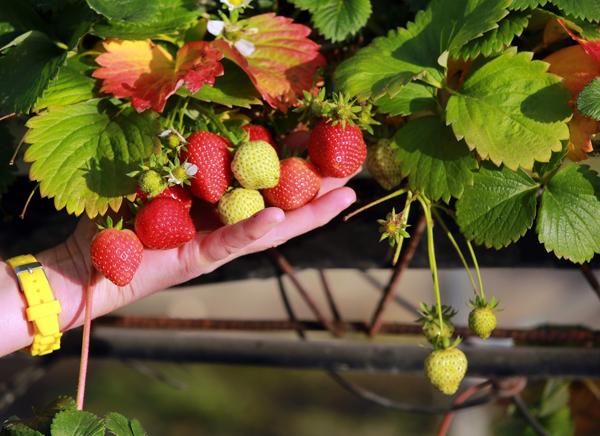 A producer from the Perigord region checks her ripe strawberries, due to the unusual warm temperatures, on December 29, in Cendrieux, southwestern France. Strawberries from the Perigord and aspargus from Alsace harvested for Christmas, Mimosa flowers of the French Riviera blooming for New Year's Eve: the exceptionally mild temperatures of the year-end disoriented nature (AFP photo)
LONDON —With temperatures above freezing at the North Pole, deadly tornadoes in Texas, extreme heat in Australia and floods in Britain and Missouri, the world is beset by extreme weather events as it welcomes 2016.
A powerful and destructive low-pressure system in the North Atlantic has pushed the mercury up to 2oC at the pole, 20 degrees above the seasonal norm.
The Arctic has borne the brunt of global warming, with temperatures three degrees higher than the pre-industrial era.
But linking the current mild conditions to climate change is premature, warned Natalie Hasell, meteorologist at the Canadian Department of the Environment, saying that scientists do not base their conclusions "on one anomaly".
The North Atlantic depression also brought eastern Canada an unusually warm holiday period, with temperatures hitting 15.9oC in Montreal on Christmas Eve, around 20 degrees above the seasonal average.
This was followed by heavy snowfall that covered the country's eastern half.
In the United States, tornadoes and floods left at least 49 dead.
The waters of the mighty Mississippi River have already exceeded overflow levels by four metres in some areas, claiming 13 lives.
In the south, spectacular tornadoes devastated parts of Texas.
The common cause of the unusual events is a particularly strong El Nino system, amplified by global warming, according to scientists.
El Ninos, which emerge every four to seven years on average and run from October through January, are triggered by a shift in trade winds across the Pacific around the Equator.
However, the 2015 episode is "probably the strongest in the last 100 years", said Jerome Lecou, forecaster at Meteo-France.
"There is no simple answer" to explain the exceptional conditions, he added.
Although centred on the Pacific Ocean, El Nino "has an impact on a global scale", Jean Jouzel, former vice president of the Intergovernmental Panel on Climate Change, told AFP.
"Generally, El Nino years are warmer than average", he said.
In Australia, scorching heat has led to large forest fires and temperatures are forecast to soon hit 38oC in the south.
In France, the unseasonally warm weather has baffled Mother Nature with Perigord strawberries, Alsatian asparagus and mimosas all flourishing on the French Riviera.
In Spain, higher temperatures and low rainfall have led to an unusual outbreak of wildfires in the north.
Several Italian cities have introduced traffic restrictions to combat fine-particle pollution, which has been worsened by the dry and calm conditions.
Record rainfall has brought unprecedented flooding to the north of England, leaving the historic city of York under feet of water and thousands evacuated over December.
Stormy weather buffeting the North Sea has brought havoc to oilfields on New Year's Eve, with one man reported killed by a giant wave hitting a rig, and hundreds of workers evacuated after a huge barge broke its moorings and began drifting.
"There is no doubt in my mind that climate change is partly responsible for the flooding across the north of England," said Piers Forster, professor of climate science at Leeds University.
"This December is around 5oC warmer than normal," he added. "The high temperatures are the combined effect of El Nino on top of a man-made global warming trend."
Worldwide, temperatures between January and November have already broken records, suggesting that 2015 will be the hottest in modern history, according to the National Oceanic and Atmospheric Administration.
"On a global level, we really are in an exceptional year as it is just over a tenth of a degree warmer than 2014, which itself was a record year," said Jean Jouzel.
"This is a real leap, one tenth of a degree from one year to another," he added.
With El Nino showing little sign of running out of steam, he predicted that 2016 could be warmer still, but that following years may be less extreme.
Related Articles
Jan 24,2016
2015 was Earth's hottest year on record, and it appears the planet is still getting hotter.Barely three weeks into the new year, clima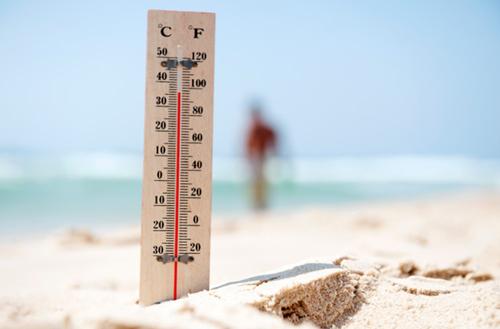 May 28,2016
WASHINGTON — Earth's heat is stuck on high.Thanks to a combination of global warming and an El Nino, the planet shattered monthly heat recor
Jul 23,2015
SANTA CRUZ, Ecuador — The Galapagos Islands, celebrated for their breathtaking biodiversity, could face a major threat from "El Nino",
Newsletter
Get top stories and blog posts emailed to you each day.