You are here
Yanukovych emerges as Ukraine leaders warn Russia over Crimea
By AFP - Feb 27,2014 - Last updated at Feb 27,2014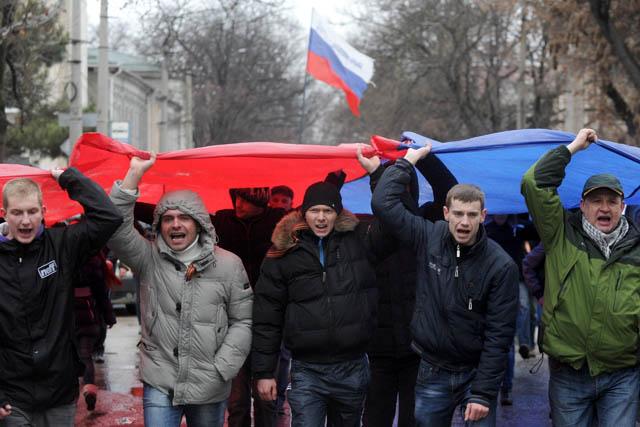 SIMFEROPOL, Ukraine — Ukraine's ousted pro-Moscow president Viktor Yanukovych emerged defiant Thursday from five days in hiding as the country's new leaders issued a blunt warning to Russia against any aggression on the volatile Crimean peninsula.
Anxious Western governments voiced fears about the "dangerous" situation in Crimea after dozens of pro-Kremlin gunmen in combat fatigues seized government buildings in the autonomous republic and pleaded with Moscow not to escalate tensions.
Yanukovych is to hold a press conference in Russia on Friday in his first public appearance since fleeing Ukraine at the weekend, Russian news agencies reported.
Russian President Vladimir Putin had stoked concerns Wednesday that Moscow might use its military might to sway the outcome of Ukraine's three-month stand-off by ordering snap combat readiness drills near the border with the ex-Soviet state.
Interim president Oleksandr Turchynov responded by telling parliament that any movement of Russian troops out of their Black Sea bases in Crimea "will be considered as military aggression".
Ukraine's bloodiest crisis since its 1991 independence erupted in November when Yanukovych made the shock decision to ditch a historic EU trade pact in favour of closer ties with old master Russia.
Yanukovych, deposed at the weekend in a fast-moving drama after a week of bloodshed, broke his five-day silence by telling Russian news agencies from an undisclosed location he still viewed himself as president.
A high-ranking source quoted by the news agencies said the fugitive leader's request for personal security had been "granted on Russian territory", suggesting he was now there.
Ukraine had appeared to take a decisive swing back towards the EU by ousting Yanukovych and replacing his entire pro-Russian team with a new brand of younger politicians who will steer the nation — torn between a Russified east and pro-European west — until snap presidential polls are held on May 25.
The Verkhovna Rada parliament confirmed opposition icon Yulia Tymoshenko's top ally Arseniy Yatsenyuk as prime minister by a near-unanimous margin and approved the makeup of his untested but strongly pro-Western government.
"Ukraine is being torn apart," a sombre Yatsenyuk said of the strategic but now splintered nation that has served as the geopolitical bridge between Russia and the West.
"But Ukraine sees its future in Europe. We will be a part of the European Union."
The Russian tricolour was flying over the Crimean parliament and government buildings in the regional capital Simferopol as supporters of Moscow rule flocked in from across the scenic peninsula by car and bus.
The autonomous region's prime minister Anatoliy Mohilyov told AFP up to 50 men with weapons had seized the buildings and were preventing government workers going inside.
But his predecessor Sergiy Kunitsyn told lawmakers in Kiev that his contacts in Crimea said the raid involved "about 120 well-trained gunmen armed with sniper rifles... and carrying enough ammunition to last them a month".
The gunmen opened the doors to allow in lawmakers who quickly approved the staging of a regional referendum — also on May 25 — that would grant Crimea even greater independence from Kiev.
The referendum proposes granting Crimea "national sovereignty within Ukraine on the basis of existing treaties and agreements".
Lawmakers — who were later escorted out by the besieging gunmen — also agreed to disband the region's government and hand its powers to the heavily pro-Russian parliament.
The international response to the stand-off was swift and overwhelmingly critical of Russia.
US Defence Secretary Chuck Hagel said at a NATO meeting that Moscow must be transparent about its military exercises.
"I urge them not to take steps that could be misinterpreted or lead to miscalculation," he said in comments echoed by NATO head Anders Fogh Rasmussen.
Polish Foreign Minister Radoslaw Sikorski — a strong proponent of Ukraine's eventual EU membership — warned of "a very dangerous game" in Crimea.
And British Prime Minister David Cameron insisted that Russia respects the "sovereignty of Ukraine".
Moscow responded by saying it was "strictly adhering" to existing treaties with Ukraine on the Black Sea fleet.
Yanukovych — wanted for "mass murder" over the deadly protests — had been widely believed to have gone into hiding in Crimea with his two sons and a small team of heavily armed guards.
But Russian television reported late Wednesday the 63-year-old was hiding in a government health resort near Moscow after fleeing his luxurious estate outside Kiev by helicopter.
Yanukovych's statement Thursday did not disclose his whereabouts but it said he was "compelled to ask the Russian Federation to ensure my personal security from the actions of extremists".
But a security source strongly implied he was already in Russia as Moscow had granted his request to ensure his personal security "on Russian territory".
Moscow's Interfax news agency quoted a source in Yanukovych's entourage as saying he would give a press conference in the southwestern city of Rostov-on-Don on Friday at 1300 GMT.
Ukraine's new leaders meanwhile are suffering from Moscow's decision to freeze a $15-billion bailout package Putin promised to Yanukovych.
Kiev has requested as much as $35 billion in Western help and owes $13 billion in state debt payments this year — a massive sum in a country where state reserves have shrunk to less than $18 billion.
Concerns over what would be a catastrophic default saw the local currency plunge almost 10 per cent to a record low against the dollar Thursday.
The leadership in Kiev won some reprieve when US Secretary of State John Kerry promised quick delivery of $1 billion in loan guarantees "with some other pieces" to follow.
Kerry said the EU was looking at loan guarantees worth some $1.5 billion for the nation of 46 million people.
Any aid would probably be funnelled through a mechanism overseen by the International Monetary Fund which had frozen its assistance programme because of Yanukovych's refusal to make painful structural changes.
IMF chief Christine Lagarde promised Thursday to send a fact-finding mission to Kiev in the coming days to launch a "preliminary dialogue with the authorities".
Related Articles
Mar 02,2014
Ukraine warned Sunday it was on the brink of disaster and called up military reservists after Russia's threat to invade its Western-leaning neighbour risked sparking the worst crisis since the Cold War.
Mar 06,2014
Facing off in Europe's capitals, Russia and the West began trying to build the elements of a diplomatic solution to Europe's gravest crisis since the Cold War — even as the West appeared increasingly resigned to an entrenched Russian presence in Crimea.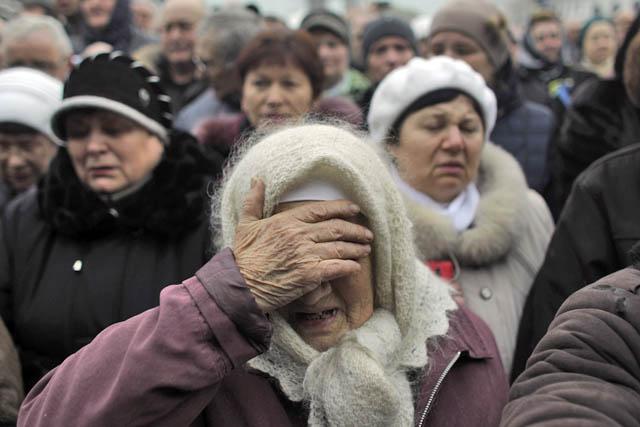 Feb 25,2014
A former presidential aide despised by protesters has been shot and wounded, his spokesman said Tuesday, raising fears of retaliation as Ukraine charts a new tumultuous political course.
Newsletter
Get top stories and blog posts emailed to you each day.