You are here
Ford's number one
By Ghaith Madadha - Feb 09,2015 - Last updated at Feb 09,2015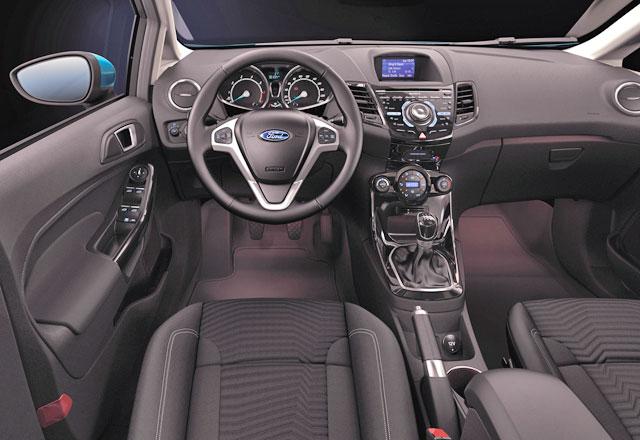 In its element on London's tight and busy streets, the UK's best-selling Ford Fiesta is affordable, agile, economical and sensible. With 131,254 Fiestas registered in the UK in 2014, it outsells the next best-selling Ford Focus (46,114) and its chief rival and third best-selling Vauxhall Corsa (49,471), according to Auto Express.
More than just rational purchase, the unassuming Fiesta's honest and fun character, with stylishly modern but unpretentious design, sublime combination of agile and engaging handling with supple and composed comfort, and generous equipment contribute much to its runaway success.
Driven in turbocharged 1.0-litre manual gearbox five-door Zetec guise, the Fiesta proved a perky, petrol-pinching and practical week-long companion.
Feisty Fiesta
Classy and sporty in an unaffected and feisty manner, the Fiesta's big gaping horizontally-slatted grille and squinting wraparound headlights wouldn't look out of place on a sports car, while a sharply rising waistline and gently sloped roofline give way to a pert rear with tailgate spoiler and high-set diamond-like rear lights.
With prominent wheel-arches, sharp rising side crease, wheels pushed out far to corners and black lower bumper cladding, even the humblest entry-level Fiesta strikes a sense of urgency and forward motion that bring to mind its Fiesta WRC rally hero alter-ego. Completing the package is a choice of smart alloy wheels and colours, including fresh optional Candy Blue, as driven.
With its tall cabin, short sloped bonnet, upright seating, compact dimensions and big front glass the Fiesta provides good road visibility to place it on the road and easily park with exact confidence, and good front and rear headroom. A practical and well packaged supermini-class hatchback, the Fiesta's uniformly shaped boot was able to accommodate four bags in its 290-litre volume (274l with spare tyre), and can further be expanded up to 974l (with tyre repair kit) when rear seats are folded down.
A practical and driver-focused place, the Fiesta's supportive and upright seats and height/reach adjustable steering are set-up for an alert driving position. Design is modern and busy but user-friendly.
Perky and punchy
In landscape not short of Fiestas, the driven demo car's unique 'FMC 1' (i.e. Ford Motor Company 1) personalised license plate stood out on a car so ubiquitously popular and affordable, given previous bearers included the iconic 1966 Ford GT40 Mk1 supercar. However, it nonetheless cheekily represented the Fiesta's UK best-selling position and alluded to the significance of its 1-litre Ecoboost engine.
Light and compact, the Fiesta's 1.0 turbocharged direct injection 3-cylinder Ecoboost engine is a perky and frugal gem, which develops 99BHP at 6000rpm and 125lb/ft torque throughout 1400-4000rpm. Fitted with a stop/start system the Fiesta 1.0 returns penny-pinching 4.3l/100km fuel consumption and 99g/km CO2 emissions on the combined cycle.
Driving front wheels through a 5-speed manual gearbox with quick and snappy shifter and light and intuitive clutch pedal travel and pick-up, one faultlessly dials in slip or grip when launching off-the-line. Perky and punchy, the light 1101kg Fiesta dashes through 0-100km/h in 11.2-seconds and can attain 180km/h.
Responsive at low rpm, the Fiesta 1.0 is however punchier once it starts building towards its generously rich mid-range, which provides confident highway and B-road overtaking, nippy town driving and incline pulling power. With a distant off-beat 3-pot thrum, the smooth 1.0 Ecoboost relies on flywheel weights — rather than balancing shaft — and engine mounts to effectively damp vibrations, while an oil-lubricated cambelt is smooth and durable.
Darty drive
A rare frugal and sensible car that's fun to drive, the Fiesta is feisty, perky, punchy and engaging drive. Darty and manoeuvrable through urban and country roads, the Fiesta's quick and fuel-saving electric-assisted steering is well-calibrated to be sharp, exact and feelsome, and with an ultra light and compact engine over the driven front wheels, the Fiesta is eager and tidy turning into corners. Agile through corners the Fiesta turns on the proverbial coin, and with compact dimensions and narrow frame, zips through winding streets and switchbacks. With big footprint and well-judged chassis calibrations, the Fiesta is confident with intuitively good handling, willing and eager through corners at a brisk pace.
A nimbly agile car with flickable steering and communicative chassis, the Fiesta 1.0 Zetec rides on 195/55R15 tires, a well-chosen compromise between firmness for handling but leaning more for comfort and intuitive road feel.
A surprisingly comfortable car, the Fiesta dispatched the bumpiest and lumpiest of British roads with a supple fluency that took the edge of the sharpest imperfections. With its suspension set up for comfort, the Fiesta leans slightly through corners, but nevertheless remains composed and delivers a natural and predictable feel for its position, limits and the road. Refined and stable and on highways, the Fiesta was alert, engaging and reassuring at speed and settled and buttoned down on rebounds.
Practical package
A practical and well-packaged small car, the Fiesta Zetec tested featured good honest trim levels with soft textures in strategic places the driver most often comes into contact with, as well as leather multi-function steering wheel and gear knob.
Stylishly modern with big clear dials, the Fiesta's interior is somewhat busy but user-friendly and welcoming, but the infotainment screen could do with being bigger and/or nearer.
Well equipped, the Fiesta Zetec featured a heated windscreen, which proved usefully quick-acting in defrosting. Other features include electric windows and mirrors, remote central locking, standard six-speaker audio system with USB, MP3 and Bluetooth compatibility, and numerous other standard and optional features, including parking sensors.
Well-equipped, the Fiesta Zetec scores the maximum five star EuroNCAP safety rating and comes with a host of standard safety features including a stiff body shell, all-round headrests and three-point seatbelts, Isofix childseat latches, hard biting front ventilated disc and rear drum brakes with ABS, electronic brakeforce distribution and emergency brake assistance, and driver, passenger, front side, curtain and driver's knee airbags. Also available is an optional Active city Stop system, which can automatically brake to prevent collisions up to 30km/h.
Frugal yet fun
Well-rounded, frugal, punchy and prodigious, the Fiesta 1.0 Ecoboost is an ideal alternative to many hybrid cars in terms of real world fuel consumption and their antithesis in terms of its light, fun and uncomplicated approach to efficiency.
The Fiesta 1.0 Ecoboost is also available in 123BHP guise and special Red and Black editions, with 138BHP and sportier style and suspension to bridge the gap between garden-variety models and the sublime Fiesta ST. One of the finest hot hatches, it is speculated that the 197BHP turbocharged 1.6-litre Fiesta ST might be joined by a yet hotter 250BHP four-wheel drive Fiesta RS version by 2017.
TECHNICAL SPECIFICATIONS
Engine: 1-litre, turbocharged, transverse 3-cylinders
Bore x stroke: 71.9 x 82mm
Compression: 10:1
Valve-train: 12-valve, DOHC, direct injection
Gearbox: 5-speed manual, front-wheel-drive
Top gear/final drive ratios: 0.69:1/3.61:1
Power, BHP (PS) [kW]: 99 (100) [74] @ 6000rpm
Specific power: 99.1BHP/litre
Power-to-weight: 89.9BHP/tonne
Torque, lb/ft (Nm): 125 (170) @ 1400-4000rpm
Specific torque: 170.1Nm/litre
Torque-to-weight: 154.4Nm/tonne
0-100km/h: 11.2-seconds
50-100km/h, in 4th: 14.7-seconds
Top speed: 180km/h
Fuel consumption, urban/extra-urban/combined: 5.3/3.7/4.3l/100km
CO2, combined: 99g/km
Length: 3969mm
Width: 1722mm
Height: 1495mm
Wheelbase: 2489mm
Track, F/R: 1465/1447mm
Aerodynamic drag co-efficient: 0.328
Headroom, F/R: 993/945mm
Legroom, F/R: 1072/792mm
Luggage, min/max: 276/974-litres
Fuel capacity: 42-litres
Kerb weight: 1101kg
Steering: Electric-assisted rack & pinion
Turning circle: 10.1-metres
Suspension, F/R: MacPherson Struts/torsion beam
Brakes, F/R: Ventilated discs/drums
Tyres: 195/55R15
Related Articles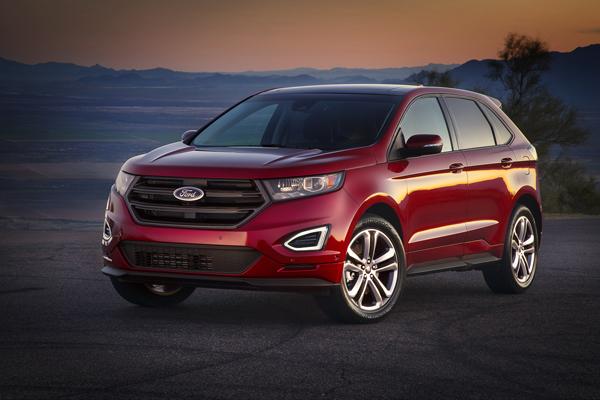 Nov 21,2016
First launched in late 2006, the Ford Edge was the Blue Oval's first foray into a then still somewhat nascent car-based compact SUV segment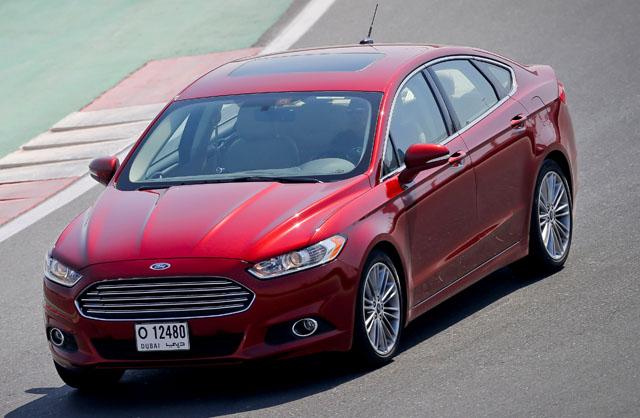 May 26,2014
A product of the One Ford approach to developing cars for an ever more homogenised global car market, the Ford Fusion is an aptly named combination of Ford's previously distinct American and European flavours, and serves as replacement for both its outgoing US and global predecessor and the European Mondeo — which continues selling under the same name.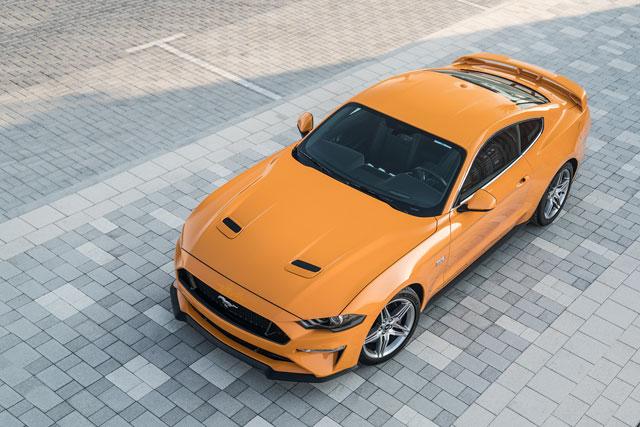 Nov 13,2017
Opening its doors to the public this evening and held once every two years, the Dubai International Motor Show (DIMS) is the region's premie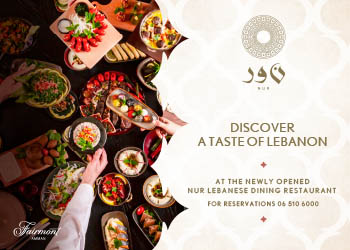 Newsletter
Get top stories and blog posts emailed to you each day.