You are here
New Year revellers defy terror alerts to see in 2017
By AFP - Dec 31,2016 - Last updated at Dec 31,2016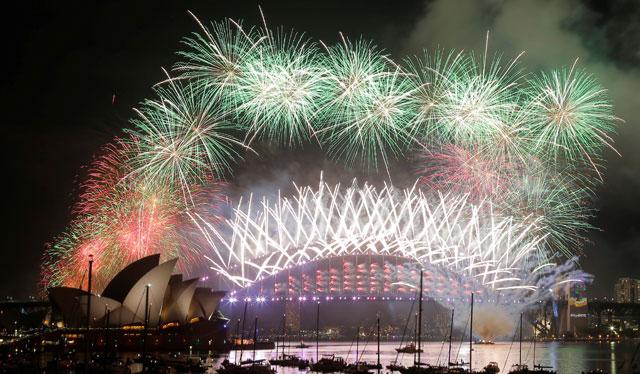 Fireworks explode over the Sydney Opera House and Harbour Bridge as Australia ushers in the New Year in Sydney on Sunday (Reuters photo)
SYDNEY — Sydney kicked off New Year celebrations with a spectacular fireworks display as revellers across the globe defied global terror alerts to see in 2017 in style.
Around 1.5 million people packed Australia's biggest city to watch as the midnight fireworks erupted from Sydney Harbour Bridge, sending rainbow-coloured showers soaring into the night sky.
Crowds in Hong Kong also flocked to the waterfront to watch fireworks explode over Victoria Harbour, while in Japan, thousands packed the streets of Tokyo to release balloons into the air.
Shoppers in Japan had earlier filled markets to buy tuna and crabs — seen as expensive items for special feasts — for New Year's Day family gatherings.
The celebrations draw to an end a year of bloodshed and misery that has seen the war in Syria, Europe's migrant crisis and numerous terror attacks dominate the headlines.
It has also been a year of political shocks, from Britain's vote to leave the European Union to the election of maverick leaders in the United States and Philippines.
'Business as usual'
Amid global terror jitters, some 2,000 extra officers were deployed in Sydney after a man was arrested for allegedly making online threats against the celebrations.
Less than two weeks after the Berlin lorry attack at a Christmas market that killed 12 people, there were a number of reported threats during the holiday period.
In Melbourne, police foiled a "significant" Daesh-inspired Christmas Day terror plot.
Indonesia said it thwarted plans by a Daesh-linked group for a Christmas-time suicide bombing, and 52 people were injured in the Philippines in bomb attacks blamed on extremists.
Security concerns have hit many New Year events with truck blockades a new tactic to try to prevent vehicles ploughing into crowds, with Sydney using garbage trucks.
The German capital has beefed up security after the December 19 attack there, deploying more police, some armed with machine guns.
"This year, what's new is that we will place concrete blocks and position heavy armoured vehicles at the entrances" to the zone around Brandenburg Gate, a police spokesman said.
Visitors seemed undeterred by recent events as they began to gather under a cold blue sky for a series of concerts, ahead of a large midnight fireworks display in the area.
In Paris, there will be fireworks again, after muted 2015 celebrations, following the massacre of 130 people by extremists in the French capital.
Nearly 100,000 police, gendarmes and soldiers were deployed across France against the extremist threat.
Brussels, meanwhile, has reinstated its firework show after last year's was cancelled at the last minute due to a terrorist threat.
With more than a million people expected to turn out to watch the ball drop in Times Square, New York was scheduled to deploy 165 "blocker" trucks and some 7,000 police.
Thousands of police
Rome has stationed armoured vehicles and greater numbers of security forces around the Coliseum and St Peter's Square, where Pope Francis was to celebrate a "Te Deum" hymn of thanksgiving.
In a Mass earlier Saturday, the pontiff urged people to reflect on the plight of the young.
"We have created a culture that idolises youth... yet at the same time paradoxically we have condemned our young people to have no place in society," he said.
Moscow police were to deploy more than 5,000 officers backed by thousands more from the new national guard and volunteer militia to maintain order.
Thousands traditionally gather in Red Square, but for the second year in a row, the area was open solely to 6,000 invitees.
London had 3,000 officers on patrol with crowds flocking to line the banks of the Thames to watch the fireworks.
Up to two million people were expected to party at Rio's Copacabana beach. But with Brazil mired in its worst recession in a century, the fireworks have been cut to just 12 minutes.
Normally boisterous Bangkok was seeing in the new year on a more sombre note as the nation grieves for King Bhumibol Adulyadej, who died in October.
Thailand's new King Maha Vajiralongkorn urged his subjects to "unite" in a nationally televised speech on Saturday, his first major address to the politically split nation since ascending to the throne.
And, at the stroke of midnight, the celebrations were expected to last one second longer — a leap second — decreed by the International Earth Rotation and Reference Systems Service to allow astronomical time to catch up with atomic clocks that have called the hour since 1967.
Related Articles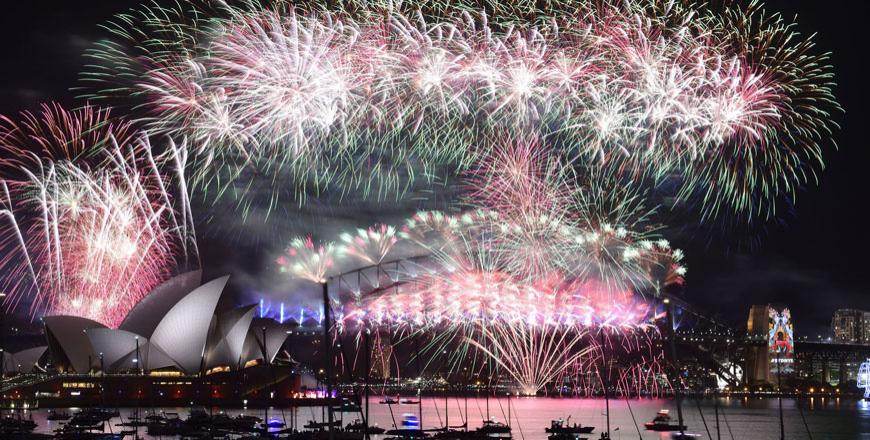 Dec 31,2015
SYDNEY — New Year's Eve kicked off in Sydney, but tightened security muted revelries in Europe with Brussels scrapping celebrations and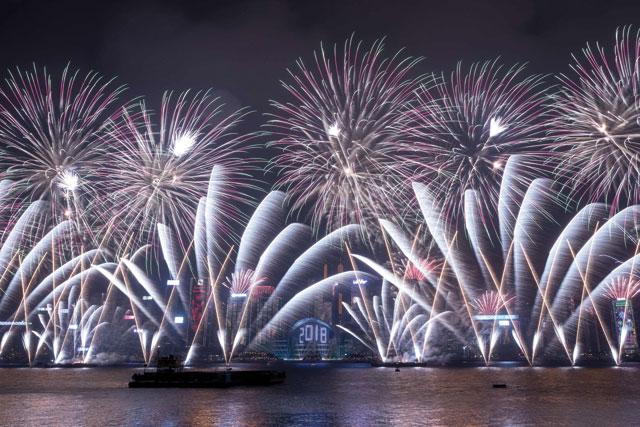 Dec 31,2017
SYDNEY — Hong Kong saw in 2018 in spectacular style as the southern Chinese city staged a stunning fireworks display over its famous Victori
Dec 24,2017
BETHLEHEM, Palestinian Territories — Palestinian scouts played drums and bagpipes as Christmas celebrations began in Bethlehem on Sunday, bu
Newsletter
Get top stories and blog posts emailed to you each day.