You are here
Spain protesters demand action over Catalonia crisis
By AFP - Oct 07,2017 - Last updated at Oct 07,2017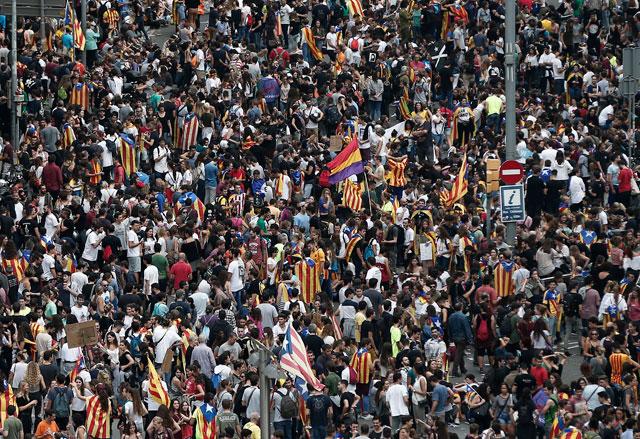 People gather to stage a demonstration within the general strike, supporting Catalonian independence and reacting against Spanish police's intervention in polling centres, in Barcelona, Spain, on Tuesday (Anadolu Agency photo)
MADRID — Thousands of demonstrators rallied across Madrid on Saturday calling for Spanish unity and demanding action to resolve a volatile political crisis over plans by Catalan separatists to declare independence.
Madrid's central Colon Square was transformed into a sea of Spanish flags as several thousand people joined a "patriotic" march organised by activists to defend the unity of Spain.
Hundreds of others, all dressed in white, gathered in a nearby plaza ouside Madrid city hall in a separate rally calling for dialogue to end the crisis, among them families with young children.
The rallies followed days of soaring tensions after police cracked down on voters during a banned October 1 Catalan independence referendum, prompting regional leaders to warn they would declare unilaterally declare independence in days.
"Rajoy, you wuss, defend the nation!" chanted one group of young, mostly-male demonstrators as they marched into Colon Square waving Spanish flags as well as one bearing the francoist Black eagle.
"It's reached a turning point and we need to get actively involved in the defence of Spain's values as a nation," added 52-year-old Joaquin Penas, an off-duty cavalry colonel with a Spanish flag draped round his shoulders.
If Catalonia were to declare independence "it would be like cutting off an arm", he told AFP, saying there was "a lot of concern" about the government's perceived lack of action to resolve the crisis.
"I don't have much confidence in the government. It is not a very proactive government... [Prime Minister Mariano] Rajoy is anything but a leader. To be honest, he's awful."
Tentative signs have emerged that the two sides may be seeking to defuse the country's worst crisis in a generation after Madrid offered a first apology on Friday to Catalans injured by police during the vote.
But uncertainty still haunts the country as Catalan leaders have not backed off from plans to declare the region independent.
'A lot of fear'
In Cibeles Square, hundreds of others people clapped and waved their hands in the air in a crowd which included many families with young children and babies but no flags.
Yurena Diaz, a 36-year-old doctor with her dog Quillo on a lead, said she was demonstrating "so that there would be dialogue before we lose ourselves, so they they try and sit down and talk".
"There is a lot more tension and violence. Each time it gets worse. Such violence makes you afraid. It has generated a lot of fear and that's dangerous."
Rajoy has vowed to block any independence move and has also rejected calls for mediation in a dispute that has drawn cries of concern all over Spain, and even from Barcelona and Real Madrid footballers.
"There has to be a commitment to dialogue," Jordi Cuixart, president of one of the grassroots groups driving the separatist movement, said on Catalan radio.
"We will never refuse that. But we... will continue to demand a commitment that the referendum law be fulfilled."
'Let's talk'
The crisis has raised fears of unrest in the northeastern region, a tourist-friendly area of 7.5 million people that accounts for a fifth of Spain's economy.
Opponents of secession called for demonstrations around Spain on Saturday and in Barcelona on Sunday.
Another group called "Let's Talk" urged citizens to gather dressed in white in front of town halls, demanding dialogue to end the crisis under the slogan: "Spain is better than its leaders".
Friday saw the first signs the sides may be willing to step back from the brink in a political conflict that risks destabilising Europe.
After days of ill-tempered rhetoric, Madrid said it regretted the injuries caused in the October 1 crackdown and suggested Catalonia should hold a regional election to settle the crisis.
"I can do nothing but regret it, apologise on behalf of the officers who intervened," said the government's representative in Catalonia, Enric Millo.
Businesses and the government have kept up economic pressure on Catalonia however, with several big companies announcing moves to shift their headquarters to other parts of Spain.
Catalan leader Carles Puigdemont had been due to appear at the regional parliament on Monday but postponed it by a day, a spokesman said.
It remains unclear what he plans to say, although some leaders hope he will use the opportunity to make a declaration of independence.
On Friday, Catalonia's police chief and two prominent separatist leaders including Cuixart avoided being remanded in custody at a court hearing over sedition accusations.
Economic pressure
If Catalonia declares independence, Spain could respond by suspending the region's existing autonomous status and imposing direct rule from Madrid.
The Catalan government on Friday published final results from the referendum indicating that 90 per cent of voters backed the idea of breaking away from Spain.
Turnout was 43 per cent.
Recent polls had indicated that Catalans are split on independence, though leaders said the violence during the referendum turned many against the state authorities.
With its own language and cultural traditions, demands for independence in Catalonia date back centuries but have surged during recent years of economic crisis.
Related Articles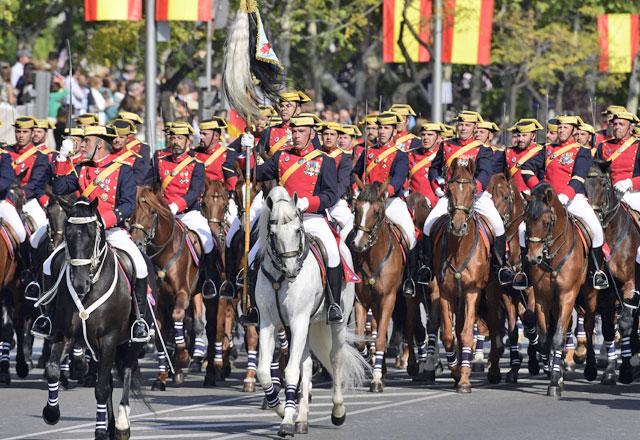 Oct 12,2017
MADRID — Spain celebrated its national day Thursday with a show of unity in the face of Catalan independence efforts, a day after the centra
Oct 09,2017
BARCELONA/MADRID — Catalonia's secessionist leader on Monday faced increased pressure to abandon plans to declare the region independent fro
Nov 09,2015
MADRID — Catalonia's regional assembly on Monday passed a resolution calling for secession from Spain, energising a drive towards independen
Newsletter
Get top stories and blog posts emailed to you each day.