You are here
'Saudi-led friendly fire kills 6 Yemen troops'
By AFP - Feb 26,2018 - Last updated at Feb 26,2018
SANAA — A Saudi-led air strike killed at least six allied Yemeni soldiers on Monday in friendly fire attacks on their base 50 kilometres east of Sanaa, a military source said.
"An erroneous strike by coalition warplanes killed six troops — one officer and five soldiers," a military source based in the government stronghold Marib told AFP on condition of anonymity.
He said another 15 troops were wounded in the strike on a national army camp in the mountainous region of Nihm, a contested territory halfway between rebel-held Sanaa and Marib.
A second government military source gave a higher toll of 20 killed, including three prominent commanders.
The Saudi-led coalition did not immediately respond to requests for comment.
Saudi Arabia launched its Yemen military alliance in 2015 with the stated goal of restoring the government of President Abed Rabbu Mansour Hadi to power and rolling back Houthi rebel gains.
In recent months, coalition-backed Yemeni troops have overrun multiple Houthi bases in Nihm — held by the insurgents since 2014.
A bloody battleground, Nihm is a key gateway to the capital, which remains elusive with the military advance impeded by the treacherous mountain terrain and thousands of land mines planted by the Iran-backed rebels.
Related Articles
Apr 14,2016
MARIB, Yemen — At least 35 pro-government fighters have been killed in clashes with rebels near the Yemeni capital in the first three days o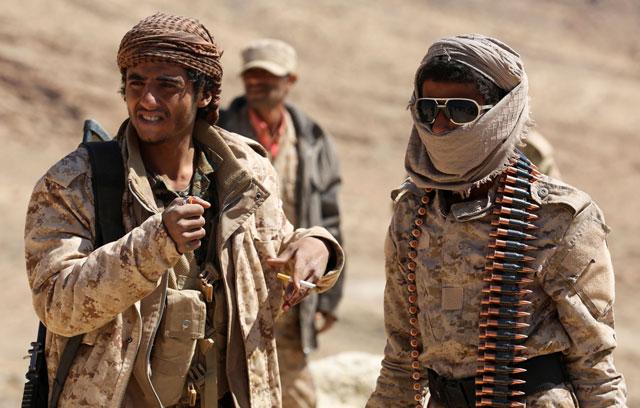 Feb 05,2018
NIHM, Yemen — Ignoring the rumble of heavy artillery, Yemeni commander Nasr Al Dibani points at Houthi bases from a jagged clifftop, outlini
Feb 23,2016
ADEN —Yemen's president has appointed a veteran general as armed forces deputy commander in a bid to rally support from tribes and troops in
Newsletter
Get top stories and blog posts emailed to you each day.