You are here
Jordanian, Turkish women discuss common concerns, challenges
By Ana V. Ibáñez Prieto - Mar 08,2018 - Last updated at Mar 09,2018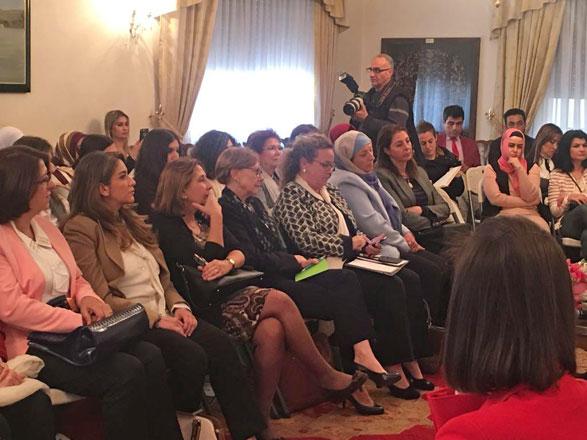 Jordanian and Turkish women discuss common issues and challenges during a panel hosted by the Turkish embassy in Amman on Thursday (Photo by By Ana V. Ibáñez Prieto)
AMMAN — The embassy of Turkey on Thursday hosted a discussion panel on the theme of "Being a Woman in Turkey and Jordan", were prominent women from both countries discussed the status of several women's issues.
Celebrated on the occasion of the International Women's Day, the panel attracted dozens of women including ambassadors of Spain, Netherlands and Germany.
The discussion was opened by Turkish Ambassador to Jordan Murat Karagöz, who thanked all attendees "for contributing to the development of the society", expressing that "women mean struggle, courage and freedom".
Sisterhood Is Global Institute (SIGI) Executive Director Asma Khader was the first speaker to intervene in the panel, expressing that "as a Jordanian woman, I can say that the situation in the Kingdom has really improved a lot".
"Before, the role of women in Jordan was limited to getting married and raising children, and although we don't want to present women's right as a contradiction to family life, being mothers should not prevent us from becoming ministers, doctors and professionals," Khader said, expressing gratefulness "for Jordan to be on the path to achieve this balance".
"They said that women can't be judges because we are too emotional and now the civil courts are full of women," Khadet pointed out, noting that "we are still waiting for women to enter the Sharia courts".
The expert also highlighted that women started to become ministers in Jordan in 1979 and parliamentarians in 1974, adding that "however, Jordan still needs to overcome issues such as child marriage, pay gap, harassment and legal discrimination".
Leena Al Hadid, director of International Relations at the Ministry of Foreign Affairs, pointed out that her position is not "a role you can take as a woman without the approval of the most important male member of the family — and this is the kind of issues we need to push back", adding that "we need society to adopt measures and to raise the upcoming generation with a female perspective".
For her part, journalist Dina Al Wakeel lamented the low levels of female participation in the Jordanian workforce, highlighting that the percentage of women's involvement in labour is lower than the regional average.
"It is essential to have a support system within the family in order to overcome the breakthroughs," Al Wakeel continued, adding that "the way in which girls are treated at home is important, and that is something we need to change in Jordan".
Related Articles
Mar 12,2018
AMMAN — The Arab Renaissance for Democracy and Development (ARDD) on Thursday issued a report analysing the status of women's access to just
Nov 07,2016
AMMAN — With the inauguration of Parliament's first ordinary session on Monday, the Sisterhood Is Global Institute (SIGI) said it will monit
Mar 26,2018
AMMAN —Under the patronage of HRH Princess Basma, the first international conference "woman's entrepreneurship and leadership between challe
Newsletter
Get top stories and blog posts emailed to you each day.