You are here
10 arrested in various drug cases across Kingdom
By JT - Apr 05,2018 - Last updated at Apr 05,2018
AMMAN — Anti-Narcotics Department (AND) personnel have arrested 10 people in possession of large amounts of narcotics, during several raids targeting drug traffickers in various regions of the Kingdom, the Public Security Department (PSD) announced on Wednesday.
One case included two suspects who tried to transfer drugs through the Mafraq-Amman highway inside two vehicles. Security personnel ambushed them and seized 30 palm-sized sheets of hashish, according to a PSD statement cited by the Jordan News Agency, Petra.
In Amman, security agents arrested three people selling drugs inside a vehicle and seized 469 bags of synthetic cannabis (locally known as joker), some narcotic pills and money.
Four drug traffickers, including two Arab nationals, were also arrested in Mafraq, some 80km northeast of Amman, after they were found hiding some drugs in the residence of one of them, which they used to sell narcotics. Agents seized 9,000 captagon pills.
In Irbid, some 80km north of Amman, security personnel seized 9 palm-sized sheets of hashish and 2.5 kilogrammes of Tramal pills after searching the residence of a trafficker who fled once he saw the security agents. The suspect is still at large, according to Petra.
AND personnel in Zarqa, some 22km east of Amman, arrested a drug trafficker who was selling narcotics on the street, seizing 24 bags of joker, 15 pieces of hashish and Captagon pills.
All the arrested suspects were referred to court, prior to transferring them to the State Security Court's prosecutor general office, the statement added.
Another PSD statement, carried by Petra, announced that a joint force of PSD and Gendarmerie Department personnel also arrested four wanted people, including one classified as dangerous, during raids in the Central Badia region.
Criminal investigation agents at the Royal Badia Forces had been monitoring a group of people with criminal records, and identifying their safe houses through intelligence efforts.
Afterwards, a joint security force raided the places and arrested the four suspects, including one suspect classified as "dangerous" wanted on eight charges and with a criminal record of 14 cases such as vehicle theft and drug related crimes.
Security agents retrieved a stolen vehicle and seized a firearm, adding that investigation began to refer the arrested to the concerned authorities.
Related Articles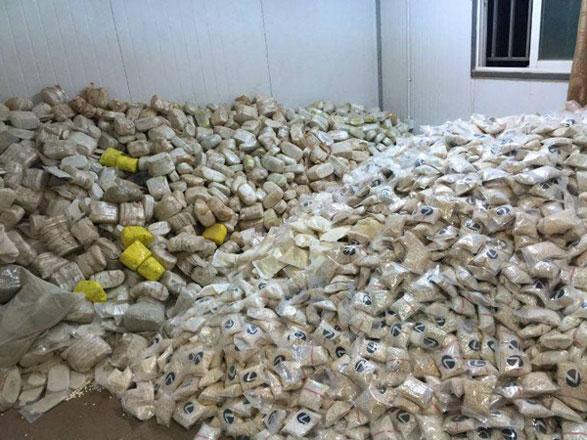 Mar 22,2016
AMMAN — Border Guards on Monday night foiled an attempt to smuggle a large amount of narcotics through two vehicles coming from Syria, an of
Oct 03,2016
AMMAN — Anti-narcotics police have arrested 33 suspects in relation to 14 drug dealing cases over the last week, the Public Security Departm
Aug 29,2017
AMMAN — The Anti-Narcotics Department (AND) has raided several houses, arrested several suspects and confiscated various amounts of narcotic
Newsletter
Get top stories and blog posts emailed to you each day.