You are here
Author chronicles 16 years of friendship with Fahrelnissa Zeid
By Suzanna Goussous - Apr 21,2016 - Last updated at Apr 21,2016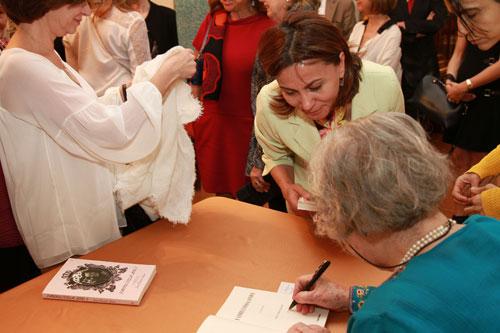 Author Janset Berkok Shami signs her book 'Fahrelnissa and I' during a ceremony in Amman on Wednesday (Photo by Hassan Tamimi)
AMMAN — In her latest book, author Janset Berkok Shami reminisces on 16 years of friendship in Amman with iconic Turkish artist Fahrelnissa Zeid.
At her book signing ceremony held at the Turkish ambassador's residence on Wednesday, Shami recounts memories of Princess Fahrelnissa and herself that date back to more than 40 years.
"Fahrelnissa and I" memoire takes the reader back to 1975 to experience the lives of two women who arrived in the Kingdom at that time.
Fahrelnissa's art was famous for blending elements from Islamic and Byzantine iconography from the East with elements from the West. Her art also included vivid colours.
Turkish Ambassador to Jordan Sedat Önal said Fahrelnissa's art "has its own language".
"She is one of the greatest Turkish artists and it is difficult to define her art, although we can say that her art has influenced… [many] artists. Her art defies categorisation," Önal said.
The ambassador said her paintings depict a sense of "joy of life" that the artist used to spread.
HRH Prince Raad said the book captures Princess Fahrelnissa's "quest for knowledge and love of life".
"My great mother spent 16 years of her life in Amman, where happily, she struck gold in her first meeting with Mrs Janset, to pave the way for a long and lasting relationship," he said.
The prince added that the book "takes the reader on a long, wild [and] entertaining journey" of two women living in Amman "with an artistic and cultural union".
Shami said she felt the need to give a picture of her friendship with "such an inspiring character".
"When a subject of a sincerely written memoire is about a great person, it is bound to gain value. She was such an inspiring lady that anyone who came in contact with her learned something from her experiences," the author said at the event.
"She inspired different people in different ways," Shami continued.
In 1975, Princess Fahrelnissa arrived in Amman, HRH Princess Majda Raad introduced Shami to her mother-in-law, Fahrelnissa.
"I wanted to write a book about Princess Fahrelnissa as soon as I [had] met her. But when she offered to give me painting lessons, I had to postpone my wish," she said.
Shami started paying weekly visits to Princess Fahrelnissa to write her book. "When she spoke, I interrupted her as little as possible. So I was able to fill about a dozen cassettes during those visits."
"The book… mainly speaks about the times I spent with that great person. I didn't delve into her art except to express some personal opinions," the author added.
Writing the book, Shami said, was the least she could do in return to the friendship Princess Fahrelnissa showed her. "My life was interwoven with that great woman's life during those 16 years," she added.
"She was a unique person herself. Very strong, loving, and giving. She gives her love to people and because you receive love, you give love."
Related Articles
Apr 30,2016
Fahrelnissa and I: A MemoirJanset Berkok ShamiIstanbul: Cinius Publishing House, 2016Pp.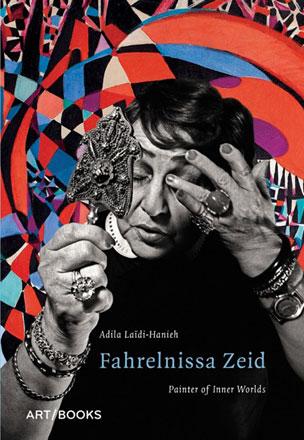 Sep 24,2017
Fahrelnissa Zeid: Painter of Inner WorldsAdila Laidi-HaniehUK: Art Books Publishing, 2017Pp.
May 13,2015
In her short story collection "A List to Remember", Turkish Amman resident Janset Berkok Shami illustrates the personal repercussions of the political and social upheavals to which people in this area have been subjected.
Newsletter
Get top stories and blog posts emailed to you each day.