You are here
Arab Potash Company ranks among world producers with highest production costs
By Samir Ghawi - Mar 29,2015 - Last updated at Mar 29,2015
AMMAN — Because of higher payments for energy, electricity, water and manpower, Arab Potash Company (APC) is now among the world producers with highest production costs, according to the firm's 58th annual report.
In a foreword, APC Chairman Jamal Ahmad Al Sarayreh told the shareholders that the company ranked among the best of world producers in terms of low production costs until 2008.
He indicated that, although part of the higher costs was associated with higher output, energy and electricity charges went up last year by 15 per cent from the 2013 level.
The 24 per cent increase in water charges, cost APC JD37 million, the chairman remarked.
The annual report listed National Electric Power and Jordan Petroleum Refinery as the companies on which APC depends for more than 10 per cent of its total supplies (26 per cent and 21 per cent respectively).
The chairman also mentioned a 4 per cent rise in labour costs, noting that APC employs 2,100 workers.
To lower costs, especially high electricity charges which were hiked by 7.5 per cent and overburdened the company with JD2.9 million last year, Sarayreh said the company decided to proceed with a scheme to generate energy through solar cells with a 33 megawatt capability when it considered the possibility of implementing renewable energy projects.
Besides this project that will take two years to complete, APC will continue to study the option of setting up a station that depends on natural gas for generating electricity and steam.
The chairman revealed that the company exceeded its 2-million tonne production target as output reached 2.1 million tonnes last year compared with 1.7 million tonnes recorded in 2013.
"With the market expecting higher demand for potash in the long term, the board of directors decided to go ahead with a multi-stage expansion project, the first of which to be completed within 30 months is to raise production capacity by 65,000 tonnes annually," Sarayreh wrote.
This project, he said, will be in addition to another expected for completion in 2016 to boost the production capacity of granular potash to 250,000 tonnes at a cost of JD9 million.
"APC is also considering other options for expansion," he added.
The report pointed out that sales rose last year by more than 26 per cent reaching 2.24 million tonnes from the 1.77 million tonnes in 2013.
The chairman highlighted the marketing drive indicating that local and regional sales went up significantly and that exports to India and China also increased.
Locally, consumption in Jordan reached 228,790 tonnes compared with 192,340 tonnes in 2013. Main buyers were Jordan Bromine and KEMAPCO.
Regionally, Egypt bought 87,880 tonnes compared with 78,300 tonnes and Gulf Arab countries purchased 56,661 tonnes compared with 54,398 tonnes.
"Of the noteworthy achievements was the company's success to more than double its exports to China to over 643,000 tonnes in line with the memorandum of understanding, signed with Beijing in 2013, covering Jordanian potash sales until 2016," Sarayreh said.
"With a 46 per cent surge in sales to India, the volume crossed the 500,000 tonnes mark," he added, stressing that the quality of the potash has improved markedly surpassing the specifications by about 3 per cent.
He mentioned the special focus on Africa where potash sales rose 32,000 tonnes last year, a 37 per cent surge over the volume in 2013 when sales that year were 24 per cent higher than the figure in 2012.
African countries imported 116,710 tonnes of APC potash in 2014 compared with 85,448 tonnes in the previous year.
According to the report, shipments to Malaysia and Indonesia were down in 2014 because of large fluctuations in exchange rates of local currencies and the competition between Russia and Belarus.
Malaysia bought 184,535 tonnes compared with 253,445 tonnes while Indonesia purchased 145,707 tonnes compared with 311,967 tonnes.
Sarayreh told the shareholders that the average sale price of potash dropped last year from $380 per tonne to $300 per tonne attributing the fall to the repercussions from the break up in 2013 of the Russia-Belarus joint marketing company which highly unsettled international supply patterns last year.
Moreover, he remarked, lower oil prices and the higher dollar value caused the price of potash to rise in local currencies and, consequently, have a direct impact on demand for the commodity.
Financially, APC announced that earnings from potash sales amounted to JD475 million, down from JD482.6 million in 2013.
Gross profit stood at JD140.5 million (JD183.3 million in 2013) and net profit generated after tax and provisions came at JD99.8 million (JD130.7 million)
APC spent JD7.5 million on various corporate social responsibility programmes last year.
The company said that dividends to shareholders will be determined during the company's general assembly meeting.
Related Articles
Apr 30,2014
Arab Potash Company (APC) will be distributing cash dividends to shareholders at a rate of 150 per cent as authorised by a general assembly meeting this week.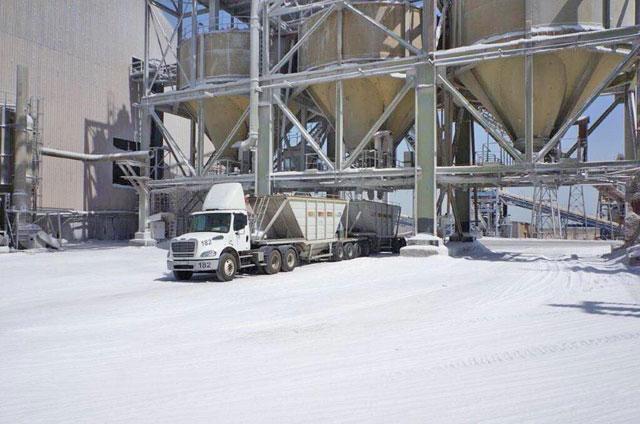 Feb 17,2018
AMMAN — Arab Potash Company (APC) has announced a net profit of around JD90 million in 2017, an increase of 41 per cent compared with 2016.I
Jul 29,2017
AMMAN — The Arab Potash Company (APC) achieved a net profit of JD 42.8 million after tax, provisions and mining royalties in the first half
Newsletter
Get top stories and blog posts emailed to you each day.