You are here
Jordanian Genesis dealership expected to launch in January
Hyundai ventures into luxury market
By Ghaith Madadha - Sep 21,2016 - Last updated at Sep 21,2016
DUBAI — After a 10-year planning process and numerous delays, the Hyundai Motor Company announced the establishment of its Genesis Motors luxury brand late last year. Widely anticipated in recent years, especially after the debut of the second generation Hyundai Genesis executive saloon with a distinct new emblem in 2014, the Genesis brand and its full-size flagship G90 luxury saloon finally launched in the Middle East earlier this month. Meanwhile, the Jordanian Genesis dealership is expected to launch in January next year.
At the recent regional launch event in Dubai, the head of Global Genesis and Hyundai senior vice president, Manfred Fitzgerald, discussed the Korean automotive giant's move into the luxury market with The Jordan Times.
Conceding that this is Hyundai's "first serious attempt going into the luxury field on a global basis", Fitzgerald stated that for "over 50 years this corporation has been very successful" and that "the Genesis brand is the next logical step for the Hyundai Motor group".
Taking a similar path to the luxury sector as Japanese brands back in 1989, Genesis is effectively to Hyundai what Infiniti is to Nissan or Lexus to Toyota. While reticent about naming perceived competitors, Fitzgerald says that it is "very obvious who we are benchmarking", in what might be understood as a hint at the Audi, Mercedes-Benz and BMW German luxury car troika. Nevertheless, he underlines that "to compete on a global basis with incumbent competitors… means that in terms of product, you have to be at least on par with them", adding that "we believe that we have all the ingredients… to be a true competitor".
Among the latest high-flying auto executives headhunted by Hyundai, Fitzgerald comes to the Genesis brand after a 12-year stint at Lamborghini, where he served as director of brand and design. Fitzgerald says that the crux of this endeavour is "about creating emotions and that is what we will be focusing on at each and every touch point for our customers".
Adding that Genesis' proposition is more about emotions than it is about technology, Fitzgerald points out that "the technology side is something that is only your entry ticket into this arena of the luxury segment". As to how Genesis will find its feet in a tough playing field among firmly established players, Fitzgerald says that "this won't come overnight" but that "a brand has to evolve". He added: "We are more about showing than talking, so we want people and customers to experience our products."
Asked whether the Genesis strategy is to convert existing luxury customers or to attract a new client base migrating to the luxury sector, Fitzgerald says that "there is no target customer in that sense", but that "anybody who buys into our values, anybody who buys into our product and can relate to us as a brand and as a manufacturer" would be welcomed, underlining the brand's "spirit of audacity". However at time of publication, Genesis is playing its cards close to its chest, with no regional sales or market share projections or expectations being disclosed. Regional and Jordanian prices for the G90 have also not yet been released.
Humble audacity
As to whether Genesis will bring a distinct Korean flavour to the luxury market, such an influence "won't be about any kind of ostentatious expression, as the Koreans are very humble", he said. "You will feel it in a very subtle way," he added, and this "will be more by perception, than by speaking about it". Meanwhile, Fitzgerald stressed the "great significance" of the Middle East region to Genesis' plans, saying that the region "is known for being a luxury market. They value extraordinary things, and we believe that we have here… a playing field to expose what we're all about".
In addition to the G90 flagship, the existing Hyundai Genesis executive saloon, from which the luxury brand takes its name, is expected this year as a revised and rebranded Genesis G80. A further compact executive G70 saloon is in the pipeline for next year. And with two SUVs and a sports coupe expected by 2020, Fitzgerald states that it would be a major success if we, in three to five years time are considered as a true competitor in this luxury segment. "A further success for me would be if we could help establishing 'made in Korea' as a trademark for luxury," he added.
Related Articles
Sep 09,2014
Hyundai maintained its top spot in Jordan in 2013 and continues to do so during 2014, according to Tom Lee, head of Hyundai Middle East and Africa.
May 16,2016
BEIJING — After poaching Bentley's design chief last year, Hyundai Motor Co.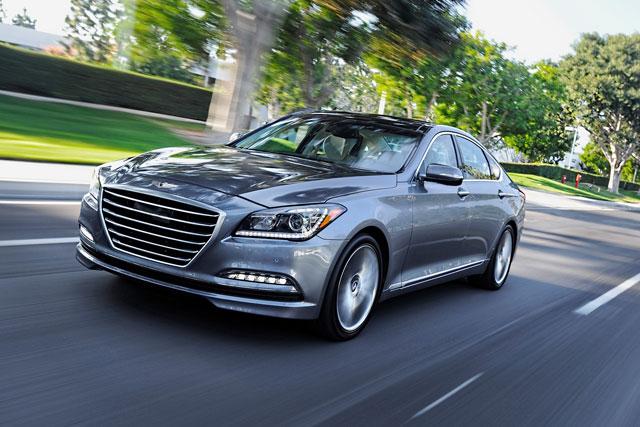 Mar 02,2015
Introduced in 2008 as Hyundai's first export executive saloon, the Genesis gambit paid off and took the largely German-dominated premium automotive segment by surprise. Garnering acclaim from the motoring press, the original Genesis was particularly well-received in the crucial North American market.
Newsletter
Get top stories and blog posts emailed to you each day.