You are here
Lagarde warns on rate risk from US tax reform
By AFP - Feb 17,2018 - Last updated at Feb 17,2018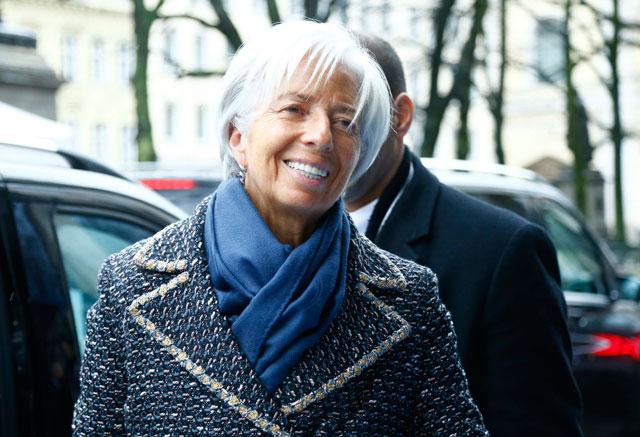 Christine Lagarde, managing director of the International Monetary Fund, arrives at the Munich Security Conference in Munich, southern Germany, on Friday (Reuters photo)
PARIS — International Monetary Fund (IMF) chief Christine Lagarde warned on Saturday that economic stimulus from US tax cuts may lead to a rapid rise in interest rates which would weigh on countries with high debt levels.
The IMF was going to be "attentive" to the consequences of the reform, which notably includes a sharply lower corporate tax rate, she told French radio station France Inter.
Lagarde's remarks echoed concerns in financial markets which have been in turmoil amid fears that rising US inflation will trigger faster Federal Reserve interest rate rises than had previously been expected.
Several key stock markets lost around 10 per cent last week in a brutal correction that Lagarde said in the interview had been "inevitable".
She said the US tax reform "will operate like a kind of stimulus on the current economic situation" in the US which was already experiencing "strong" growth.
"You have to ask yourself whether this will not result in rising wages, rising prices and therefore rising inflation and whether, consequently, there is a risk of a reaction by the monetary authorities, notably in the form of interest rates rising a little faster or a little more frequently," she said.
This, in turn, would have "an impact on all of the world's economies, especially on heavily indebted economies", Lagarde said.
"We believe that we must be attentive to what is going on, especially in the United States," Lagarde said.
She rejected, however, any comparison with the economic situation preceding the 2008 financial crisis.
"We are not at all in a pre-major crisis situation like we were in 2008," she said.
The US Congress in December approved a tax reform package that will slash corporate tax to 21 per cent from 35 per cent.
Last month, the IMF said the reform would probably have a positive short-term impact on the US economy, and raised its growth forecast for the world's biggest economy this year by 0.6 percentage points to 2.5 per cent.
Related Articles
Apr 05,2016
FRANKFURT — The global economy's already modest prospects will decline further unless authorities take stronger action to boost growth, the
Jul 15,2017
CAIRO — The International Monetary Fund (IMF) has approved a second tranche of a $12 billion loan to Egypt, praising the country's tough eco
Nov 08,2016
WASHINGTON — International Monetary Fund (IMF) chief Christine Lagarde said Tuesday she will recommend the institution approve a $12 billion
Newsletter
Get top stories and blog posts emailed to you each day.