You are here
Murad, Homsi seek better ties with Dutch businesses
By JT - Jun 15,2015 - Last updated at Jun 15,2015
ACC President Issa Murad and ACI President Ziad Homsi in recent talks with representatives of Rotterdam chambers of commerce and industry (Photo courtesy of ACC)
AMMAN — Jordan's commerce and industry chiefs recently sought enhanced relations with the Netherlands.
During meetings in Amsterdam with represintatives of Rotterdam chambers of commerce and industry, Amman Chamber of Commerce (ACC) President Issa Murad and Amman Chamber of Industry (ACI) President Ziad Homsi discussed ways to enhance commercial and investment ties.
The talks addressed many issues of mutual interest that highlighted the significance for ACC and ACI to sign cooperation agreements with their Dutch peers, especially that Netherland's chambers have more than 1 million members.
The Kingdom's exports to the Netherlands in 2014 stood at JD16 million, compared to JD194 million worth of Dutch exports to Jordan in the same year, according to Murad.
Murad stressed the Jordanian private sector's keenness to enhance economic and investment cooperation, especially in terms of attracting more Dutch investments to the Kingdom in the sectors of tourism and renewable and alternative energy.
He also noted that there are many Dutch companies that run investments in Jordan in different sectors such as construction, transport, fruits and vegetables.
Homsi reiterated the importance of enhancing bilateral economic ties and increasing Jordanian exports to the Netherlands, noting that there are many local high-quality products that are exported to Europe.
He also called for establishing joint investments between the private sectors in both countries, especially at the industrial sector, highlighting the Kingdom's investment characteristics due to the availability of modern laws that support the business environment.
Related Articles
Mar 29,2016
AMMAN — Amman Chamber of Commerce (ACC) President Issa Murad on Tuesday discussed economic bilateral relations with Bahrain's Industry, Comm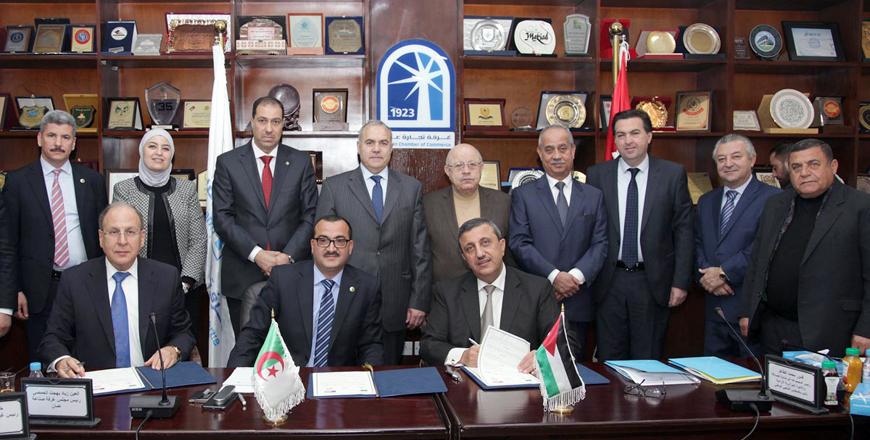 Feb 08,2016
AMMAN — There is a need for Jordan and Algeria to activate the joint free trade agreement, increase commercial exchange volume and encourage
Sep 07,2014
Amman Chamber of Commerce (ACC) President Issa Murad on Saturday discussed with a delegation from Ajman's commerce and industry chambers means to develop bilateral trade ties. Murad acquainted the delegates on the ACC's work and investment opportunities available in Jordan.
Newsletter
Get top stories and blog posts emailed to you each day.