You are here
Public support for reform is necessary — Ensour, Lagarde
By Samir Ghawi - May 12,2014 - Last updated at May 12,2014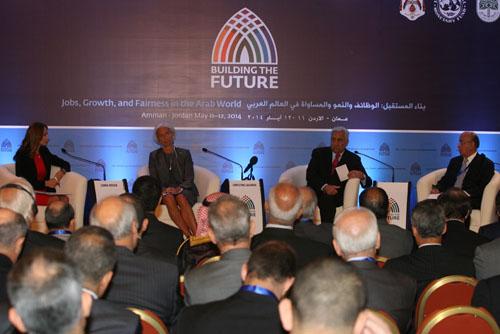 AMMAN — Public endorsement and support for reform emerged as the most important issue discussed during at a high-level economy conference on Monday.
On the second day of the "Building the future: Jobs, Growth and Fairness in the Arab World" conference, organised by the government, the International Monetary Fund (IMF) and the Arab Fund for Economic and Social Development (AFESD), Prime Minister Abdullah Ensour said reform is a process that involves several elements, including decisions, for whose implementation, timing, credibility, communications and commitment are essential.
Attributing Jordan's success over the years to the leadership's and policy makers' ability to foresee events and act accordingly, Ensour said the more recent trend to engage the public also helped push forward the reform agenda.
"After developing a general framework for the required decisions, we explained to the people the facts, bitter and sweet," Ensour told the over 200 policy makers, academics and private sector, civil society and media representatives from Jordan and Arab countries, and officials from the IMF.
"We were frank and that earned us credibility," said the prime minister.
The exchange of ideas with various parties was fruitful. It was a give-and-take process that resulted in amendments to initial plans and, as a result, can be considered successful, said the premier.
Reform and development covered not only the economic and social sectors, but also the constitution, the political, parliamentary, educational and media spheres, added the prime minister.
That is not enough, continued Ensour, stressing the need for sustainability in order to maintain progress and gain people's trust.
One move that the premier believes earned his government confidence among the population is the cash paid as compensation for lifting fuel subsidies, whose mechanism was carefully studied to ensure fairness.
IMF Managing Director Christine Lagarde agreed that the reform path entails "identifying and communicating the vision" in an atmosphere of credibility.
She also stressed the importance of discipline in public finance, where "it is not economically sustainable that growth be achieved by increased borrowing or by expanding deficits".
While urging fiscal discipline for a healthy economy, her support for subsidies came with a caveat: They have to rightfully target the poor segment of society.
Lagarde said inclusive growth is an answer to economic inequality.
The IMF chief expressed optimism vis-à-vis developments in the Middle East, indicating that the region has moved from instability to a period of stabilisation that still needs to be consolidated for a higher economic growth that can help curb the high unemployment rates.
Lagarde pointed to the importance of empowering small- and medium-size enterprises (SMEs), of strengthening the middle class and of middle-size governments that help shrink an overbloated civil service.
Yet her assessment that entrepreneurship of the like that creates SMEs helps generate jobs was described by Ensour as a modern fad.
It is easy to talk about establishing SMEs, but it is difficult to run them, said Ensour, pointing to the arduous work of designing project, transferring knowledge, exercising guidance and management, besides financing such entities.
The prime minister said policy makers are convinced about the economic viability of SMEs, as 90 per cent of the Jordanian economy falls in this category, but reiterated the fact that the implementation process is difficult.
Ensour was somehow critical of the IMF policy, saying the fund sets rigid fiscal prescriptions, and offers accounting expertise but fails to take into consideration local social and political realities.
He admitted that the international lender does not impose its will, but rather offers a remedy that countries are free to accept or reject.
Lagarde disagreed, saying that the IMF was flexible and accommodating when Jordanian officials presented their case, and argued for room to tackle the Kingdom's economic and financial challenges.
AFESD Director General Abdlatif Yousef Al Hamad blamed the absence of a population policy and government bureaucracy for part of the economic ills in the Arab world.
Al Hamad urged a long-term vision to tackle unemployment demanding more support for SMEs while describing measures taken by Gulf Arab states to address labour issues as wrong.
He noted in this regard that selectivity in the labour market was harmful.
The AFESD chief recommended a financial and banking reform in the entire region, and perceived economic improvement coming from small projects and from an upgraded judicial system.
up
76 users have voted, including you.
Related Articles
Mar 15,2014
Over 200 policy makers, representatives of the private sector and civil society, and academia from the Middle East and North Africa (MENA) will convene in Amman on May 11 to discuss challenges and opportunities of economic transformation in Arab countries in transition.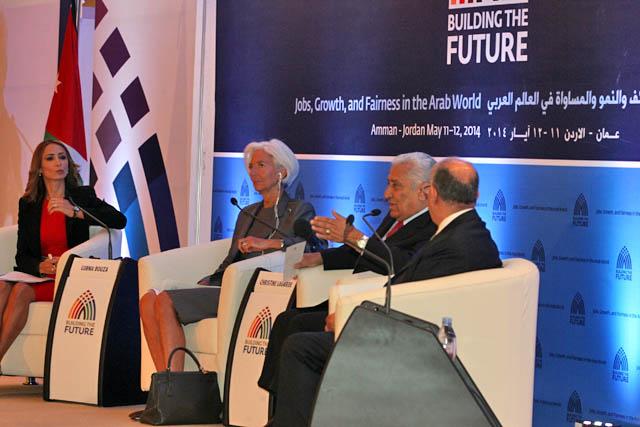 May 12,2014
Over the past two days, Arab policy makers and International Monetary Fund (IMF) officials debated policies that can achieve macroeconomic stability in the region, job creation for the young, a better business climate and more transparency in both the public and private sectors.
May 10,2014
The International Monetary Fund (IMF) will on Sunday open in Amman a two-day regional conference to discuss policies that can generate jobs and lead to better growth and equity in the region.
Newsletter
Get top stories and blog posts emailed to you each day.