You are here
Swedish, Jordanian entrepreneurs team up to establish $3m chemical plant in Mafraq
By Samir Ghawi - Nov 01,2015 - Last updated at Nov 01,2015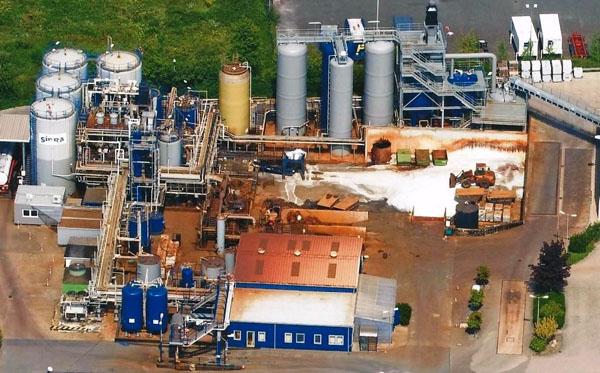 File photo of one of Lars Rennerfelt's facilities in Germany (Photo courtesy of SJCC)
AMMAN — The entrepreneurship spirit in Jordan seems more accommodating than in other countries of the region, according to a Swedish investor.
Lars Rennerfelt, president of the Swedish Jordanian Chemicals Company (SJCC), told The Jordan Times in an interview last week that aversion to risk is high in the Middle East and people shun long-term investments.
"As an entrepreneur, a person should have patience and tolerance because it takes time to be able to receive a return on an investment," he said.
Rennerfelt added that he had been looking for an opening in the region for quite some time before finding a Jordanian entrepreneur who shared his passion for a chemical project.
The SJCC president is injecting capital and providing financing, as well as technical expertise, into a project that is expected to boost the country's capabilities and tout the chemical industry in the Kingdom.
Partnering with Hazem Ishaqat, a Jordanian entrepreneur, the two chemical engineers are currently setting up a $3 million capital factory in Mafraq's King Hussein Bin Talal Development Area.
The factory, to be built on six dunums of land, will produce ferric chloride, a chemical product used for water purification; it will have an output capacity of around 30,000 tonnes annually.
Ishaqat said the product will be sold locally at a competitive price that compares to the cost of imported ferric chloride used now in Jordan. He stressed, in this regard, the SJCC's advantages in terms of quality, and method of transportation and delivery.
Rennerfelt said the project enjoys developed production, efficiency and flexibility, adding that it will make "tap water a more reliable source for drinking".
With over 25 years of experience as an entrepreneur, he built factories in Sweden, Norway, Germany and Belgium based on proprietary technology, which has also been licensed out to manufacturers in Austria and Saudi Arabia.
Asked why he selected the Middle East to expand his investment and operations, Rennerfelt said that water scarcity makes it imperative for the region to look for options to preserve this vital resource through recycling and better waste water treatment.
According to the Swedish investor, the domestic and regional clients who might be willing to buy the locally produced ferric chloride include waste water treatment plants, desalination projects and other enterprises that require purification techniques.
He explained that ferric chloride was a chemical substance known for quite a long time; it is now more effective in waste water treatment with higher efficiency and better qualities.
The process entails quicker and improved methods of coagulation and flocculation, he elaborated.
Ishaqat pointed out that some local industries, like steel and fertilisers, will be having an input in SJCC's operations.
The partners valued the support extended by the officials at the Investment Commission and at King Hussein Bin Talal Development Area who facilitated the process for moving ahead with the project which is expected to start production in August 2016 employing around 20 workers from the Mafraq community.
Related Articles
Jan 24,2017
AMMAN (JT) — The Swedish Jordanian Chemicals Company (SJCC) announced earlier this month the launch of a Swedish-Jordanian investment in Jor
Jun 04,2018
The Swedish Jordanian Chemicals Company last week welcomed the Swedish Ambassador to Jordan Eric Ullenhag at their plant, located in Mafraq
Mar 29,2023
AMMAN — The Jordanian start-ups that participated in the "Scaling up Water Innovation for Climate Security" project installed 18 water manag