You are here
US economy needs only 'gradual' rate hikes — Fed's Yellen
By AFP - Jul 13,2017 - Last updated at Jul 13,2017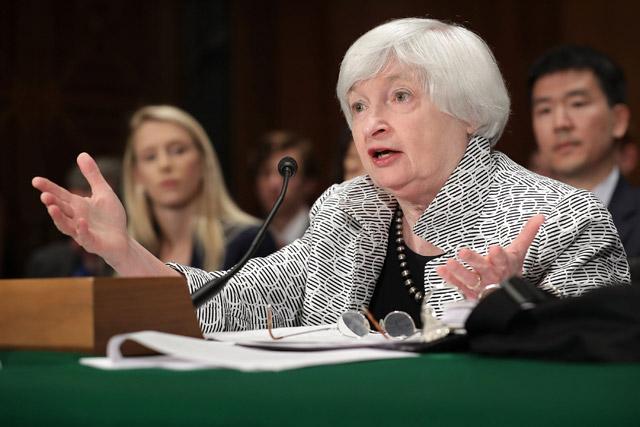 Federal Reserve Board Chairwoman Janet Yellen testifies before the Senate Banking, Housing and Urban Affairs Committee in the Dirksen Senate Office Building on Capitol Hill in Washington, DC, on Thursday (AFP photo)
WASHINGTON — Federal Reserve (Fed) Chair Janet Yellen said on Wednesday that even as the US economy grows stronger and employment expands, she foresees only "gradual" interest rate increases in the next few years.
Facing sometimes tough questions from legislators, Yellen presented the Fed's required semi-annual report to Congress — possibly for the last time if President Donald Trump decides not to reappoint her for a second term at the helm of the US central bank.
She cautioned that possible changes in the administration's economic policy and spending are a "source of uncertainty" in the country's economic outlook.
Another big unknown is whether stubbornly low inflation will finally move closer to the Fed's two per cent target rate, from the current 1.4 per cent.
Sluggish US inflation and wage increases have baffled and worried economists given the very low unemployment rate, which would normally drive prices and earnings higher.
But Yellen once again expressed the view held by many US central bankers that the low pace of price increases is "partly the result of a few unusual reductions in certain categories of prices", such as cell phone service and prescription medicines.
The Fed is watching developments carefully, she told the House Financial Services Committee during the first of two days of testimony on Capitol Hill. She appears before the Senate Banking Committee on Thursday.
While such low inflation normally would keep the Fed from raising interest rates, it has instead hiked rates twice so far this year, and expects to do so once more.
'Gradual rate hikes'

Yellen cautioned that although the Fed's measure of inflation has been low recently, "it's premature" to say it is not on track to return to 2 per cent.
However, the Fed would reconsider its policy if inflation continues to undershoot, she said.
Amid signs that "growth rebounded in the second quarter", Yellen said, "additional gradual rate hikes are likely to be appropriate over the next few years to sustain the economic expansion".
But she said the benchmark lending rate probably will not "rise all that much further".
Shortly after her testimony, the Fed released a report on the economy showing most US regions saw "slight to moderate" growth in June, and few signs of price pressures, even while some firms report having to offer higher wages to attract qualified workers.
The anecdotal reports from around the country show most areas expected "modest to moderate gains" in the coming months.
Yellen stressed in the hearing that "monetary policy is not on a pre-set course", and central bankers will adjust their views as more data becomes available.
She noted that there are various sources of uncertainty about the economic outlook, including "possible changes in fiscal and other government policies here in the United States".
Yellen would not comment on specific policies, but economists have noted that Trump's promised burst of infrastructure spending could spur growth, while restrictive trade policies or a rising deficit could have the opposite effect.
Related Articles
Dec 17,2015
WASHINGTON — Federal Reserve (Fed) Chair Janet Yellen conceded Wednesday the Fed's rate increase could hurt some emerging economies, but tha
Sep 19,2015
LONDON — The world's leading central banks are facing the risk that their massive efforts to revive economic growth could be dragged down ag
Mar 21,2018
WASHINGTON — The Federal Reserve raised interest rates on Wednesday and forecast at least two more hikes for 2018, signaling growing confide
Newsletter
Get top stories and blog posts emailed to you each day.