You are here
Aluminium AWD luxury
By Ghaith Madadha - Jan 26,2015 - Last updated at Jan 26,2015
A breakthrough model for Audi's luxury car ambitions and successor to the four-ring brand's first 1988-93 Audi V8 effort, the A8 effectively pole-vaulted Audi into the heart of the full-size luxury flagship segment.
Going head-to-head with the likes of the Mercedes-Benz S-Class and BMW 7-Series, the Audi A8 offered a lightweight and stiff aluminium monocoque chassis to offset its weighty, advantageous and standard-to-most-models Quattro four-wheel-drive system.
Now into its third generation with a mid-life facelift as of 2014, the Audi A8 is ever the elegant but discreet player in its top-end luxury segment, in which it is deservedly renowned for its classy cabin appointment.
Unostentatiously classy
Bearing strong familial resemblance to Audi's other smaller saloon cars the A8's design manages a fine balancing act of appearing sufficiently chiselled, arrogant and luxurious while at the same time being sleek and understated. The A8 also appears to be a smaller car than its considerable 1,949mm wide and 5,265mm long dimensions, in long wheelbase version, as tested. An unostentatious and understated but highly refined chariot for the discerning plutocrat, the Audi A8 is a futuristic looking luxury car with strong brand recognition and car park kudos, but at the same time flies low under the radar and doesn't attract unwanted attention — despite its broad, tall, gaping and arrogantly massive grille.
Flanking the A8's enormous 7-slat grille are angularly squinting headlights with lower LED strips that flow towards prominent crease-lines, which start low from and frame the fascia, and continues along the car's flank to similarly frames the rear fascia before diverging to a built-in boot spoiler.
With a seemingly level waistline and smoothly flowing roofline descending towards a gently sloped boot, the A8 strikes a somewhat classically handsome, elegant and un-fussed silhouette. Long, wide and relatively low, the A8's design lines are however tightly penned and concise, while immense optional 275/35R21 footwear is proportional to its long 3,122mm wheelbase. Rear lights and wide chrome-tipped exhausts are elegant integrated.
Responsive delivery
Powered by a 3-litre direct injection supercharged V6 engine, the A8 L 50 TFSI Quattro version develops 306BHP throughout a broad 5,200-6,500rpm range and 325lb/ft torque through a broad and rich 2,900-4,750rpm band. And mated to a smooth-shifting 8-speed automatic gearbox to maximise performance and efficiency, one is reminded of how far cars have come over the last 20-years.
At 5.9-seconds, the driven mid-range version of the contemporary A8 is just 0.1-seconds slower through the 0-100km/h sprint than the first generation's range-topping 6-litre W12-engine model, while top speed is also limited to 250km/h.
However, the 50 TFSI's combined cycle 7.9l/100km fuel consumption and 184g/km CO2 emissions are contemporarily frugal.
Smooth and consistent, the 50 TFSI engine's mechanically supercharged approach to forced induction — rather than exhaust-driven turbocharging — delivers a linear driving experience free of inertia and low-end turbo lag. Boosting in correlation to engine speed, the 50 TFSI is responsive off-the-line and delivers consistently throughout its rev range, with a broad and muscular mid-range for effortless daily driving versatility and a punchy and wide top-end power range.
With three driving modes accessible through intuitive infotainment system menus, engine throttle and gearbox response settings can be sharpened up for a sportier drive, or set to a smoother 'comfort' mode, while 'manual' mode allows for sequential gear changes through steering-mounted paddle-shifters.
Smooth and grippy
With its engine slung out low and ahead of but close to – and pushing down on – its front axles to accommodate the clever Quattro four-wheel-drive system, the Audi A8 develops tremendously tenacious levels of traction. Ideal for low traction surfaces, the A8's four-wheel-drive provides reassuringly grippy road-holding for wet and dry conditions.
A slightly more nose-heavy configuration than a traditional front-engine rear-drive set-up like its rivals, the four-wheel-drive seems to suffer little from it, and turns into corners tidily, while a centre differential re-distributes power between front and rear axles through corners as it is needed to maintain a cornering line and off-sets an at-the-limit tendency for slight under-steer.
A smooth riding luxury saloon with high levels of cabin refinement, the A8's ride comfort and handling ability both benefit from its light aluminium construction, which provides a stiff frame to anchor its quick and precise electrically-assisted rack and pinion steering and sophisticated multi-link adaptive air suspension.
Reassuringly stable and smooth at speed, the A8's adaptive air suspension can be set to three levels of stiffness, including firm sport mode and floaty comfort mode, which takes the edge off firm optional low profile tyres and provides a supple ride. Best in its default suspension setting, the A8 L is easy to manoeuvre, relaxing, responsive and settled on vertical rebounds.
Tasteful ambiance
Quiet, refined and luxurious, the Audi A8 L's cabin is a beautifully constructed and appointed space with a broad scope for personalisation. Fitted with classy dark wood and aluminium veneers, the driven model was a particularly tasteful example with light brown perforated and quilted leather upholstery and suede door liner, offset by dark chocolate brown suede roof-liner and Saddle Brown exterior paint.
Ergonomic, highly adjustable and ventilated, the A8 L's seats are comfortable and supportive, with the long wheelbase version providing especially good rear legroom. Optionally fitted, were rear individual adjustable seats with a fixed centre console. The A8's elegant dash, steering, centre console and binnacle feature intuitive and clear instrumentation.
Comfortable and welcoming, the Audi A8 also features lots of useful storage spaces, a generous 520-litre boot and an exhaustive list of standard and optional features including innumerable creature comforts, entertainment and safety systems including semi-autonomous driver assists.
In addition to standard electric rear blinds, LED ambient lighting and 4-zone climate control, various mod con options include massage seats, folding tables, foot rests, cool box, panoramic roof, extensive infotainment and connectivity systems including TV reception and Bose surround sound system.
Advanced optional safety equipment includes active lane assistance with blind spot function and adaptive cruise control with stop and go capability, in addition to numerous other features.
TECHNICAL SPECIFICATIONS
Engine: 3-litre, supercharged, in-line V8-cylinders
Bore x stroke: 84.5 x 89mm
Compression ratio: 10.8:1
Valve-train: 24-valve, DOHC, direct injection
Gearbox: 8-speed automatic, four-wheel-drive
Ratios: 1st 4.714; 2nd 3.143; 3rd 2.106; 4th 1.667; 5th 1.285; 6th 1.0; 7th 0.839; 8th 0.667
Reverse/final drive: 3.317/3.204
Power, BHP (PS) [kW]: 306 (310) [228] @ 5200-6500rpm
Specific power: 102.2BHP/litre
Power-to-weight: 156.5BHP/ton
Torque, lb/ft (Nm): 325 (440) @ 2900-4750 rpm
Specific torque: 146.9Nm/litre
Torque-to-weight: 225Nm/tonne
0-100km/h: 5.9-seconds
Top speed: 250km/h
Fuel consumption, urban/extra-urban/combined: 10.6/6.3/7.9-litres/100km
CO2 emissions, combined: 184g/km
Fuel capacity: 82-litres
Length: 5,265mm
Width: 1,949mm
Height: 1,471mm
Wheelbase: 3,122mm
Track, F/R: 1,644/1,635mm
Overhang, F/R: 1,000/1,143mm
Kerb weight: 1955kg
Aerodynamic drag co-efficient: 0.27
Headroom, F/R: 993/994mm
Shoulder room, F/R: 1501/1467mm
Luggage volume: 520-litres
Steering: Electric-assisted rack & pinion
Suspension: Multi-link, adaptive air dampers
Brakes: Ventilated discs
Tyres: 275/35R21 (optional)
Related Articles
Oct 23,2017
Launched globally last week and brimming with cutting edge technology, the latest Audi A8 throws down the gauntlet to its almost exclusively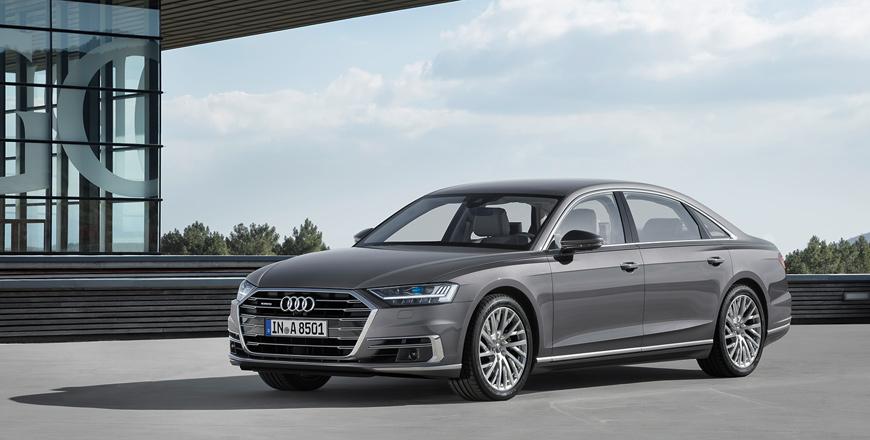 Mar 12,2018
Launched late last year, the latest iteration of Audi's luxury flagship A8 model promises cutting edge technology, comfort and safety.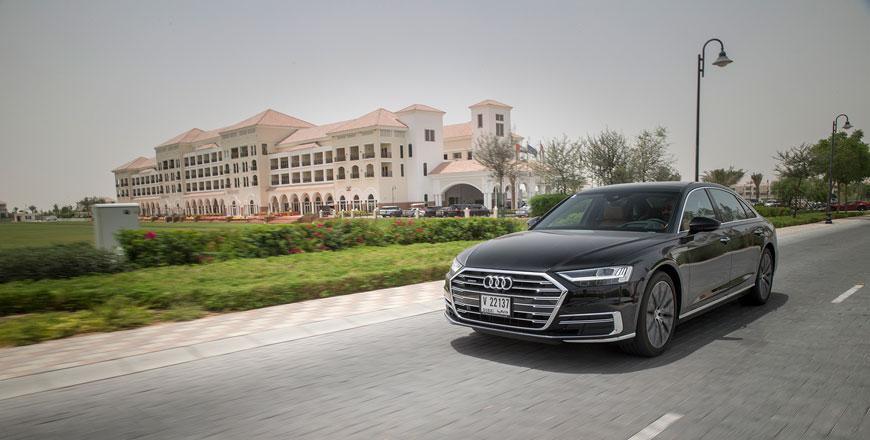 May 28,2018
Arriving to Middle East markets earlier this month and launched internationally late last year as a 2018 model, the fourth and latest genera
Newsletter
Get top stories and blog posts emailed to you each day.