You are here
Celebrating Europe Day with Jordanian band Jadal
By Jean-Claude Elias - May 12,2016 - Last updated at May 12,2016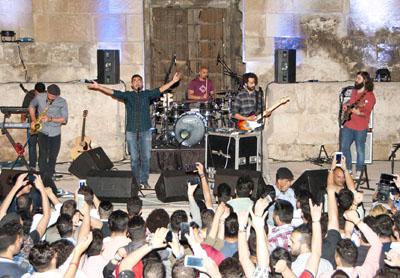 Pop band Jadal performs on Wednesday at the Roman Amphitheatre in downtown Amman as part of the Europe Day celebrations (Photo by Jean-Claude Elias)
AMMAN — In celebration of Europe Day, Jordanian pop band Jadal gave a highly energetic concert Wednesday night at the small Odeon at the downtown Amman Roman Theatre.
The tone was set from the very first song that the celebrated rock-pop group performed. With bass sound so loud that the audience could feel it in their bones at least as much as they could hear it with their ears, the mood was for dancing and singing along. It showed clearly how popular the band is with the younger generation.
Many knew the songs of Jadal that often included words that tell of the social woes of their generation. They relate to the subject, with the simple, colloquial, every day words that the band uses to convey their message.
The fact that it was a packed, full house at the Odeon that night and the weather was just perfect for an outdoor performance, largely contributed to the success of the event. At one point and for just one song, the band was joined by another popular local musician, Aziz Maraqa, to the audience sheer delight.
When Romanian guest musician Alexander Arcus went on stage to play with Jadal, many in the Odeon were already waving Romanian flags to welcome the artist. The virtuoso saxophonist played lines that blended very well with the band's style.
For those above 30 the sound might have been a bit too loud and the singers' voice not clear enough to understand what they were saying, being covered by the drums, the bass guitar and the heavily distorted electric guitar. For those under 30, however, and who were the absolute majority that night, all that mattered was the energy the band channelled, and there was plenty of it.
Jadal popularity has crossed the borders and reached Palestine, Lebanon, Egypt, the UAE, Morocco and Turkey. They recently returned from Tunisia where they participated in a music festival in Carthage.
The annual Europe Day is celebrated around the world on May 9, to commemorate how the European Union was put forward in 1950. The event was funded by European Union and implemented by the European Union National Institutes for Culture in Jordan. The concert was organised by OrangeRed.
Related Articles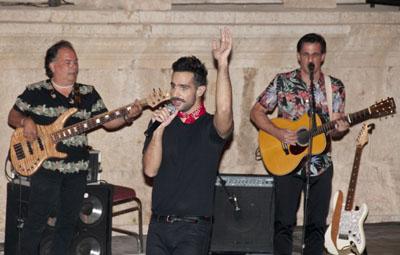 Jun 26,2014
As expected, young Jordanian singer and musician Jaafar delighted the audience at Jerash's North Theatre on Wednesday night, singing mainly covers but also a few of his own compositions.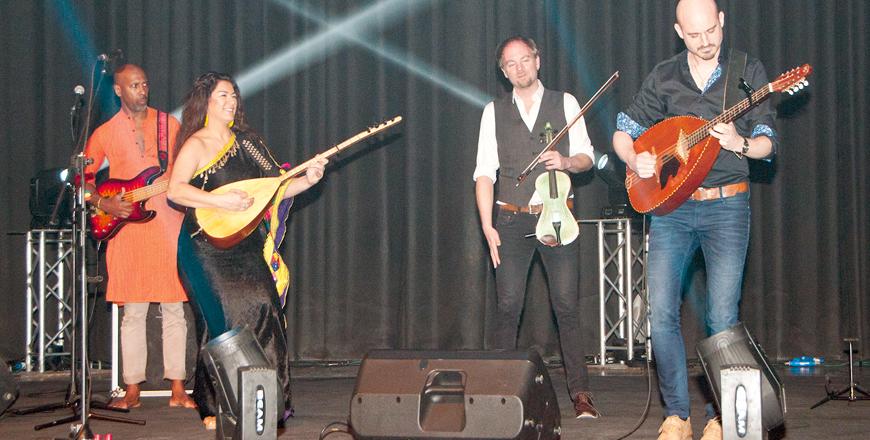 Apr 05,2017
AMMAN — Tarabband concert illustrated the perfect concept of popular music.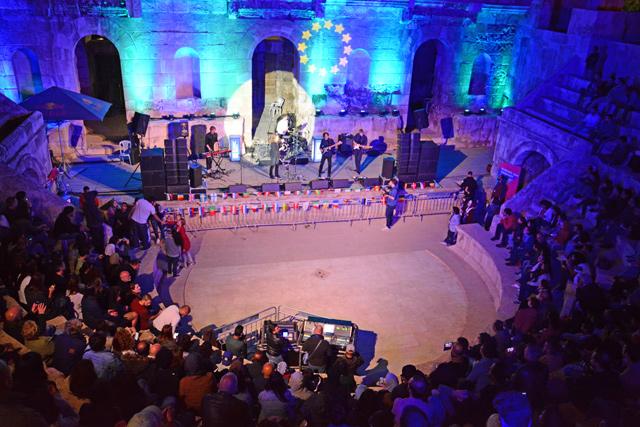 May 14,2018
AMMAN — The downtown Odeon Theatre on Saturday resonated with the notes of Jordanian band Ayloul and Swedish pop group Diskopunk, in celebra
Newsletter
Get top stories and blog posts emailed to you each day.