You are here
Jaafar wows Jerash audience
By Jean-Claude Elias - Jun 26,2014 - Last updated at Jun 26,2014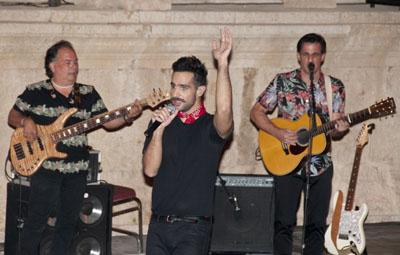 AMMAN — As expected, young Jordanian singer and musician Jaafar delighted the audience at Jerash's North Theatre on Wednesday night, singing mainly covers but also a few of his own compositions.
Performing mainstream pop-rock material in English, he surprised and enchanted the audience with a nice, upbeat Arabic number, ending it by taking off and giving away — literally throwing — his leather jacket, adorned with the Jordanian flag, to a lucky member of the audience who managed to grab it.
Moving swiftly from song to song, Jaafar was perfectly accompanied by a five-member band, who came with him from the US where he now lives, just for the one-time performance at Jerash.
All five members were obviously seasoned pros as they delivered flawless, tight, energetic instrument backing and even vocal backing at times. With two guitars, one bass guitar, drums and keyboards, the band significantly enhanced the entire performance.
Although it was Jaafar's very first concert ever, the singer sailed through the repertoire like an experienced professional and immediately established good communication with the enthusiastic audience, creating a warm atmosphere and prompting many to stand up and dance.
Shifting from known numbers such as "Missing — Like the Deserts Miss the Rain" by British band Everything but the Girl, to a very personal interpretation of some classics like "Hound Dog" by Elvis Presley, Jaafar took the concert to a climax with his own mega-hit song "You Got me Good."
The audience couldn't help but sing along with him.
"I look up to singers like Elvis Presley and Roy Orbison, among other artists," Jaafar said in a recent interview with The Jordan Times, when asked about the musicians who may have inspired and influenced him.
The 23-year-old Jordanian, who lived in Amman until the age of 17 when he went to the US, now resides in Florida and is working hard on preparing the release of his debut album.
An accomplished performer-songwriter, composing the music and writing the lyrics of his songs, Jaafar delivers catchy tunes wrapped in energetic rhythms and electric guitar patterns that get to you in an infectious, irresistible manner.
The music belongs to the mainstream pop-soft-rock genre but with a subtle twist that makes it all sound very fresh.
The concert took place within the scope of the 29th Jerash Festival for Culture and Arts that will run through June 28 and features scores of folk troupes and Arab poets, in addition to local, regional and international groups from India, Cyprus, China, Greece and Azerbaijan, among other countries.
Their Royal Highnesses Princess Muna, Prince Feisal and Princess Zein Bint Al Hussein, as well as other members of the Royal family attended Wednesday's performance.
Related Articles
May 12,2016
AMMAN — In celebration of Europe Day, Jordanian pop band Jadal gave a highly energetic concert Wednesday night at the small Odeon at the dow
Mar 19,2014
A flamenco guitar concert in tribute to Spanish flamenco composer and guitarist Paco de Lucia delighted the audience who came to enjoy the traditional Spanish music with a Jordanian flavour on Tuesday night.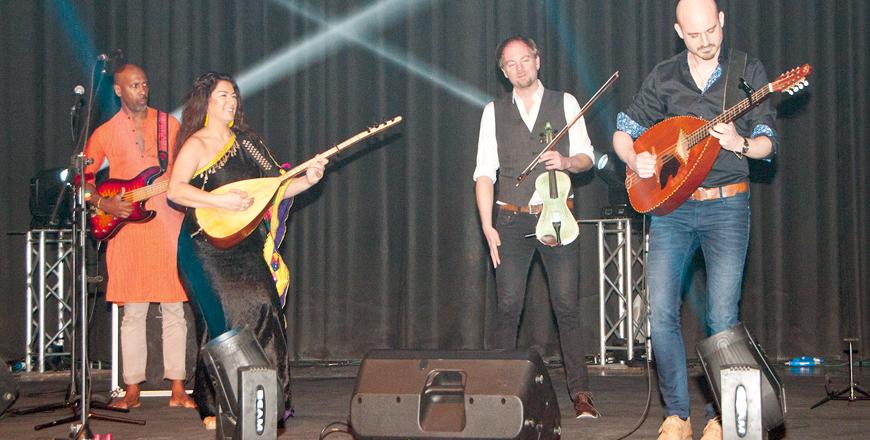 Apr 05,2017
AMMAN — Tarabband concert illustrated the perfect concept of popular music.
Newsletter
Get top stories and blog posts emailed to you each day.