You are here
A deluge of feelings
By Ica Wahbeh - Apr 13,2019 - Last updated at Apr 14,2019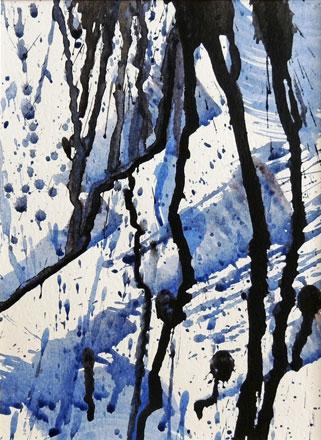 Artwork by Khalid Khreis on display at Nabad Gallery through April 25 (Photo courtesy of Nabad Art Gallery)
AMMAN — Throngs of people huddled under a torrential rain, images blurred by streaks of water, dissipated, diluted colours are all images created by Khalid Khreis, on display now at Nabad Art Gallery.
His sober, nostalgic world, created by globes of dark colour punctuated by luminous splashes — as if light or sun were trying to break through the darkness of night or clouds — is, strangely, warm and enveloping like a safe shelter.
The imagery, aptly exhibited under the title "Rain Memories", must have bubbled for a while in the artist's mind, waiting to be brought to life.
Indeed, he says: "For over two years, I have been in a state of meditation and mindfulness. Not wiling to touch a paint brush, it is as though I was anticipating something new."
New, thus, are the images that, although dark, inspire tranquility and optimism, reflect a stage in Khreis' creative life in which, behind the stillness, one senses restlessness. Of the existential type.
"Rain Memories is a new idea that has swept over me in a torrent, asking a question that still puzzles me: 'Who is painting whom?' Rain washes our spirits — a light drizzle, a torrential rain, a deluge that sweeps everything away, taps on the window of my soul and sometimes enters without permission. That is what I have experienced and experience still…. Yet the question persists… 'Who is painting whom'?" Khreis thinks.
The preoccupation with, the question regarding what imitates what — art life or life art — may be difficult, some would say impossible, to answer, and Khreis does not make it any easier.
Many of his canvases look as if they had been left out on a rainy day for the water to finish the work of art. They are ingenious renditions of streaks of rain that blur the images the artist painted, creating a deluged world with all that it implies: end of the world, but also fertility, richness, vastness, purity and hope.
The light blue, turquoise, ochre and orange splashes of colour breaking through the predominant black could easily be seen as an expression of optimism and an expectation of brighter things to come.
Some images remind of an older period in Khreis' artistic creation. As they should.
Yet most are new expressions, reflections of a new stage in his life, better explained by the artist himself: "I am unaccustomed to repeating myself; it is merely my spirit that moves through my works from one station to the other; merely life with its fluctuations and circumstances, for each period of time has its own unique character where repetition is non-existent. I recall certain signs, symbols, colours and shapes, some of which remain, while others fade into nostalgia."
This highly honoured artist — First Prize for the Joan Miro International Art Contest, Spain, National Award for Excellence in Art, Jordan, Medal of the Commander of the Order of Civil Merit, Spain — studied art in Egypt, Spain, Italy and Mexico and is the director general of the Jordan National Gallery of Fine Arts.
He curated several local and international exhibitions, held 18 solo exhibitions and participated in a large number of local and international group shows.
It is a privilege to be able to follow his artistic trajectory, which, he says, is "an informal journey towards a formal act; a chromatic journey that suggests but does not confirm".
Indeed, rain and vague memories are suggested, but the underlining nostalgia can only be inferred, it is never really "confirmed". If anything, it is rather disproved by the cheerfulness elicited by the ingenious placement of bright spots of colour that do not allow the overwhelming black lines to obliterate memories and darken the mood.
A deluge of feelings, both cleansing and exhilarating, sweeps over the viewer of Khreis' works that are on display through April 25, coinciding with spring and renewal, and giving hope.
Newsletter
Get top stories and blog posts emailed to you each day.