You are here
How the past produces the present — and the future
By Sally Bland - Jul 10,2016 - Last updated at Jul 10,2016
Shifting Sands: The Unravelling of the Old Order in the Middle East
Edited by Raja Shehadeh and Penny Johnson
US: Olive Branch Press/Interlink Publishing, 2016
Pp. 261
"Shifting Sands" contains essays by 15 intellectuals first presented at the 2014 Edinburgh International Book Festival, each trying to make sense of the violent chaos that followed on the heels of the Arab uprisings, or to assess the current situation in Iraq, Iran and Turkey. The analysis is sober, but far from dispassionate. The contributors are not scoring academic or political points, but committed to reaching new insights that would promote justice and human values. Most are deeply grounded in history, view the world with unfettered eyes, and care about people's everyday lives. Editor Penny Johnson sets the tone by paying tribute to Ra'ed Al Hom who with a screwdriver defused unexploded Israeli ordnance in Gaza in the summer of 2014 before a huge bomb killed him. "A pen is less useful than a screwdriver," she observes. (p. 3)
Still, the contributors take up their pens to analyse the past and present, in search of keys to creating a better future.
In the initial essays, scholars of different disciplines go back to World War I and the colonial division of the area, for these events "are not simply background to today's conflagrations, but producers of the same". (p. 4)
The focus is on the legitimacy crisis of the resulting Arab states that recently caused the fragmentation of several of them. In the words of Avi Shlaim, "the post-war order imposed by the Entente powers created a belt of turmoil and instability stretching from the Mediterranean to the Persian Gulf. Its key feature was lack of legitimacy… [and] laid the groundwork for conflicts that continue to plague the region… It is the story of our own times". (p. 32)
Salim Tamari examines diaries kept by three soldiers, to see how the war radically changed people's lives, identities and loyalties, especially with "the death of the Ottoman idea… of common citizenship and a multi-ethnic homeland". (p. 65)
His conclusions has relevance to today's turmoil: "when people are faced with devastation, they tend to revert to the comfort and security of local identity, because it is protective and familiar and allows people to insulate themselves from what seems to be the impending collapse of the world around them". (p. 64)
Khaled Fahmy also connects the past to the present, and counts the state's lack of legitimacy as a major cause of Egypt's January 25 revolution. After enumerating the many popular revolts in Egypt over the last two centuries, he highlights what was distinctive about 2011: "We acted in history and affected a radical change… We have also prized open the black box of politics… People now see the political in the quotidian. The genie is out of the bottle and no amount of repression can force it back in." (p. 81)
Tamim Al Barghouti is most searing in his indictment of the failure of the modern Arab states, which he views as structural due to their colonial origins. Conversely, he finds hope in new trends that surfaced in the Arab uprisings, as when Egyptians organised their lives without a police force for five months in 2011: "They were behaving as if they had a government, but without one." (p. 89)
Moreover, "if narrative is replacing structure, if ethnic and religious identities are replacing state-based affiliations and if public opinion becomes a determining factor… it will not be long before an anti-Israeli consensus, or quasi-consensus, manifests itself". (p. 94)
Hope is also to be found in three essays on fiction's role in promoting change. Mai Al Nakib, Selma Dabbagh and Marilyn Booth concur on overlapping reasons for writing in difficult times: to question the old order, to invent worlds that suggest alternatives to the present, to explore differing points-of-view and difference itself, to create something worth fighting for, and show that "it doesn't have to be this way". (p. 187)
The final section focuses on Syria today, conveying totally different impressions than one gleans from news coverage. As Robin Yassin-Kassab writes of his two visits to Syria in 2013, "Neither visit took me to a country or a people recognisable from Western media reports". (p. 206)
His chronicle crosses war zones but records non-war activities showing how communities function in the heat of conflict. Malu Halasa writes about the creativity unleashed by the democratic uprising, and what the graffiti, art, media and theatre show about popular politics. In an eye-opening essay, Dawn Chatty reminds of Syria's great demographic diversity, and explains how community cohesion has enabled survival and propelled marginalised groups, like the Kurds and tribes, to prominence.
The concluding essay posits the centrality of Palestine in a new way. Raja Shehadeh contends that if this most intransigent conflict is solved on a democratic, non-exclusive basis, it would serve as a model for resolving the conflicts in the region as a whole.
If you only have time to read one of the many books now being published about the aftermath of the Arab uprisings, this is the one to choose.
Related Articles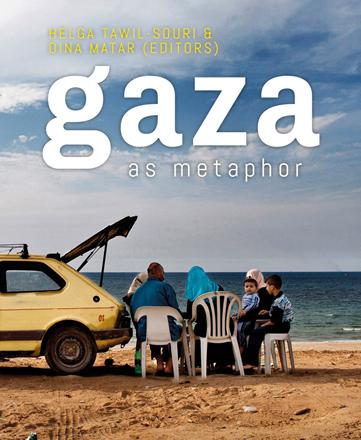 Mar 27,2016
Gaza as a MetaphorEdited by Helga Tawil-Souri & Dina MatarLondon: Hurst & Company, 2016Pp.
Dec 21,2014
"Syria Speaks" is a compilation of personal narratives, short fiction, essays, poetry, song lyrics, posters, art works and photos that express the thinking and experience of the democratically-minded Syrians who sparked the initial nonviolent phase of the 2011 uprising, before it was overtaken by regime brutality and religious extremists.
Nov 29,2015
Arab Dawn: Arab Youth and the Demographic Dividend They Will BringBessma MomaniUniversity of Toronto Press, 2015Pp.
Newsletter
Get top stories and blog posts emailed to you each day.