You are here
Hyundai Ioniq Electric: comfortable commuter
By Ghaith Madadha - Jun 10,2019 - Last updated at Jun 11,2019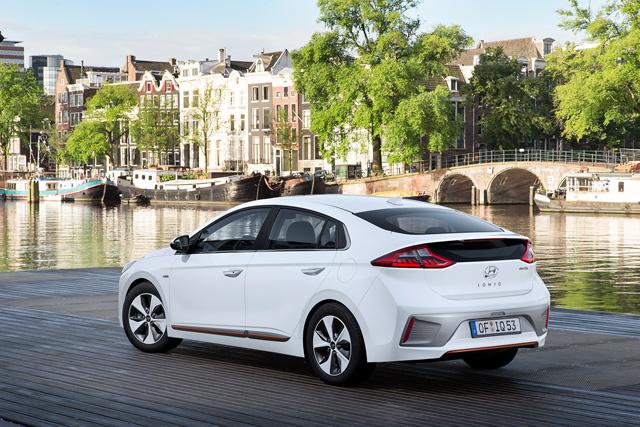 Photo courtesy of Hyundai
Designed specifically for electrification rather than adapted from a regular combustion engine model, the Hyundai Ioniq is offered in three guises including hybrid, plug-in hybrid and fully electric, as driven. An efficient, quiet and smooth commuter with decent range and re-charge times, the Ioniq Electric is well-engineered, well-executed and competitively priced with EV rivals like the Chevrolet Bolt and Renault Zoe. Particularly adept for commuting, it also competes well against similarly sized combustion engine cars, including its own Hyundai Elantra saloon sister, with which it shares certain basic and aesthetic similarities.
Smooth style
Incorporating lightweight components including its bonnet and tailgate, to keep its weight somewhat restrained next to some similarly sized EVs to reduce energy consumption and improve driving characteristics, the Ioniq Electric's Lithium-ion batteries are also some 20 per cent lighter than many competitors.
In terms of design, it is a low-slung and arcing fastback-like five-door hatchback with smooth flowing surfacing, squinting headlights and aerodynamically optimised design. Its batteries are meanwhile positioned under the boot for a lower driving position and profile, rather than under the cabin, as some other taller and specifically designed EVs.
Most noticeably different in aesthetic with a smooth grey enclosed cover in place in place of Ioniq Hybrid versions' broad hexagonal grille, the Ionic Electric only features slim lower and small gill-like vertical side air inlets. Combined with its smooth shape and extensive underbody coverings, the Ioniq Electric achieves excellent aerodynamic efficiency for reduced wind resistance and noise. Meanwhile, behind its encased fascia, the Ionic Electric is powered by a permanent magnet synchronous electric motor driving the front wheels through a single-speed automatic gearbox for seamlessly uninterrupted power delivery.
Torque and traction
A quicker and more versatile drive than its maximum 118BHP power output figure suggests, the Ioniq Electric instead relies on and rides on a continuously abundant and broad wave of torque, peaking at 217lb/ft. Muscualr and flexible on the move and willingly responsive at highway speeds, the Hyundai Electric dashes through the 0-100km/h benchmark in a reasonably brisk 9.9-seconds and onto a 165km/h top speed, which is noticeable high than many EV competitors, yet still limited by motor revs and its single gear ratio, so less than comparable with combustion engine models.
Rich in torque, the Ionic Electric overtakes with confidence, climbs inclines with ease and is responsive from standstill. However, with so much torque going through the front wheels and their efficient low rolling resistance 205/55R16 tyres, the Ioniq Electric does have to claw away to find traction on steep inclines with overly smooth low traction tarmac, as its electronic traction control cuts power to avoid wheelspin. Similarly, through hard driven corners and switchbacks, one also needs to very gently ease in the accelerator by a corner's apex to avoid provoking torque steer and understeer.
Refined ride
However, one suspects that changing to grippier tyres would be better suited to Jordanian roads, even if at a slight cost to energy efficiency and range. That said, one found the Ioniq Electric's trip computer more accurately predicted range than many others, while driving range itself may not be the best in the segment at 280km under ideal conditions, but is sufficient in real world driving conditions for typical commuter driving, while the upside is that the Ioniq's smaller, lighter batteries less adversely affect driving dynamic, efficiency and braking than other EVs with heavier batteries.
A smooth, refined and comfortable ride on highway and in town, the Ioniq Electric feels alert, responsive and manoeuvrable in the city, with its quick 2.66-turn steering. Driven hard through brisk switchbacks the Ioniq Electric remains reassuring, agile and comfortably capable, despite its use of a lighter more compact rear torsion beam suspension in place of the Hybrid version's more sophisticated multi-link set-up. However, being more comfort-oriented, it is not quite in its element driven like a hot hatch, and feels slightly aloof, with its electronic stability controls diligently helping out.
Well-equipped
and efficient
Absorbent and stable at speed with its relatively long wheelbase, the Ioniq Electric could benefit from slightly firmer damping for a tauter more grounded feel over rouger patches of tarmac. Inside, it is quiet and comfortable with well-adjustable front seating and a partially open centre console adding more space, width and an airier ambiance, compared with Hybrid versions. Fit, finish, materials and layouts are pretty good and rear legroom generous, but its rakish roofline reduces rear headroom for tall passengers. Boot space is meanwhile slightly less than Hybrid versions owing to bigger potteries, but its usefully flat 350-litres expands to 1,410-litres with rear seats folded
Well-equipped, the Ioniq Electric's usefully features a reversing camera, parking sensors and blindspot warnings to compensate for side and rear visibility. Offered at JD22,500 on the road from the official local dealership the Ioniq Electric is compelling choice in the EV segment, and comes with free six month access to Hyundai's fast charge dealership facility, with conveniently quick 30-minute zero-80 per cent charging. Using a home wall charger unit, charge time increases to four hours 25 minutes, while plugging into a regular wall socket increases the charge time to 12-hours.
TECHNICAL SPECIFICATIONS
Engine: Permanent magnet synchronous motor
Gearbox: 1-speed automatic, front-wheel-drive
Gear ratio: 7.412:1
Power, BHP (PS) [kW]: 118 (120) [88]
Torque, lb/ft (Nm): 217 (295)
Battery type, capacity/voltage: Lithium-ion polymer, 28kwh/360v
0-100km/h: 9.9-seconds
Top speed: 165km/h
Charging time, mains charging, 240v/7kw wallbox: 12-/4-hours, 25-minutes
Charging time, 50kw fast charger, 0-80 per cent: approximately 30-minutes
Energy consumption: 11.5kWh/100km
Maximum range: 280km
Length: 4,470mm
Width: 1,820mm
Height: 1,450mm
Wheelbase: 2,700mm
Track, F/R: 1,555/1,564mm
Headroom, F/R: 994/950mm
Legroom, F/R: 1073/906mm
Shoulder room, F/R: 1425/1396mm
Cargo volume, min/max: 350-/1,410-litres
Payload: 405-460kg
Kerb weight: 1,420-1,475kg
Suspension, F/R: MacPherson struts/torsion beam
Steering: Electric-assisted, rack and pinion
Lock-to-lock: 2.66-turns
Steering ratio: 13.9:1
Turning circle: 10.6-metres
Brakes, F/R: Ventilated discs, 279mm/discs, 284mm, regenerative braking
Tyres: 205/55R16
Price, starting from: JD22,500 (on-the-road, comprehensive insurance)
Newsletter
Get top stories and blog posts emailed to you each day.