You are here
Hyundai Ioniq Hybrid: Engineered for efficiency
By Ghaith Madadha - Feb 08,2017 - Last updated at Feb 08,2017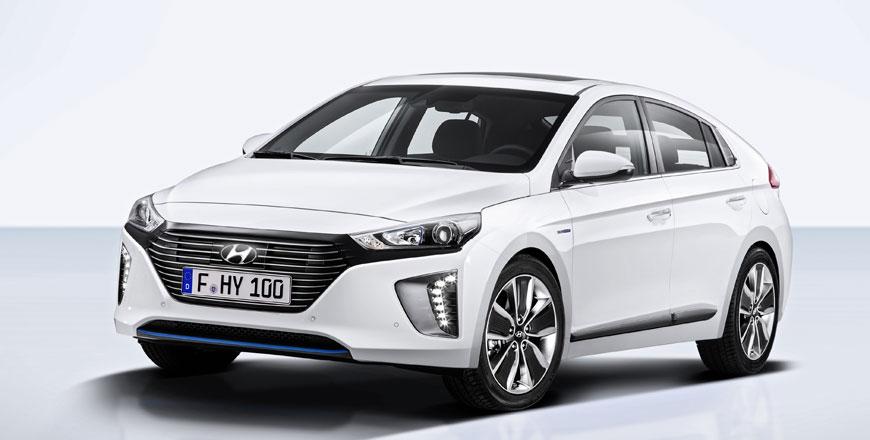 Photo courtesy of Hyundai
Launched in recent months and taking aim squarely at the Toyota Prius, the Hyundai Ioniq is the Korean giant's first purpose-built, petrol-electric hybrid car, and builds on lessons learnt from previous hybrid versions of existing Hyundai models.
Well-engineered, designed and executed for the most part, the Ioniq is also priced keenly and promises frugal fuel efficiency.
Rightly expected to perform well in Jordan's hybrid-friendly automotive market by the local importer, the Ioniq's JD19,750 price is highly competitive with its main hybrid rival.
However, this puts the Ioniq in competition with Hyundai's own similarly-sized non-hybrid Elantra, which — starting at JD18,500 — is the brand's highly popular and best-selling Jordanian model.
Purpose built
Seeming to share certain similarities with its more conventional Elantra sister, the Ioniq is however designed specifically as a hybrid and electric vehicle.
As such, the Ioniq's electric motors, batteries and hybrid components are well-integrated and positioned for better weight distribution than would be the case for a model converted for a hybrid driveline.
Using light Lithium-ion batteries with efficient charge and discharge qualities, the Ioniq's electric motor is also compact.
Meanwhile, the Ioniq employs a greater use of lightweight aluminium to reduce fuel consumption and help improve ride and handling.
Employing aluminium bonnet and tailgate, and other weight-saving components, the Ioniq's increased use of "advanced" high strength steel construction further improves weight reduction and increased body rigidity for improved efficiency, refinement, safety, dynamics and comfort.
A more handsome and futuristic styling relation to the Elantra, the Ioniq's black and broad hexagonal grille is better integrated with squinting headlights, while its smoothly arcing hatchback body style has a more fluent and aesthetic appearance.
More importantly, its soft curvatures, sharper rear bumper surfacing, front wheel air curtains, side sills, closed wheel design, rear spoiler and diffuser, under-body covering and active grille shutters allow for low CD0.24 aerodynamic drag co-efficiency.
Big on torque
Powered by a relatively low-revving 1.6-litre naturally-aspirated four-cylinder Atkinson cycle engine with high thermal efficiency developing 103BHP and 108lb/ft, and an electric motor producing 43BHP and 125lb/ft, the Ioniq Hybrid's combined system output is 139BHP at 5,700rpm and 195lb/ft at 4,000rpm.
Driven by a combination of both petrol and electric motors or either one depending on conditions, throttle input and battery charge, the Ioniq is quicker and more responsive than its headline power figure suggests.
Instead, it relies more on its electric motor's generous torque output, available in healthy doses throughout the rev range. Flexible and responsive in urban driving, the Ioniq accelerates through 0-100km/h in 11.1 seconds — with 17-inch wheels as tested — and tops out at 185km/h.
Best in the city or highway cruising, the Ioniq's hybrid system integration is much smoother than previous Hyundai hybrids with improved throttle lift-off response.
Mostly refined and quiet, the petrol engine sounds strained only at top end. Meanwhile, battery charge and discharge times are impressive, and allow for longer and higher speed electric-only driving than expected — up to 125km/h during test drive.
Its hybrid system also allows for confident heavy throttle driving on sustained inclines for longer periods than similar systems.
Losing some of its verve when batteries are fully depleted and the petrol engine is driving solo on such inclines, the Ioniq however quickly recovers its charge on descent from the petrol engine and regenerative braking system.
Returning 3.4l/100km combined cycle fuel efficiency with 15-inch wheels and 4l/100km with 17-inch wheels — as tested and available in Jordan — according to published Hyundai figures, the Ioniq's real world efficiency was very impressively not far off from such ideal test condition values.
Driven on demanding Jordanian roads and conditions several months after its global launch but soon after its local launch late last year, the Ioniq managed 4.6l/100km fuel efficiency (average calculated from trip computer and manual measurement figures) in real world conditions.
Though not a scientific test and not within any particular set parameters, this figure was remarkably achieved over approximately 500km driving, with widely varying conditions and driving styles.
Firmly frugal
Riding on MacPherson strut front and multi-link rear suspension and driven over demanding and imperfect local road conditions, the Ioniq's rigid construction counted in its favour for ride and handling.
Riding firm but smooth and comfortable in most conditions, the Ioniq's Jordanian spec 225/45R17 tyres provided good grip, but on some rougher roads, including certain highway segments south of the airport, felt firmer than ideal.
Fitted with 17-inch alloy wheels for prevailing customer aesthetic preferences, one feels the Ioniq's ride quality would nevertheless have been more supple, with the base 15-inch alloy wheels' more forgiving sidewalls and absorption, while the thinner tread would have further improved acceleration and already impressive fuel efficiency.
With its relatively long wheelbase, the Ioniq is stable at speed and through sweeping corners, with good grip.
Through winding roads, the Ioniq's turn-in feels tidy, with positive and quick 2.66-turn steering and good self-centring that is precise, if not layered with texture and road feel.
Pushed hard off the line, there is mild torque-steer at full throttle as to be expected for its generous twisting force and driven front wheels.
However, when pushed hard into corners, under-steer was pleasantly adjustable with a light dab of mid-corner braking to tighten its line, while rearwards weight shifts were predictable.
Hiding its hybrid system's weighting well, the Ioniq leans slightly through corners but felt well controlled.
Refined and practical
A refined and smooth drive, the Ioniq's rebound control is considerably improved over some other popular Hyundai models driven in recent years.
Meanwhile, vertical pitch over crests and dips was slightly more pronounced, and one felt that slightly firmer dampers with slightly more supple tyres might have been an improvement.
At its best performing at 80 per cent of its ability, the Ioniq is happy to be hustled through switchbacks, with good composure, comfort and handling, as well as flexible performance and battery charge recovery.
Brakes felt somewhat imprecise at low speeds owing to their regenerative function, but as speed picks up, pedal feel improves, while on sustained descents felt consistent and reassuring.
The Ioniq's use of a quick and slick six-speed automated dual clutch gearbox allows for more driver involvement.
User friendly, logically laid out and well-equipped inside, the Ioniq's cabin features pleasant designs and trendy materials.
Featuring leatherette seats and steering with multi-function controls, driving position is comfortable, adjustable and supportive.
Front visibility is good, but with its stylishly rakish roofline, hatchback and three rear headrests, rear and side-rear visibility — and rear headroom — is slightly obstructed, as is the case for many modern cars.
The demo model driven, however, featured blind spot warning and rearview monitor, but this is not a standard feature on Jordanian models.
Spacious in front and with good door swing angles for easy-access front and rear, the Ioniq's rear legroom is commendable and boot space generous.
Hyundai Ioniq Hybrid
Engine: petrol/electric hybrid, 1.6-litre, transverse, 4 cylinders
Bore x stroke: 72 x 97mm
Compression ratio: 13:1
Valve-train: 16-valve, DOHC
Gearbox: 6-speed automated dual clutch, front-wheel-drive
Power – petrol engine, BHP (PS) [kW]: 103.5 (105) [77.2] @5,700rpm
Power – electric motor, BHP (PS) [kW]: 42.9 (43.5) [32]
Power – combined, BHP (PS) [kW]: 139 (141) [104] @5,700rpm
Torque – petrol engine, lb/ft (Nm): 108 (147) @4,000rpm
Torque – electric motor, lb/ft (Nm): 125 (170)
Torque – combined, lb/ft (Nm): 195 (265) @4,000rpm
Battery type, capacity, voltage: Lithium-ion polymer, 1.56kwh, 240v
0-100km/h: 11.1 seconds
Top speed: 185km/h
Fuel consumption, city / highway / combined: 3.88/3.92/4 litres/100km
CO2 emissions: 92g/km
Fuel capacity: 45 litres
Length: 4,470mm
Width: 1,820mm
Height: 1,450mm
Wheelbase: 2,700mm
Track, F/R: 1,549/1,563mm
Aerodynamic drag co-efficient: 0.24
Headroom, F/R: 993/950mm
Legroom, F/R: 1,071/906mm
Shoulder room, F/R: 1,425/1,397mm
Cargo volume, min/max: 443/1,505 litres
Unladen weight: 1,370-1,477kg
Suspension, F/R: MacPherson struts / multi-link
Steering: Electric-assisted, rack and pinion
Lock-to-lock: 2.66 turns
Turning circle: 10.6 metres
Brakes, F/R: Ventilated discs / discs, regenerative braking
Tyres: 225/45R17
Price, starting from: JD19,750 (on-the-road)
Related Articles
Jun 13,2017
At a casual and distant glance one could be forgiven for mistaking the Kia Niro for a compact crossover SUV (CUV), perhaps a somewhat more a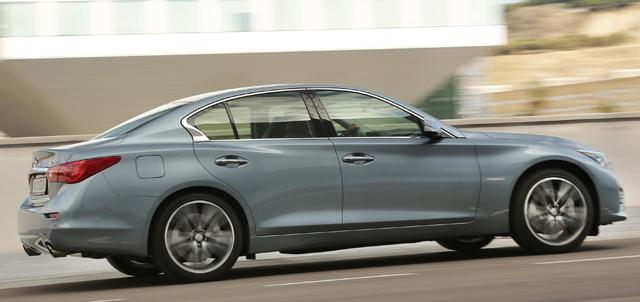 May 19,2014
A high-tech replacement for the Infiniti G Sedan, the new Q50 compact premium saloon is the luxury brand's first new offering since recently relocating to Hong Kong and reasserting itself as a global and urbane sports luxury brand.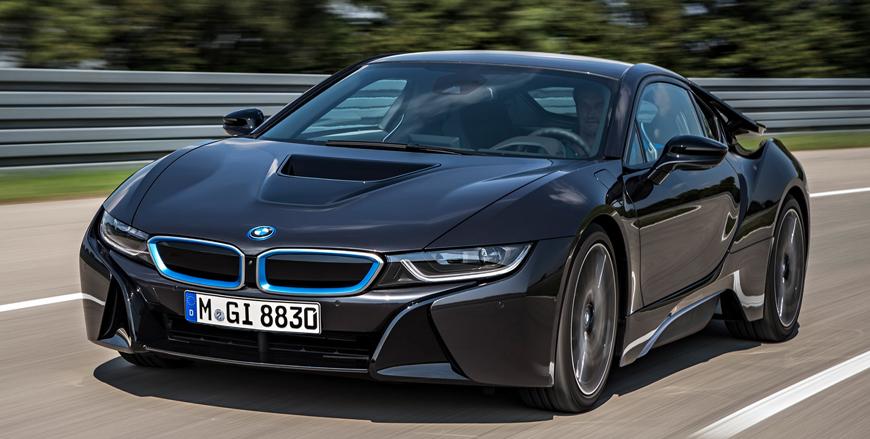 Oct 20,2016
The first mid-engine BMW since the M1 sports car of 1978, the BMW i8 was first glimpsed as the Vision Efficient Dynamics concept in 2009, be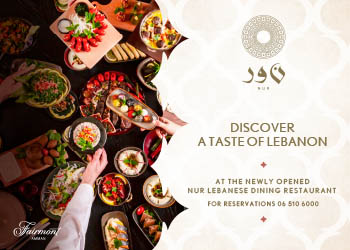 Newsletter
Get top stories and blog posts emailed to you each day.