You are here
'Reassembling a disappearing homeland'
By Sally Bland - Nov 15,2015 - Last updated at Nov 15,2015
In the Wake of the Poetic: Palestinian Artists after Darwish
Najat Rahman
New York: Syracuse University Press, 2015
Pp. 190
Najat Rahman is professor of Comparative Literature at the University of Montreal and has authored or edited several books on Mahmoud Darwish. In this book, she addresses the effects of his poetry on subsequent Palestinian artistic production — poetry, cinema, visual arts and song. Focusing on the period after the Oslo Accords, which radically altered the parameters of Palestinian struggle, she contends that the new artists "refuse to adhere to predetermined notions of aesthetics and politics, but they all claim a common historical legacy: historic Palestine, 'national poets' such as Darwish, the Nakba of 1948, Beirut 1982." (p. 2)
"These Palestinian writers and artists, who live between many countries and languages, resist a fixed identity while expressing a desire for home and for belonging." (p. 4)
In Rahman's view, they "continue the legacy of Darwish without being derivative". (p. 3)
Darwish considered poetry to be political when it is concerned with community and the future. In this sense, the new generation's works are political but in new ways. Often they contest the injustices inflicted on the Palestinians — and the world's seeming oblivion — via dark humour, irony and the absurd.
The strongest chapter in the book is the one on poetry in which Rahman compares the themes and aesthetics of Darwish with other Palestinian poets, chiefly Suhair Hammad, Liana Badr and Ghassan Zaqtan. Like Darwish, Hammad focuses on the themes of dispossession, loss, fragmentation, and the link between language and identity. Born in Brooklyn and mixing Arabic with English slang, shouting out what usually remains unspoken, she challenges preconceived notions and indicates new passages and identities, going beyond the strictly national to a transnational scene. "The diasporic poet through her voice gathers fragmented selves into new possible collective identities." (p. 39)
Similar themes, plus multiple exiles and the role of memory, mark the poetry of both Badr and Zaqtan. Each in their own way, they revisit history and combine the poetic, the political and the personal, often via small daily details which evoke the bigger tragedies and existential dilemmas of Palestinian lives.
The films of Elia Suleiman, Hany Abu Assad and Rashid Masharawi have elicited international acclaim and brought new attention to the Palestinian issue. The sense of irony and the absurd, often present in Darwish's poems to convey the Palestinian experience, reaches new heights in their cinematic imagery that, especially in the case of Suleiman, also includes fantasy. Rahman sees their films as "visual counterparts to Darwish's poetics of loss, belonging, dispersion, and dispossession". (p. 53)
Among the Palestinian visual artists noted in the book are not many painters, but mostly creators of conceptual art who work in a wide range of media: video, collage, photo documentation, mapping and performance, where the artist uses his or her own body to express the Palestinian experience. Rahman focuses on well-established artists like Kamal Boullata and Mona Hatoum, as well as more recently recognized ones such as Emily Jacir, Eman Haram, Rehab Nazzal, Sharif Waked and the artwork Till Roeskens developed with Palestinians of Aida Camp, near Bethlehem. While unmasking Israel's ethnic cleansing and occupation, their artwork constitutes a struggle against the erasure of Palestinian history, memory and existence.
Music is closely linked to poetry and many musicians have based their songs on lyrics drawn from Darwish's poetry, from Sabreen to the hip-hop and rap groups such as DAM, which began in Lyd, and inspired other Palestinian rappers from Ramallah to the US. Tamer Nafar of DAM (of "Who's the terrorist?" fame) acknowledges the impact of Darwish's poetry on the group, naming other influences as: "30 per cent Hip Hop music; 30 per cent literature; and 40 per cent the political situation." (p. 121)
Notably, Rahman counts hip-hop as the most directly political of all the new Palestinian art forms.
"In the Wake of the Poetic" links literary criticism with Palestinian reality to give a fascinating panoramic view of Palestinian artistic production in the past two decades. Rahman succeeds admirably in her stated purpose: "to show how artists in different media and in different corners of the Palestinian diaspora innovate uniquely, and join the poetic legacy of Mahmoud Darwish in reassembling a disappearing homeland." (p. 76)
Related Articles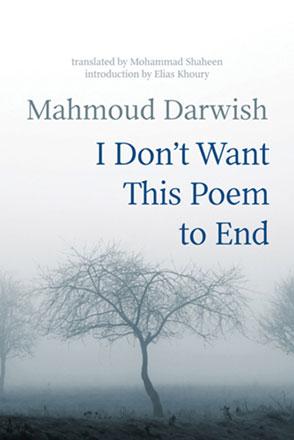 Dec 31,2017
I Don't Want This Poem to EndMahmoud DarwishTranslated by Mohammad Shaheen US: Interlink Books, 2017Pp.
Jun 19,2016
Desert SorrowsTayseer al-SboulTranslated by Nesreen Akhtarkhavari and Anthony A. LeeEast Lansing: Michigan State University Press, 2015Pp.
Aug 20,2014
Samih Al Qasim, a Palestinian Druze poet known across the Arab world for his nationalist writing, died Tuesday after a long battle with cancer, a family friend said. He was 75.
Newsletter
Get top stories and blog posts emailed to you each day.