You are here
'Biased analysis'
Oct 12,2017 - Last updated at Oct 12,2017
The article "Turkey shifts policy on Syria" (The Jordan Times, October 12, 2017) regrettably includes distorted or biased analysis.
Turkey's policy on Syria is based on the objective of supporting the Syrian people in their just struggle for liberty, democracy, dignity and security.
In this vein, Turkey continues its efforts to contribute to ending the Syrian conflict through a political solution.
The main pillars of Turkey's policy on Syria remain unchanged while the tactics for the implementation may vary, depending on the fast-changing circumstances on the ground.
The complementary measure of "de-escalation zones" resulted in a reduction of violence.
In line with the decisions taken during the last Astana meeting, Turkey currently seeks to come up with an effective control mechanism for Idlib province.
As emphasised in the joint statement at Astana (September 14-15, 2017), the creation of "de-escalation zones" under no circumstances undermines the sovereignty, independence, unity and territorial integrity of Syria.
On the other hand, it is a well-known fact that Turkey is displaying political will towards a negotiated, just, lasting and comprehensive settlement to the Cyprus issue based on political equality for both sides on the island. However, it seems that the "anti-Turkey" sentiments and prejudices led the writer to distort this fact.
In the Ankara Agreement (1921), the Hatay province was left to the French control with a special administration.
In 1938, this Turkish-majority province first declared its independence and then, with a plebiscite in 1939, decided to join the Republic of Turkey.
Labelling this process as "occupation" is nothing else but manipulating public opinion. It is an unfortunate statement.
Moreover, Turkey is among the leading nations in fighting terrorism. Turkey is currently fighting various terrorist organisations, including Daesh, PKK, PYD/YPG, FETÖ that present serious threats to Turkey's and/or regional security.
Turkey is determined not to tolerate any terrorist activity against its national interests, particularly along its southern borders, and will continue to act in accordance with its right to self-defence, enshrined in Article 51 of the UN Charter.
Ihsan Emre Kadıoglu,
counsellor, Turkish embassy,
Amman
up
9 users have voted, including you.
Related Articles
Jul 22,2017
DAMASCUS — Syria's army announced Saturday a halt in fighting in parts of Eastern Ghouta after rebels and regime ally Russia agreed on how a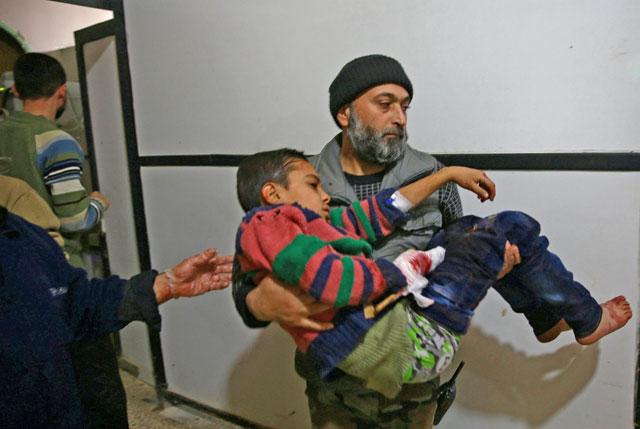 Nov 19,2017
DAMASCUS — The United Nations on Sunday called on Syria's warring sides to stop targeting civilians in the capital Damascus and nearby neigh
Jul 03,2017
BEIRUT — The Syrian army said on Monday it would suspend combat operations in southern Syria until Thursday to help a new round of peace tal
Newsletter
Get top stories and blog posts emailed to you each day.