You are here
'#Maanash' campaign calls for another rally to protest income tax law
Call for protest received with mixed reactions on social media
By Raed Omari - Nov 29,2018 - Last updated at Nov 29,2018
Protesters gathering near the Fourth Circle in Amman in June, calling for the withdrawal of the income tax draft law from Parliament (JT file photo)
AMMAN — Organisers of "#Maanash" have launched another campaign on social media, calling on Jordanians to participate in a rally they planned on Friday at the Fourth Circle to protest against the 2018 income tax and cybercrimes laws.
A group of young people launched the "#Maanash" campaign on social media late in May and was said to be the driving force behind the massive rallies at Amman's Fourth Circle near the Prime Ministry and in other parts of the country. The protest was against the 2018 amendments to the Income Tax Law by the government of former prime minister Hani Mulki.
By the time the paper went to print, 9,590 people had confirmed their attendance on social media to participate in Friday's rally. The "#Maanash" campaign has been gathering support on their Facebook page as around 32,000 people were following the planned event. The campaign organisers had invited more than 101,000 people.
One of the organisers told The Jordan Times on Thursday that they do not expect a large amount of people to participate in the rally, which they dubbed, the "Fourth Circle combines us #Maanash_Friday".
"The circumstances that surrounded last June's protest were different from today," the organiser, who preferred anonymity, said, adding that Parliament was not in session at that time and "protesters were the voice of the people".
"Plus, June's protest was during Ramadan when it was hot and people stayed awake till late hours at night but now it is cold at night."
Comments of Facebook users on the "#Maanash_Friday" campaign varied from showing support to expressing scepticism about any results, to outright rejection of the whole idea.
Saying he is participating in the rally, Abdulrahman Shurfat called for the departure of the Lower House, which he accused of "being the main cause of the country's woes".
The two houses of Parliament recently endorsed the 2018 amendments to Income Tax Law.
Esraa Alkaabneh called on protesters to be as "peaceful and civilised" as they were during June's rally.
In unmistakable sarcasm, Bushra Ali Kilani said that "the pictures of large number of people buying loads of things during 'Black Friday' prove that people have money".
Related Articles
Dec 02,2018
AMMAN — Dozens staged another rally on Saturday, near the Prime Ministry at the Fourth Circle, to protest against the new income tax bill an
Dec 09,2018
AMMAN — Protesters staged another sit-in on Friday at the Fourth Circle, near the Prime Ministry, demanding deep changes to economic policie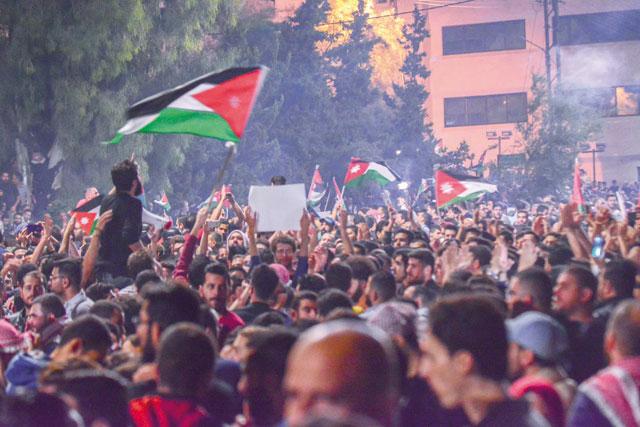 Jun 06,2018
AMMAN — The Professional Associations Council announced on Tuesday that it will go ahead with another strike today in protest against the in