You are here
150 GAM workers awarded for Labour Day
By JT - May 03,2018 - Last updated at May 03,2018
AMMAN — Labour Minister Samir Murad on Tuesday honoured 150 workers of the Greater Amman Municipality (GAM) during a ceremony marking Labour Day, the Jordan News Agency, Petra, reported.
Deputising for His Majesty King Abdullah, the minister patronised the ceremony organised by the General Trade Union of Workers in the Municipalities at the Social Security Corporation Hall.
Murad conveyed his Majesty's greetings and congratulations to all Jordanian workers on this day, before awarding them with financial and in-kind gifts.
"The challenges the Jordanian labour market is facing can occur in the biggest global economies, let alone a limited resources country that has been suffering from political and security repercussions," the minister said, noting that "this celebration commends the achievements of workers and their role in the country's industrial, infrastructural, and economic development because of their infinite dedication and production in all fields".
He said that, in line with His Majesty's directives, the government has adopted an approach that aims to fulfil the workers' requirements by dedicating the public potential to ensure a "model" and "attractive" work environment providing social security for its workers.
Murad cited measures implemented to fight unemployment, which he said is "at the top" of the government's priorities for stimulating economic growth through attracting investments and establishing new projects.
He referred to the government's policy in fostering vocational and technical training in consideration with the needs of the labour market as a solution to fight poverty and unemployment.
On the proposed amended version of the Labour Law sent to the Lower House for revision, the minister said that they are catering for the three main parties at stake: the workers, the employers and the government. He noted that the amendments are "in accordance with the international labour standards" to which Jordan is committed as part of its membership in the International and Arab Labour Organisations.
President of the General Trade Union of Workers in the Municipalities Hammam Maaytah expressed the union's appreciation and respect to its workers, noting that the ceremony aims to thank the country's workers for their efforts, adding that they are "a source of pride for all Jordanians" and "highly cherished by His Majesty King Abdullah".
For his part, President of the General Federation of Jordanian Trade Unions Mazen Maaytah said that Labour Day represents an "important moment" for evaluating what has been achieved and still needs to be done to best serve the workers' sector.
Related Articles
Apr 30,2018
AMMAN — Jordan, along with most countries around the world, on Tuesday observes Labour Day, where millions of labourers stop working to cons
May 01,2017
AMMAN — His Majesty King Abdullah on Sunday took to Twitter to commend the achievements of Jordan and its citizens on the occasion of Labour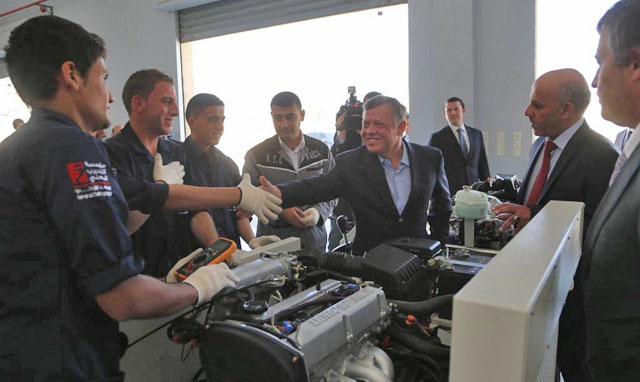 May 02,2015
His Majesty King Abdullah on Friday congratulated the nation on Labour Day, voicing his appreciation for workers.
Newsletter
Get top stories and blog posts emailed to you each day.