You are here
50 bishops acquainted with condition of Christian refugees in Jordan
By Merza Noghai - Jan 12,2016 - Last updated at Jan 12,2016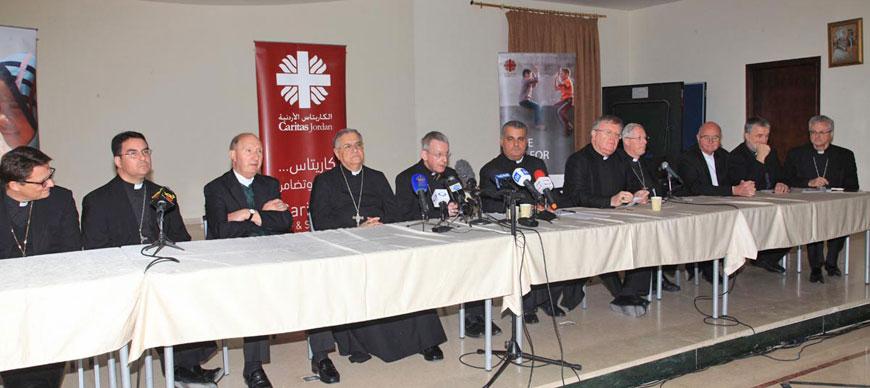 Bishops taking part in the annual Holy Land Coordination pilgrimage speak at a press conference in Amman, on Monday (Petra photo)
AMMAN — Fifty bishops from Europe, North America, and South Africa are currently in the Kingdom to express solidarity with Christian refugees who were forcibly displaced from Iraq and Syria.
As part of the annual Holy Land Coordination pilgrimage, the church leaders are visiting local parishes, schools and development organisations "to show the support of the worldwide Christian community and gain insights into the complex political and religious problems underlying the Israeli-Palestinian conflict", according to the Vatican Radio website.
At a press conference on Monday hosted by the Our Lady of Peace Centre, Declan Lang, bishop of Clifton in the UK, said the aim of the visit is praying with the church in this part of the world and sharing the pilgrimage.
The Latin Patriarchate organised the visit, which will continue until Thursday, in cooperation with local churches to highlight the services Caritas Jordan provides to refugees in partnership with public entities.
Lang noted that the theme of the visit is "The Forgotten People", referring to the refugees and the importance of supporting regional peace, which seems "so fragile".
"One of the things we have admired in the church of this part of the world is the courageous way in which ... [it] still proclaims Gospel not only in word but also fact," he said.
Latin Patriarch of the Holy Land and Jordan Fouad Twal said the Vatican established the coordination committee in 1998 and included bishops from the whole world, with the aim of getting acquainted with the difficulties and challenges in Jordan and the Holy Land.
"We look forward to the bishops conveying what they have seen to the parliaments, politicians and peoples of their countries to assume right and just stances on the Palestinian issue, the occupation and refugees," Twal added.
The patriarch also noted that the delegates are scheduled to meet with Iraqi and Syrian refugees and review the challenges they face as a result of the unrest in their countries.
Before arriving in Jordan, the bishops visited Gaza and met with Christians to discuss the hardships they are going through, according to Twal.
They also went to the West Bank town of Deir Krimzan where Israeli forces are cutting down olive trees to build a separation wall, he noted.
Related Articles
Mar 06,2014
Prime Minister Abdullah Ensour on Thursday highlighted efforts exerted by Jordan to protect Islamic and Christian sites in Jerusalem.
Feb 13,2017
AMMAN — In a joint prayer service in Amman on Monday, Lutheran and Catholic church leaders celebrated and gave thanks together for the two c
Jan 08,2014
HH Princess Dina Mired, director general of the King Hussein Cancer Foundation (KHCF), on Wednesday met with representatives of the Latin Patriarch in Jordan to acquaint them with the foundation's message and its educational and cultural activities to combat cancer in Jordan and in the region.
Newsletter
Get top stories and blog posts emailed to you each day.