You are here
6 troops killed, 14 injured in car bomb attack on Syria border
By Mohammad Ghazal - Jun 21,2016 - Last updated at Jun 21,2016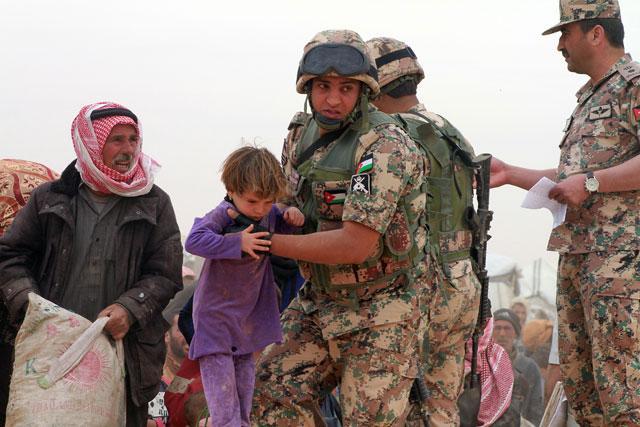 The terrorist attack Tuesday targeted a forward post dedicated to assisting Syrian refugees (File photo)
AMMAN – Six Jordanian troops were killed and 14 others injured Tuesday when a booby-trapped car struck a forward military post at the no man's land at the borders between Syria and Jordan, the Jordan Armed Forces-Arab Army said Tuesday.
A car bomb struck the military post dedicated for serving and helping Syrian refugees at the area struck at 5:30am local time, the army said in a statement on its official Facebook page.
Four border guard members, a member of the Civil Defence Department and another from the Public Security Department were killed in the terrorist attack, the army said Tuesday.
Of the total 14 who were injured, 9 are members of the Public Security Department, the army said.
"Such a cowardly act will only make the Jordan Armed Forces and the security bodies more resolute to uproot terrorism and terrorists and their dark ideologies regardless of their motives for such criminal acts," the army said in the statement.
Jordan's Minister of State for Media Affairs Mohammad Momani called on media outlets to exercise accuracy when publishing any details related to the terrorist attack as well as when it comes to the names of the martyrs.
The minister urged media to get information from official channels.
Related Articles
Jun 28,2016
AMMAN — The Daesh terror group claimed late Sunday responsibility for the deadly attack on the Kingdom's borders with Syria, which led to th
Jun 22,2016
AMMAN — His Majesty King Abdullah, the Supreme Commander of the Jordan Armed Forces-Arab Army (JAF), on Tuesday stressed that "Jordan will r
Jun 22,2016
AMMAN — The terrorist attack that claimed the lives of six Jordanian troops and injured 14 others will make Jordan stronger and more resilie