You are here
Al Balad Music Festival brings budding, seasoned Arab performers to Jordan
By Muath Freij - Jul 23,2015 - Last updated at Jul 23,2015
AMMAN — Maen Mheidat used to attend Al Balad Music Festival activities over the past years, watching performances by his favourite local and Arab bands.
This year, however, he will be on stage, showing his talent to the Jordanian public.
"I used to attend Jordanian group El Morabba3 concerts. Now, as a member of the Ayloul group, I will be one of the participating performers," Mheidat said at a press conference to launch the fourth Al Balad Music Festival, which opens next Wednesday.
Ayloul will be among the Jordanian and Arab bands that will take the stage in this year's festival, which will be held in Amman's Odeon and Roman theatres between July 29 and August 3.
In addition to El Morabba3 and Ayloul, a third Jordanian band — Zaed Naes — will be performing at the festival, in addition to singers from Tunisia, Palestine, Iraq and Lebanon.
Al Balad Theatre Director Raed Asfour said the festival, which was first launched in 2009, is held every two years with the aim of providing aspiring artists with a space to showcase their talent and present their work to the Jordanian public.
"They face fierce competition from entertainment outlets and big festivals, so this festival is aimed at providing them with the chance to reach global festival organisers, because we believe that their music talks about us and about our generation," he told The Jordan Times.
Asfour noted that the festival also provides some artists with the opportunity to debut new albums and projects.
"The festival is a meeting point for Arab artists and especially for Palestinian artists who cannot communicate easily with their Arab counterparts."
Every year, organisers invite a prominent artist to enable other aspiring artists to learn from his/her experiences, according to Asfour.
"This year, we will present Tunisian composer and singer Dhafer Youssef," he added.
The oud player, whose concert at the Roman Theatre concludes the festival on August 3, has eight albums and has performed live all over the world, according to organisers.
"Youssef is an international artist and it is important for both the festival and the audience to have this artist hosted in the Kingdom. He will perform for the first time in the Kingdom," Asfour added.
Also this year, the organisers managed to host Arab performers from Europe, such as Tarabband, which presents Arabic music from Sweden and will be opening the festival next Wednesday.
"Some Palestinian groups will have the chance to perform outside Palestine for the first time," he added.
Mohammad Abdullah, a member of El Morabba3 which was established in 2009, said this is the band's second time participating at Al Balad Music Festival.
"The festival is important for us because we are going to launch a funding campaign for our second album and we will start this campaign on July 30. It will last for one month," he told The Jordan Times.
"It is important for us to take part in events that feature prominent performers because they have a large audience and this will help us win the attention of new people," he added.
Samer Khraino, executive culture director at the Greater Amman Municipality, said GAM wants to support cultural activities in the capital because "we want to support anything that can benefit the community of the city."
He noted that the Roman Theatre, Hashemite Square and the Odeon are the main attractions in downtown Amman and the municipality focuses on holding activities there.
Asfour said it is important to present new and different activities of culture and music amidst the political conflict in the region.
The festival is held by Al Balad Theatre in collaboration with GAM, the Tourism Ministry and the Jordan Tourism Board.
Tickets are available online via karasi.com and are sold at several locations. More information on the performances is available on www.albaladmusicfestival.org.
Related Articles
Jul 11,2017
AMMAN — The fifth edition of Al Balad Music Festival will take place in downtown Amman on July 26, with the participation of a number of you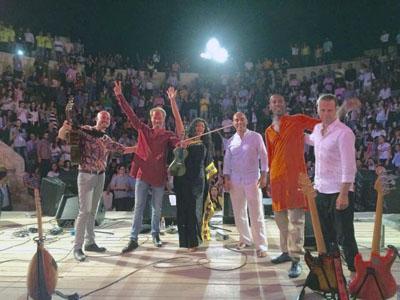 Jul 31,2015
AMMAN –– After stopping briefly in Jordan on her journey to seek refuge in Europe 14 years ago, Iraqi musician Nadin Al Khalidi returned to
Jul 31,2017
AMMAN — A musical festival in Amman gave a Syrian troupe from the Israeli-occupied Syrian Golan Heights the opportunity to escape their dail
Newsletter
Get top stories and blog posts emailed to you each day.